Guerrilla-turned-Member of Parliament
Urmila Majhi wants her former commander, now prime minister, to work for the people for a change
It was raining heavily. Urmila Majhi was returning home after a long hard day of paddy planting in her Kavre village. On the way back, she saw policemen taking away at gunpoint Maoist guerrillas, two men and two women, whom they had just detained.
The next day, the bodies of the two men were hanging from a tree. The two women had also been killed after being raped.
It was 17 July 1999, the day that changed the course of Urmila's life. She learnt that the Maoists were fighting to liberate the people, for social justice, and to make Nepali society more egalitarian.
"Being witness to such a monstrous act, especially the rape of women, filled me with outrage and a sense of rebellion," says Urmila, who was only 15 then.
Soon, Urmila became a member of the Maoist student committee, started reading party pamphlets and learnt revolutionary songs. A year later in 2000, she joined the Maoist militia with her cousins Purmila and Chetkumari Majhi, both of whom were already inducted.
Urmila left her home one morning to join them. Her mother begged her to stay, promising to educate her. But Urmila was filled with revolutionary fervour, and was determined to join the armed struggle.
She became a district committee member of the Maoists in Lalitpur, and was assigned to mobilise support for the party in the villages along the border with Makwanpur.
She met artist Prem Bahadur Tamang at a party program, and the two fell in love. In November 2002, the party got the two comrades married by exchanging their guns. Less than a year later, Tamang was killed in an encounter with police.
"I got the news a month later. I was heartbroken but did not shed a single tear," recalls Urmila, who gave birth to their daughter just a week later. Within three months, she was area in-charge of Makwanpur, and would walk the forest trails with the baby strapped to her back.
After her cousin Purmila was also killed in action, Urmila left her baby with her mother and joined her comrades in battle. She was caught up in a fierce firefight in Jhurjhure near Hetauda.
Guerrilla leaders Barshaman Pun and Agni Sapkota were leading the attack, and the battle lasted all night. Pun was known by his nom de guerre Ananta, and went on to become Finance Minister, while Sapkota was Speaker of Parliament in post-conflict coalition governments.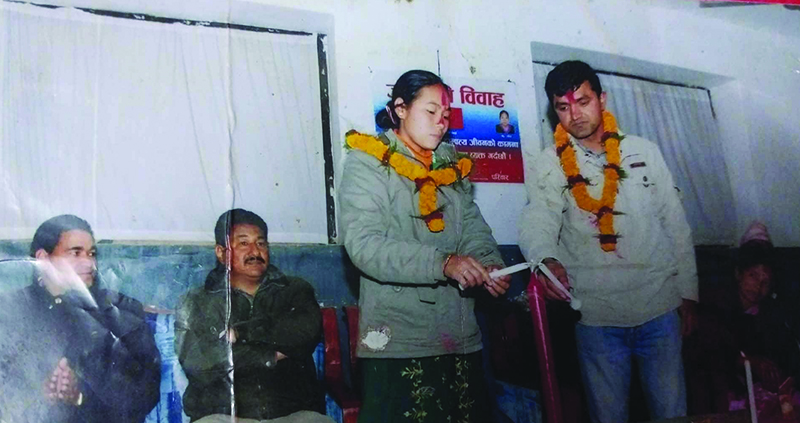 The battle lasted all night and by the end of it, 26 Maoists, 60 security force personnel and three civilians had been killed.
"People were dead or dying, the villagers were all grieving," remembers Urmila. "For the first time, I was terrified, and I came to realise the futility of violence."
During her work in Makwanpur, Urmila met a journalist affiliated with the Maoist movement, Santosh Paudel. They were like-minded, and the two got married.
After the peace accord in 2006, the Maoist party sent its cadre back to their home districts and Urmila also returned to Kavre. She wanted to field her candidacy for the first Constituent Assembly election, but she was not given a ticket.
The Maoist party itself, to Urmila's dismay, had lost its way. She gave birth to a son, but could not stay home much because of her involvement with the Majhi Rastriya Mukti Morcha in Lamjung.
Finally, 15 years after her first attempt at getting into post-conflict national politics, Urmila was endorsed as a PR candidate by her party in last year's election.
During the war, Urmila had only heard of her Maoist commander Prachanda, and met him for the first time after the ceasefire in 2006 at a training program as Pushpa Kamal Dahal. She remembers thinking that he could do a lot more for Nepal's under-served after joining peaceful democratic politics because he believed so fervently in the upliftment of the Nepali people.
But in the following years, her hope that the Maoists could bring change started to dim. Equality was just an empty slogan. The goals of the armed struggle were never met. Those who had given up their lives for the revolution were forgotten.
Federalism and inclusion might have devolved power on paper, but it has not changed the centralised power structure. Still, Urmila felt that she should herself try to change things from within.
She says: "To my former commander, and current Prime Minister Pushpa Kamal Dahal, I want to say this: please pay attention to the people and start working for their welfare for a change."