Grassroots democracy promotes good health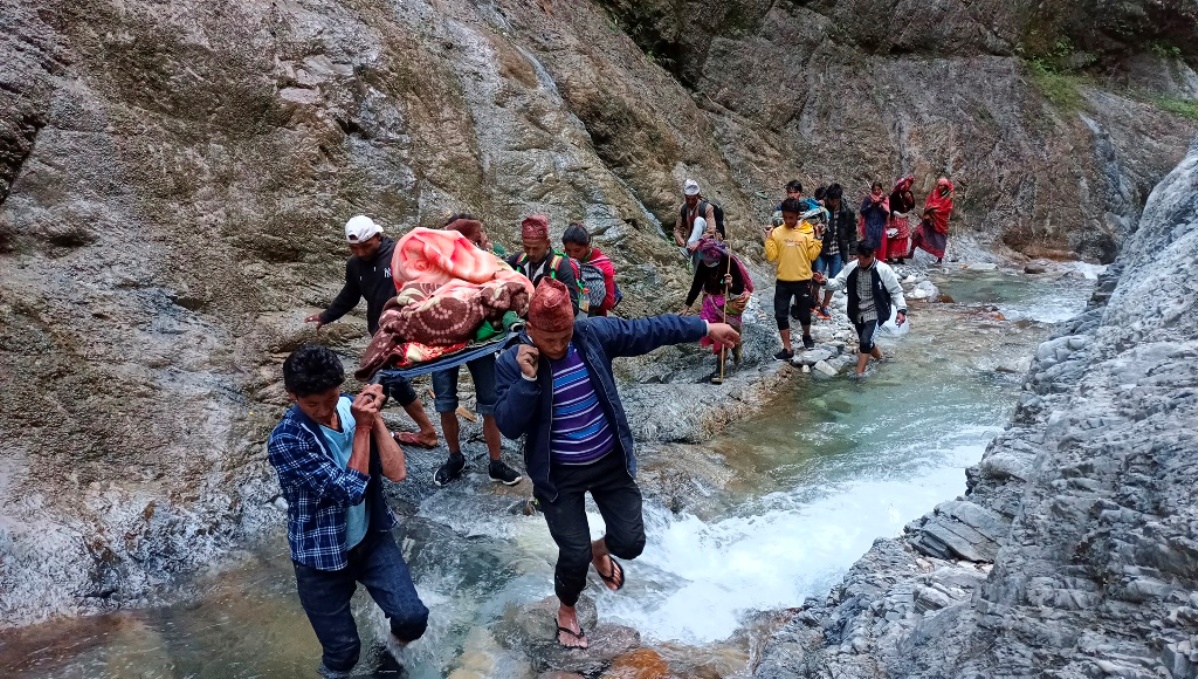 N[]/dropcapepal's medical system continues to suffer from lack of access, affordability and equity. Government hospitals are under-funded, under-staffed and under-motivated. Private clinics are too costly for most Nepalis.
In the absence of an efficient nationwide insurance system, families are forced to sell land, take expensive loans for prolonged treatment of relatives. A recent WHO report states that nearly half-a-million Nepalis are pushed below the poverty line every year because of high medical expenses.
Despite this, there are shining examples of hospitals that offer quality health care at low cost.
One of them is in Tikapur of Kailali district where elected local leaders provide affordable care despite limited resources. In nine wards, there are two health posts, seven health centres and a hospital.
"It is a question of priorities, citizens need health care they can afford and trust," explains Bal Bahadur Kunwar of Tikapur Municipality, one of the few that allocate 10% of the budget for health services.
Read also: Is free health care possible in Nepal? S P Kalaunee
The result has been dramatic: in the past five years since the mayor and municipal council were elected to office, the district's high maternity and infant mortality rates have gone down. Patients do not have to travel to nearby cities like Nepalganj or Dhangadi seeking expensive treatment.
Demand has grown so much that Tikapur municipality has had to add gynecologists, pediatricians, two staff nurses and two vaccine administrators to its 50-bed hospital which is also supported by the Far-west Province.
It is not just health care that is free of cost, the deputy mayor's office also provides food and allowances to pregnant women and new mothers through its 'Aama sanga Upamayor' program to pay for transport and other costs. This means the rate of institutional delivery has gone up, despite the pandemic lockdowns.
Another forward-looking initiative is Tikapur's 'Hamri Chhori, Pyari Chhori' with which parents can open a bank account in the name of newborn girls with a Rs1,000 deposit every year, which she can withdraw when she grows up — as long as she does not get married before age 20.
Rapti Municipality of Dang district has 7% of its budget for health, and was awarded by the District Public Health Office last year for exemplary service. All its nine wards now have health posts. Community volunteers get incentives to make home visits to check up on the elderly, pregnant women and newborn babies.
"Providing basic health care is not rocket science, it just needs a modest budget, good management and a commitment to the people," says Rapti Municpality's health section chief, Narayan Raut. Rapti is putting up another 15-bed hospital just for maternity cases.
In Athbiskot Rural Municipality of West Rukum, high up in the mountains of Karnali Province, there used to be just five understaffed basic health posts. Now, there is a well-equipped municipal hospital, four health posts, nine basic health care centres and eight urban health units.
From 21 healthcare workers, staff has grown to 94 with recruitment of MDGPs, public health inspectors, radiologists, and staff nurses. All this is paid for by the municipality, which sets aside 10% of its budget for health care.
"There is an immediate impact on saving lives," says Athbiskot's health section chief Prem Prakash Rokaya. "Besides, families do not have to take sick relatives all the way to Kohalpur or Nepalganj for expensive treatment."
Read also: Nepal's humanitarian emergency, Editorial
This progress in equitable healthcare in rural Nepal is not just because it is enshrined in the Constitution, but a direct result of local governments being answerable to people for whom health care is an over-riding priority.
Despite its relative accessibility, Ichakamana Rural Municipality in Chitwan district did not have a resident MBBS doctor in its hospital. But elected municipal officials responded to public demand during the pandemic, and the hospital now has a resident doctor, it provides maternity care, has a functioning laboratory and video x-ray equipment.
In its 10 health centres across seven wards, Ichakamana now has four birthing centres. Says municipality chair Gita Kumari Gurung: "We don't have to rush to Bharatpur, Kathmandu or Pokhara for medical treatment. It is all here."
Ironically, it is the government hospitals in big cities where medical care is not of high enough quality. Hospital staff often moonlight in private clinics, or get cuts from pharmacies which sell medicines they prescribe to patients. Families are therefore forced to admit relatives in expensive private hospitals in the cities, or go to India.
Nepalganj Municipality built an urban health promotion centre and laboratory with Rs9.8 million from the Ministry of Health three years ago, but it is understaffed because of insufficient budget.
In Ghorahi of Dang, the health centre was upgraded with a medical doctor. An electrocardiogram and video x-ray were also added. But with no specialists, the equipment is in storage.
Local health facilities are now supposed to be managed by municipalities themselves, but even while the budget from the centre has been cut, they have not been given the authority to raise enough local taxes to pay for these services.
"The central government still controls the budget, which makes it difficult to meet local needs," admits Baburam Marasini, the former chief of the Epidemiology and Disease Control Division. "This means most local governments do not have the wherewithal to make the necessary policies, budgets, plans, and implement them."
Before 2017, it was the district health office that made all health related plans and polices under direction from the national government. With federalism, there is confusion about budget and jurisdiction that has not been cleared up in the last five years.
"There is no consistency in policy and implementation," laments former health secretary Senendra Raj Uprety. "Most local officials do not possess the qualifications or experience to draw up proper budgets."
Nepal set aside Rs141 billion for healthcare last year of which the largest chunk (74%) was for the federal level, only 5.16% for provinces, and 20.93% for municipalities.
Read also: Devolution for development, Editorial
Local government budgets are not enough to address needs at the grassroots. Health specialist Kedar Baral says the pressure on central hospitals can only be lessened by decentralising quality health care and making it more affordable.
"If we do not improve the primary service, not only does access to health become more expensive, but the entire system can collapse," he adds.
Aside from municipalities that have prioritised health, other local governments have wasted money on unnecessary infrastructure, buildings, or view towers.
The reason local officials are not too interested in investing in health is because it takes up to two decades for returns on investment, remarks Guna Raj Awasthi of the Far-West Health directorate.
WHO recommends that low-income countries must invest $83 per person per year in the health sector. In Nepal, this figure is a woeful $17.3 per person.
According to the Nepal Health Sector Strategy 2015-2020, 31% of people are forced to travel to city hospitals, to pay above their means for essential services that should have been provided free locally.
Says Marasini: "The increase in the number of admissions at hospitals in Kathmandu means that local health centres have failed. Otherwise, why would anyone spend five times as much for treatment in Kathmandu?"
Translated by Ashish Dhakal from the Nepali original in Himalkhabar monthly.
Read more: This is how to upgrade Nepal's rural health, Sewa Bhattarai