Still looking for Dad missing in Nepal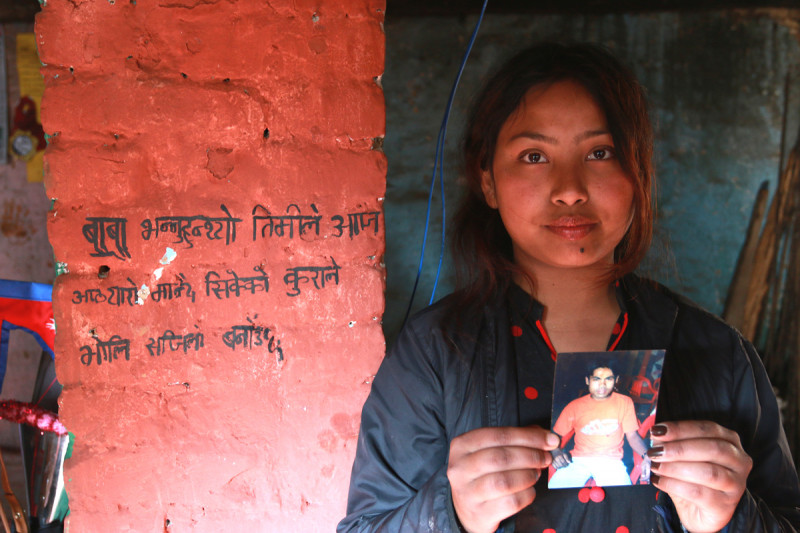 On 22 June 2004, Nandagopal Mali left home in Thecho, Lalitpur as usual for his workshop where he was casting a bronze statue for a customer. He hasn't been seen since.
His daughter Nagma, who was eight at the time, kept waiting for her dad. Seventeen years later, she is still waiting.
Having already lost her mother three years previously, while giving birth to her younger sister, Nagma could never accept that her father was gone and with no official proof of his demise, held on to the hope that he would come back one day.
Read also: Disappeared, dead or alive, Anagha Neelakantan
Soon after Nandagopal went missing, Nagma's grandfather Sanu Mali took charge of searching for his son but he passed away soon after.
It was then Nagma's grandmother who stepped up, relentlessly questioning Royal Nepal Army officials and holding protests every day in Maitighar.
One day, after returning from daily protests, Nagma's grandmother told her about two children who were also searching for their missing parents.
Nagma was a quiet girl whose first instinct was to hide when someone visited her home, but she decided to join her grandmother on the streets.
"It was my grandmother who made me the strong, independent person that I am today, fighting for justice," says Nagma. "She also involved me in all important decision making, installing self-confidence in me."
She followed her grandmother to the Commission of Investigation on Enforced Disappeared Persons and participated in every program advocating justice for crimes committed during the Maoist conflict. She met others like her with missing parents, but had not given up the search.
By then Nagma had completed her secondary education and was trying to decide on her career. One day, Nagma's grandmother was stopped at the Chauni army barrack and was not allowed in.
This was when Nagma realised that you either had to be someone with influence or a journalist to gain access to important places and people.
Read also: Vanishing Hope, Ram Kumar Bhandari
Nagma enrolled at Ratna Rajya Campus for a degree in journalism. But before long her only remaining support, her grandmother, died leaving her in charge of raising younger sister Swastika. But Nagma persisted and kept looking for her father on her own.
She tried to visit top-ranking officials, joined the 'Martyrs and Disappeared Warrior Children' foundation and submitted a memorandum to the government to reveal the whereabouts of her missing father. But as her questions went unanswered and the state failed to investigate the case, her faith in the Disparaged Persons Committee started to erode.
She then turned to the Central Bureau of Investigation and studied for the Civil Service Commission exam with the hopes of joining the police force and finding her father herself. But as the sole earner of the family paying for both her and Swastika's studies, she wasn't able to keep up and did not sit for the paper.
"Over the years I have often questioned myself if he was still alive. More than 15 years have passed, it has been a painful wait," says Nagma, who strengthened her resolve once again and demanded that the government disclose information on the disappeared persons regardless of their state.
After the peace talks in 2006, the Maoists became part of the government. The country went from the war to peace but the families of the disappeared continued to wait. None of the agencies set up to investigate war crimes are working on the whereabouts of nearly 1,500 still missing.
"If we don't fight, the disappeared will also be forgotten," adds Nagma, who is now with the organisation Voices of Women Media and is also affiliated with the Conflict Victim Women National Network. "The truth is missing just like those who were made to disappear."
What worries Nagma most is the fate of children affected by the disappearances during the conflict and says the Maoist-led government has treated them unfairly. Children of those declared martyrs get free of cost education up to any level but for the children of the disappeared, it stops at 18 years of age.
Read also: The disappeared and disquiet of those left behind, Robert Godden
"Pushpa Kamal Dahal looked after only his people after his purpose was served. What about us, the children of the disappeared? When will the consequences of your action be addressed?" Nagma questions the top Maoist leadership.
How long should one wait for the disappeared person to come back? A month? A year? A decade? For Nagma, the answer is as long as she lives.
She says: "As long as there is a hope of my father's return, my search will continue. I won't ever give up."
Adapted from the Nepali original in himalkhabar.com
Read more:
Disappearance of Justice, Sabrina Dangol
The scars of War, Sahina Shrestha