Man survives steel rod piercing his head
R aharman Tamang was using a circular saw to cut a steel rod at a metal shop in Bhaktapur when a section of the rod snapped off and pierced his head.
The rod entered through his left forehead just above his eyebrow, crossed the brain in the midline, and exited from behind the brain on the right side. (See CT scan, below) While doing so, it damaged the basal ganglia and internal capsule, the conglomerate of neurons controlling the movement of the left half of his body. Half of his body became paralysed immediately. Tamang, 20, lost consciousness and went limp.
Relatives rushed him to a nearby hospital in Bhaktapur, which said it was not possible to treat him. They then took him to TU Teaching Hospital at Maharjganj, where he was turned away because there were no beds in the ICU.
By the time they got to the emergency ward of Upendra Devkota Memorial National Institute of Neurological and Allied Sciences in Bansbari it had been four hours since the accident.
Doctors were shocked — they had never seen a case like this. They were doubtful at first that the patient would live. Quickly the team reviewed literature to guide the patient's care and management. Neurosurgeon Pratyush Shrestha found an article in Pubmed about a similar case in a hospital in Mumbai.
Read also: Two out of 200,000
"We did not have much time: the dirty rod could lead to brain infection," Shrestha recalls.Any foreign object that enters a head has to be taken out from the direction opposite to its entry, since removing it from the same side could inflict additional damage on vital nerves.
An 11-member team, including resident doctors Suvas Lohani, Ranjan Lamichhane, Madhav Gautam and neurosurgeon Shikhar Shrestha took part in the operation. They also consulted Professor Laxmi Pati and Terence Hope. First, they performed a craniotomy and carefully pulled out the rod to prevent infection and bleeding.
Read also: The English Surgeon, Niraj Shrestha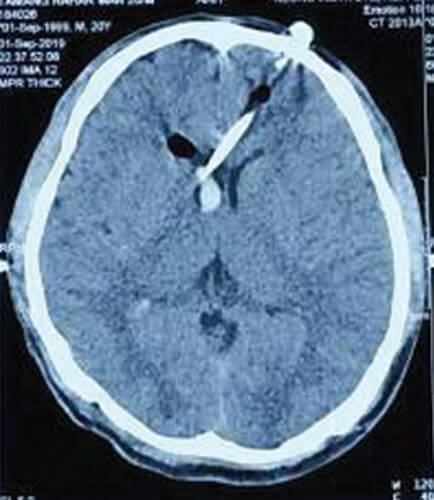 The only reason Tamang survived the delicate operation was because the rod miraculously missed by arteries that supply blood to the brain by millimetres. It also did not touch the brain stem and the vital organs regulating respiration and cardiac activity.
Three weeks after his treatment, Tamang's health is improving and he has been shifted to the general ward of the hospital (picture, below). He can talk, and is not suffering any major side effects, but needs to take his medication to avoid infection, and do physiotherapy. The doctors involved are working on a paper to be published in a peer-reviewed journal so the experience can help in treating other patients. "Just like we were guided by a paper, we hope our experience will also be useful to others," says Shrestha.
Tamang's accident is an example of the sorry state of industrial safety in the country. He would not have been as severely injured if he was wearing a helmet.
Sunil Kumar Joshi, a physician at Kathmandu Medical College, says that though the government has rules about safety in the workplace, they are not enforced.
"Workers do not know that they can ask their employers to ensure safety and security," he says.
Read also: Upendra Devkota's lives, Kunda Dixit