Kathmandu gets first pump track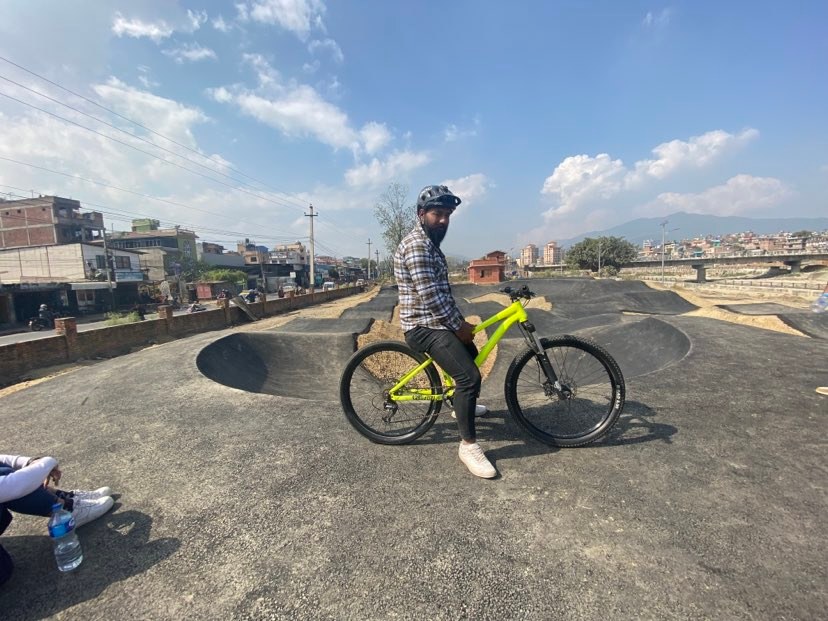 Back in 2009, construction began in the Bagmati Corridor with the aim to restore the river's long gone splendour. The wide floodplain with white sandy banks cannot be restored, but at least the river would serve as a green promenade.
This week along by the Bagmati in Kupondole, just off the Thapathali Bridge, a group of cyclists and skateboarders were zipping about testing a newly completed pump track as onlookers gathered to watch from the walkway.
It was built by Pump for Peace, a global initiative that seeks to build such facilities in underprivileged communities around the world to make cycling accessible. Nepal By.cycle and Lalitpur Ward 1 office were also involved in building the 170 m long asphalt track that is the first of its kind in Nepal.
"A pump track is a playground for any sort of wheel and any level of skill meaning you could ride this with a BMX, with a mountain bike, a scooter, an inline skate and sometimes you even see wheelchairs on it," explains Claudio Caluari of Velosolutions the world-renowned Swiss company behind the philanthropic initiative Peace for Pump.
"Even as a kid or a total beginner you can roll it as there are no dangerous parts on it, the more advanced can find their challenges, jumping or combining different lines," Caluari told Nepali Times.
Pump tracks have a looped sequence of rollers and berms that are designed to maximise the momentum so bike riders can ride without pedaling much. Pump track designs range from smaller backyard projects to larger ones and is an entry spot into the sport, where one can learn and develop skills before going to the mountains and riding.
While pump tracks are not new, Caluari is credited with building them with asphalt. "With dirt tracks, you need people to maintain it and you can only ride your bikes on it during perfect weather. It cannot be too dry, or wet, it has to be moist and well maintained but when you use asphalt, you can use it any time with any sort of wheels and it is long lasting," he says.
Cycling is a growing sport in Nepal but the community does not have a place to hone skills. Though there are trails all over the country, there are no design-trails.
"For the mountain biking, skateboarding and rollerblading community in Nepal, the pump track is a boon because it will help to make their riding skills better and in the future that will develop more athletes," says Raj Gyawali of Nepal By.cycle.
Umang Shrestha has been riding mountain bikes since 2009 and is a national trainer. He sees the introduction of a pump track as a positive development for mountain biking in Nepal.
"The pump track is more rolling and faster. Riding here is completely different from the dirt tracks we have," he says as he completes a loop in the track.
The track in Kupondole was completed in less than ten days but the entire project was three years in the making. The team had initially scouted locations around Kathmandu including Gokarneswor and Lubhu before the Lalitpur Ward No. 1 came on board. Since the land was in the Bagmati corridor, they had to take permission from the Bagmati River Basin Improvement Project.
"We saw it as an opportunity not just for the cycling community but also for our younger population," says Harihar Tandukar, ward member of Lalitpur Ward No.1. "Having this here can entice our children to leave their cell phone and come out of their houses. So when they approached us, we came on board."
Caluari's Velosolutions business has built more than 400 pump tracks around the world since 2004. Caluari custom designs each differently according to local conditions.
"We have an idea of what works and what doesn't, and it also depends on the skill level of the community. If it is the first pump track in the community, we don't go with the craziest obstacles but even a simple design can have challenges for years," he says.
The seven-time Swiss National Champion and former World Cup race came up with the idea for Pump for Peace while building a track in Thailand for a wealthy client near the Cambodian border in front of a little village. When the team poured out the last wheelbarrow of asphalt, the children came with their old skateboard and rusty bikes to the track.
This inspired him to bring pump tracks to other parts of the world that would normally not have access to it. "Seeing people riding in places like this makes my heart happy," he says.
Caluari's next goal for Nepal is to Pump Track world championships and goal to bring a qualifier for the Pump Track World Championships here so that Nepali riders get a chance to qualify for the championships.
Read Also: Rupesh's epic journey, Naresh Newar
Peddling the Great Himalayan Trail, Sarah Watson