Between sand and a hard place
New play addresses Nepal's labour out-migration and a vanishing traditional way of life
There is darkness, except for the faint trace of a white tree at one corner, dancing ripples (or golden flames?) at another. Light pours downward like the first rays of creation upon four figures lying on the ground. Sound of the madal drum fills the air.
The women rise, fluid to the music of nature. Their expressions dart from sombre to elated, reflecting the beat. One raises her hand high in the air while another reaches deep into the earth. They go around in circles, and behold: a child is born.
Meanwhile, a shadow surrounded by cool blue light dances in perfect sync with the women on stage -- Reflecting them? Guiding them? There is a sense of womanhood, motherhood, as life is created. The child grows into a girl who now learns the dance from the women who came before her. This is a form of storytelling that bridges the past and present, future, preparing and shaping expectations.
One World Theatre's latest play Deurali Daandi, in collaboration with Actor's Studio Nepal, begins in a kind of a musical trance, almost wordless, with a Genesis narrative of its own. And the audience immediately feels as though it has always been living in the fabric of its history and cosmology.
When the prelude ends and a new movement begins, the audience already knows the world: its hills and its mountains, the sounds of choppers and planes in the air that announce the arrival of goods and bodies. This village is, after all, already branded into our collective psyche through the media. We may not all live there, but we have heard of it and its people.
There are no men left here. A strange epidemic that manifests itself as parched and coarse sand made them all leave. The audience is not surprised -- there are repercussions now that are more biting and terrible.
Drawing from the elements of Sati Ghatu folk dance of the Gurung community of Nepal and performed mainly on the full moon of Baisakh Purnima, the play examines Nepal's labour migration practices and its fallout. It explores a world of deafening absences, and how cultures, traditions and life are affected.
Read also:
Ghatu dance of Lamjung, Sewa Bhattarai
Springs dry up, birds do not sing, a baby deer dies in the forest, and the women are also getting sick. What is this disease? ask the characters, sometimes staring at the audience. We know this disease of the sand: we feel it in our bones, and are unsettled by this revelation.
For director Rose Schwietz, the metaphor is pretty direct and apparent. "The way labour migration spreads in Nepal is like an epidemic, through contact," she says. "What we have is a bit of a poeticism and magic realism approach to the idea. And a part of what we are trying to do in the play is bringing the stories that are not heard or told."
Indeed, the majority of the stories one hears about labour migration in Nepal centre on the men who either return or do not at all. "These stories are obviously very important," Schwietz adds, "but I also wondered about their trickle-down effect."
Schwietz norticed this effect during a Fulbright stint studying Ghatu at Nalma in Lamjung in 2014. She found that every family in the village had someone abroad, or planning to leave.
"I was really interested in this idea of people who are here and what they experience," she says. "And, for the most part, it's the women who are left behind."
The women adjust their lives in this world, but what happens when the 'epidemic' resurges, like a new variant? The women realise they have to respond differently to it and take action to save themselves and their way of life from disappearing. But what actions can they take?
Read also:
Between home and the deep blue sea, Prakash Gurung
The Qatar job mirage, Nepali Times
It is a desperate path, beset by nightmares and abuse. The city lights are alluring promises seen from a distance, but even mobile telephones may not fully reconcile the gulf in reality. Nevertheless, there is hope too, which is most visible in how the women come together, to support one another, to discuss, decide, and dance.
The all-women cast, largely unheard of in Nepali and global theatre, is effortless and impeccable. Their fierce and emotionally-charged performance is the core of the play. Working closely with Bir Kashi Gurung, a Sati Ghatu performer from Nalma, the actors portray elegant and moving gestures to dramatic perfection, especially as they deliver their lines, giving an ethereal touch to Deurali Daandi.
"We listen to each other," explains actor Deeya Maskey. "It has been easy to communicate, understand and form lasting rapport with each other. We learn new perspectives, become more sensible as people."
Says actor Pashupati Rai, "We have been able to relate to our characters, to the many layers of womanhood, friendships, how society views us. All of this has made teamwork easier and possible."
Saraswati Chaudhary adds, "Perhaps it would have been a different experience with male actors, but we also sit together to eat together and call each other by our character's name." In fact, Eating and sitting together encouraged the actors to share their joys and sorrows, which is reflected in the play.
This powerful collaboration is what makes Deurali Daandi a stunning production. While there is no consensus as to when and how the Ghatu dance originated, its tradition, moves and spirit have been passed down through generations. This, in turn, directs the play which also looks at the idea of transference and how traditions hit a roadblock when there is hardly anyone left to receive and propagate them.
Read also:
Female migrant workers hold up half the sky, Sahina Shrestha
Nepali migration in the 2020s, Upasana Khadka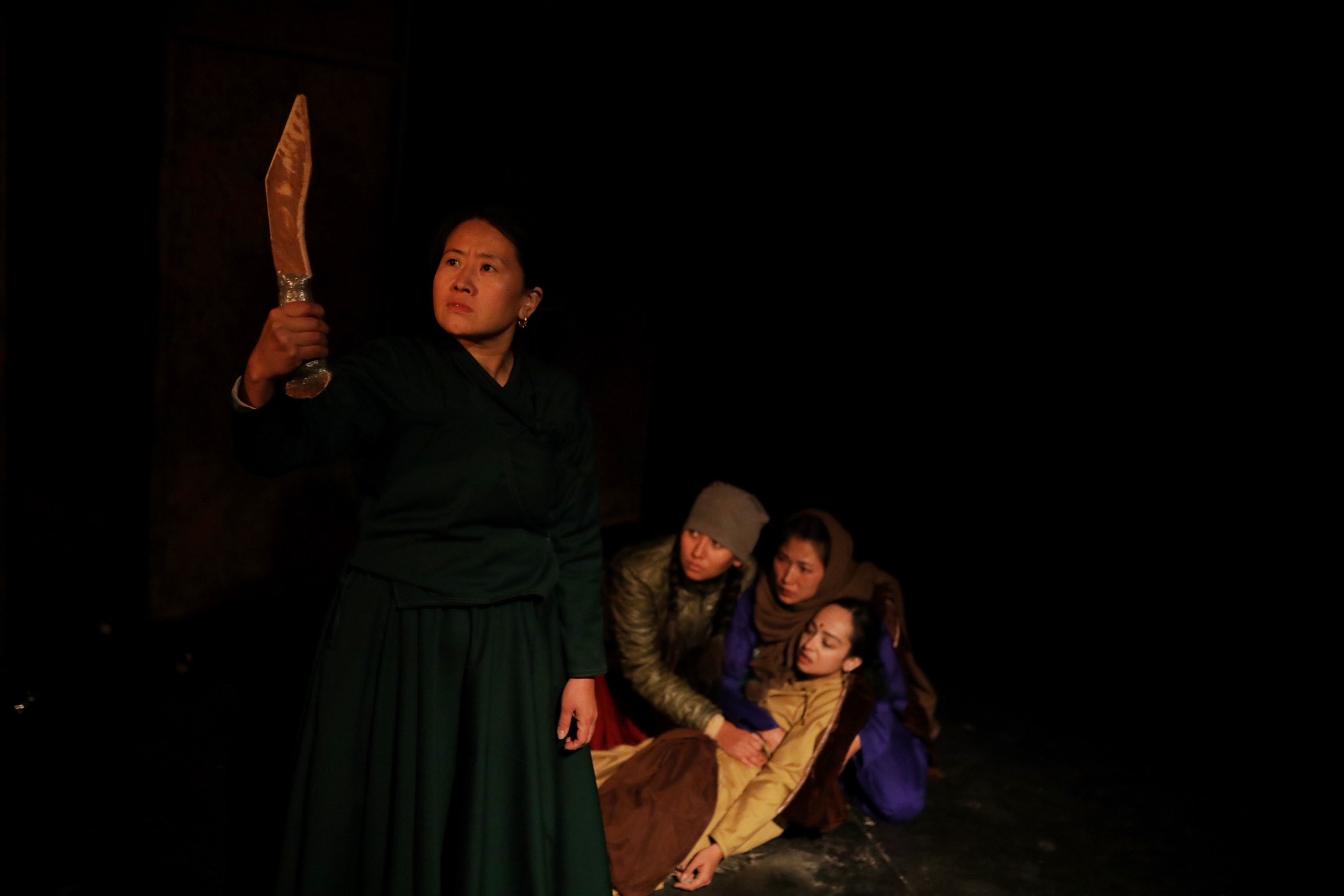 "The play does not recreate Ghatu absolutely," explains playwright Sahalesh, "We are using it as a form to tell a contemporary story and explore the idea of skills, culture being passed down from mothers to daughters, and how a way of life is intrinsically tied to people and traditions, how they co-exist."
This is important to consider in times when we may become desensitised to news. Thousands lost their lives in Qatar alone during the construction of World Cup infrastructure. Such statistics have a numbing effect. But Schwietz believes poetry and theatre can give people a different angle to examine this issue, and preserve its ambiguity for the viewer to analyse.
"The whole situation cannot be portrayed wholly as evil," she remarks. "For individuals, foreign employment can be hugely beneficial, but perhaps not so much for the community or the country as a whole. We have tried to reflect this complexity in the play."
Deurali Daandi
Ranjana Bhattarai, Sarswoti Chaudhary, Deeya Maskey, Menuka Pradhan, Pashupati Rai and Binita Thapa Magar
Written by Sahalesh
Directed by Rose Schwietz
Staged at Actor's Studio Theatre, Pingalasthan, Kathmandu
Runtime: 1h45m without intermission
Until 29 January 2023
5:00pm (Matinees on Saturdays 1:00pm)
Tickets: Students: Rs300 General: Rs500 VIP: Rs1000
Read also: The price of a kiss, Ashish Dhakal