Bridging Nepal and the US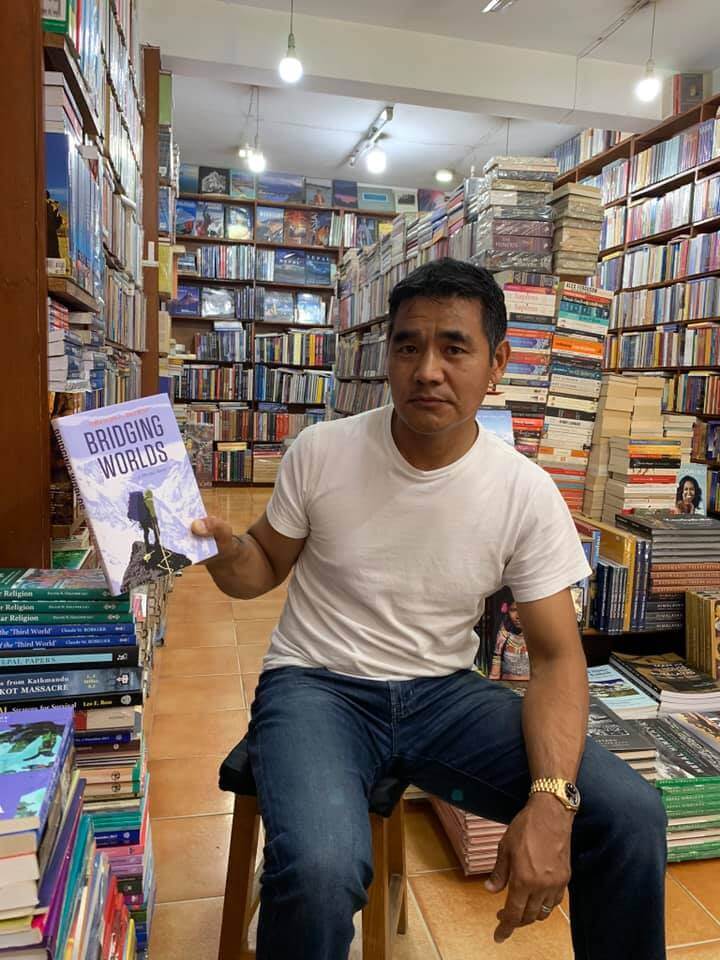 In Bridging Worlds, climber, businessman and philanthropist Pemba Sherpa teams up with writer James McVey to share his rags-to-riches story from an unprivileged youth in Nepal's Khumbu region to becoming a successful entrepreneur based in Boulder, Colorado.
The notion for this book dates to when Sherpa appeared on a radio show alongside climbing legend Reinhold Messner. While Messner was introduced as the author of a series of books, Sherpa had no publications to his name. Setting the record straight, with a cultural history of the Sherpa community written by an insider is eminently worthwhile.
Co-author McVey is careful to point out that 'Pemba's voice is but one of a multitude' and that his story is not 'representative of the entire Sherpa experience'.
At best, autobiography is a genre that offers insights into our shared humanity. At worst, as crisply distilled by Roald Dahl, it is simply 'full of all sorts of boring details'. All great autobiographies have a spark of transcendence, shedding light on an extraordinary life well lived. Bridging Worlds has a cheery cadence that makes for an easy read, but struggles to make the leap from personal publishing to fully-developed literature. Its readership will likely be friends and family of the author, patrons of his restaurant, and perhaps the occasional tourist looking for a safe story about Nepal that bursts no bubbles.
https://www.youtube.com/watch?v=Whi2_-wqeUU&feature=emb_logo
Sherpa is strongest when he reflects on his surroundings with a critical lens. His abusive father dies when he is six and the author is contrite about the arrogant teenager that he briefly became. On the few occasions that Sherpa offers specifics, he leaves the reader wishing for more. But key moments like meeting and marrying his first wife in Nepal and then leaving to the States are passed over in a perfunctory manner, with little emotional texture.
Much of the book, however, is essentially 'anthropology-lite', trading in cultural generalities and historical half-truths. Bridging Worlds would have benefited from a read-through by someone well-versed in the cultural history of Nepal, as infelicities such as 'Rais, Tamang and Lumbus chetree' would have been weeded out.
Sherpa reflects on the threats to his culture and language, the latter of which he imagines may be 'destined for extinction'. While globalisation exerts complex pressures on indigenous communities, and the Sherpa are no exception, there are exciting examples of Sherpa cultural and linguistic resilience in the diaspora, such as the United Sherpa Association and the Sherpa Kyidug in New York City.
Contemporary Sherpa scholars such as Pasang Sherpa at Pacific Lutheran University in Tacoma are documenting this resurgence. Bridging Worlds could have engaged more with diaspora Sherpa cultural life and move beyond predictable and linear narratives of diminishment.
Pemba Sherpa describes his concern about the 'sheer number of outsiders (Nepalis of other ethnic groups) presently living in Khumbu' whose presence in the region is 'worrisome for Sherpas who are concerned about preserving their traditional culture'. Such sentiments must be carefully scrutinised: the in-migration of non-Sherpas into Khumbu is at least in part the result of Sherpa economic mobility and their own out-migration for better opportunities.
How might the author respond to citizens of Boulder, Colorado, let alone the original Native American groups who have lived there for generations before colonisation, raising concerns about the settlement of Nepalis in the United States, a land far from their own? When expressing unease about socio-cultural change, we must locate ourselves as participants and not bystanders in the process, and assume our share of the responsibility.
Overall, Pemba Sherpa emerges from this book as a kind and compassionate man. He makes a strong case for why he never climbed Everest: 'I believed an expedition on Everest ran counter to the spirit of climbing'. He is articulate about the inequities and destructiveness of the climbing industry as a whole.
Sherpa mobilised quickly following the 2015 earthquakes that rocked Nepal, raising funds for relief and reconstruction in his shattered homeland, and his writing becomes energised when he is emotionally invested in the outcome. The proceeds of Bridging Worlds are dedicated to improving the lives of Nepalis.
Bridging Worlds: A Sherpa's Story
By Pemba Sherpa and James McKey
Sherpa Publishing, Boulder CO
Distributed by Vajra Publications
205 pages
Mark Turin teaches at the University of British Columbia in Vancouver, Canada. He has lived and worked in Nepal for many years.