Terrace garden brings Mexico to Nepal
With evenly-spaced interior decoration, the Terrace Garden at Raddison Hotel in Lazimpat has a minimalistic look. There is a neatly stocked bar, and the large windows that open on to the balcony which offers a wide panorama of the forested mountains surrounding the Valley and the urbanscape below. Swyambhunath peeks from the distance.
Now, the restaurant has been redone to offer authentic Mexican dishes for Kathmandu foodies. "We are multi-cuisine," says Ajay Sharma, the senior sous-chef, "but we are focusing on Mexican, especially as there are limited options for Mexican cuisine in Nepal."
Mexican culinary culture includes staples familiar to Nepalis, like maize, beans, avocado, tomato, meat, squash and chilli peppers. The spices give both Nepali and Mexican dishes their characteristic taste.
The Terrace's signature mocktails have a World Cup ring to them: Neymar Jito, Corner Kick. The first is a citrus-based drink with orange and lemon juice, soda and sugar, topped with mint leaves that hits a quiet mixture of sweet and tangy flavours.
The Corner Kick is a mango drink that has a deliciously diabolique twist: green chilli, Tabasco and chat masala. Together with the piquant lemon juice and a sliver of coriander, Corner Kick lives up its name, at once sweet and hot with green chillies sitting ominously on the rim. In addition, keeping with the ongoing 2022 FIFA World Cup, the restaurant also organises a lively watch party.
Starters include Prawn Taco Salad and Tortilla Soup. The salad has avocados and corn tortilla chips positioned like ridges. Red diced tomatoes and kidney beans add more colour to the mix as the centrepiece prawns are sprinkled with yellow cheddar cheese. The Tex-Mex masala gives it a singular taste.
The soup, on the other hand, is a thick broth of ripe tomatoes, sour cream and avocado, topped with thin flakes of crispy corn tortilla. The speck of hotness is complemented by the sliced sausages at the bottom.
The Veggie Enchilada and the San Antonio Pork Chop make up the main course. The basic filling of sautéed vegetables and cheese rolled in tortilla, and baked until melted, give the Enchilada its full-bodied magic.
The Pork Chop is marinated in Worcestershire sauce and comes with a zing of umami. Both leave one well-sated and in awe of the subtle wonders of Mexican cuisine. After dinner, there come three choices of delicious desserts: Wildberry Cheesecake, Chocolate Soufflé and Caramel Flan – each with distinct taste and texture.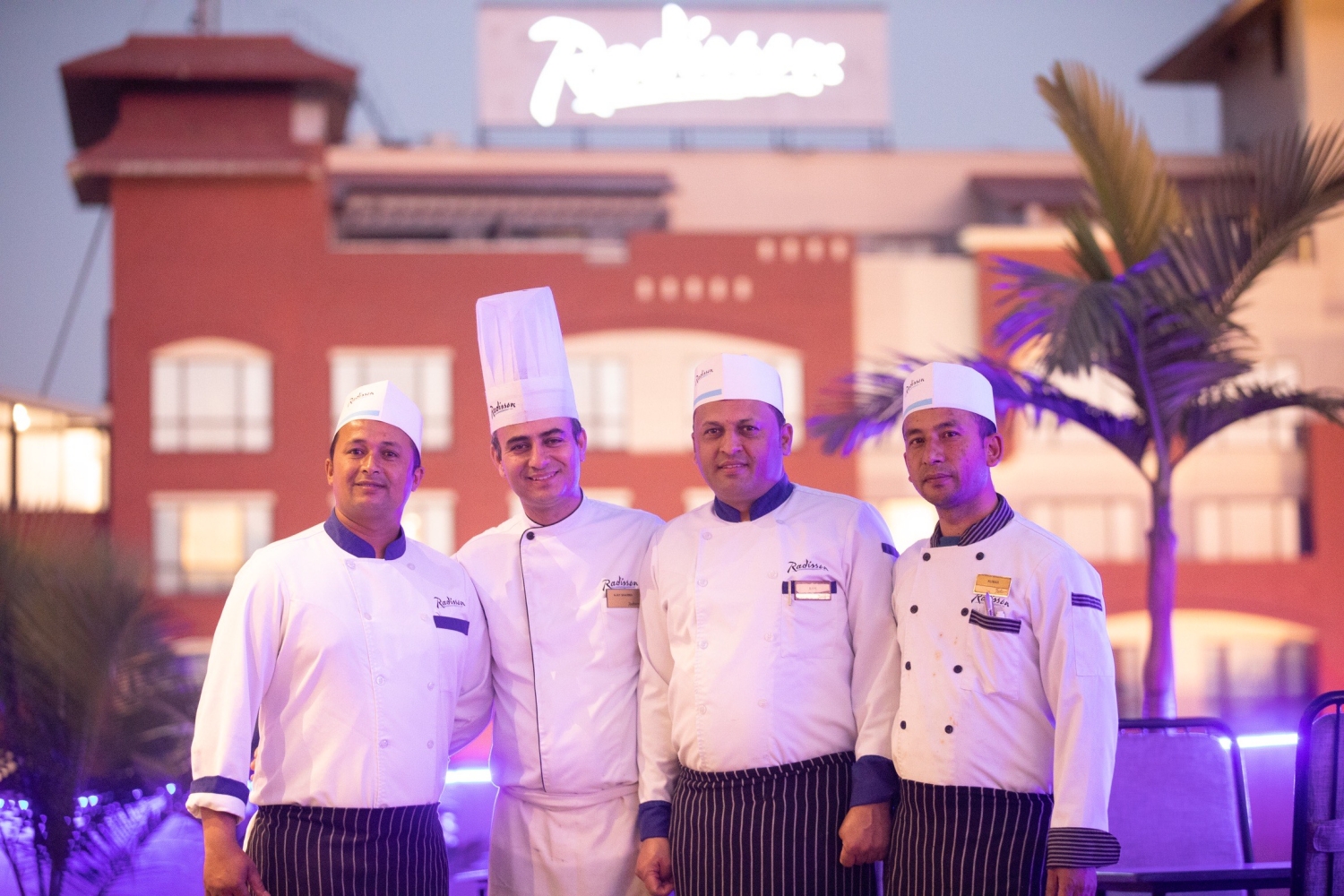 Chef Sharma adds that the spices are imported and the ingredients locally sourced. Mexican food is made unique by specific sauces like salsa, guacamole and Veracruz sauce, to which tomatoes, pineapples or avocados, olive oil and chilli are central. Sour cream, black kidney beans, flour of corn tortilla, cheddar cheese, Tabasco and Peri-peri sauces, and jalapeño peppers are also essential.
Says Sharma, "We want the Nepali palate to get the best taste of Mexican cuisine."