An American-Nepali duet
Anna Marie Stirr was intrigued and thoroughly captivated the first time that she listened to a dohori traditional duet in Nepal twenty years ago. Was it a song or a long playful banter between musicians?
She was a student of ethnomusicology at New York's Columbia University at the time, and the dohori genre stood out not only for its unique vocal tone and style, but because it blurred the lines between music and drama, delivering a performance that was unlike anything she had ever witnessed before.
Stirr began to delve into the world of Nepali folk music, learnt the language and spent two decades traveling within Nepal, studying and analysing minutely the spontaneous lyrics, the rules governing the musical back-and-forth, and what made dohori such an essence of Nepali culture.
On one of her many trips in 2005, cheered on by members of a local mothers' group in Lamjung Stirr was urged to join in the singing. She came up with her own dohori compilation: "Aye ma ta yo gaun ma khuruka, sab bhujna sukha ra dukha, mirmireko gham…" (I have come to this village to understand both happiness and pain, the twinkling sun…)
The mothers were delighted by her fluent and mellifluous Nepali, and the way she had grasped the soul of the songs. Ever since, Stirr has been obsessed with dohori. She is now Associate Professor at the University of Hawaii and her 2017 book based on her PhD research, Singing across Divides: Music and Intimate Politics in Nepal, was awarded the Bernard S Cohn Book Prize last year.
"Dohori is a truly challenging and complex musical practice," explains Stirr, who has studied the variations of dohori by singers like Sharmila Gurung and Devi Gharti Magar, whose voices feature impeccable skill and precision when carrying out the complicated kharki voice modulation in their songs. Komal Oli's steady and controlled voice has now become characteristic of her personal style and flair.
"Dohori singers must be poets at heart," says Stirr, who defines the singing in her book as 'dialogic, conversational sung poetry' that uses improvisation, wit, playfulness, and ingenuity all at the same time. Dohori is not just entertainment, it tackles societal issues like gender, class and caste discrimination, and the songs challenge rulers.
During the Panchayat, dohori was a medium for democratic activism, and today with the failure of governance that is driving hundreds of thousands of young Nepali women and women abroad in search of work, it is an outlet for the popular dissatisfaction as well as expressions of longing and separation.
During the Tij festival dohori has now moved beyond playful teasing between men and women headlong into tackling Nepal's patriarchal mores. During the conflict as people migrated to the cities for safety, the Rodhi Ghar became a place of refuge and urban-rural interaction where the songs served to cement Nepal's ethnicities.
Read also: Nepali folk songs move beyond love and loss, Reeti K.C.
Stirr also researched Nepal's progressive and revolutionary folk music, producing a documentary in collaboration with Bhakla Syangtan of Radio Namobudhha that profiles folk musician-turned-MP Khusi Ram Pakhrin.
"Hajarau ko balidan le kalo yuga dhaleko cha," (The dark age has ended through the sacrifice of thousands of people) goes one of Pakhrin's song. And there is hope for a better future in this one: "Srijana ra sambriddhi ko bato khulna thaleko cha" (The path of creativity and prosperity is beginning to open up).
Stirr writes in her book: 'Mediating technologies, narratives of national feeling, and new feelings engendered in changing surroundings continue to shape modern ideas of "village voices" (folk music), at the intersection of development, nostalgia, exploration and evolving ideas of belonging.'
Stirr has spent nearly ten years studying and enjoying Nepali folk music in Nepal, she taught at the music department of Kathmandu University in 2004, fostering connections with folk musicians like Tulsi Parajuli and Satyakala Rai, and frequenting live performances of dohori songs in the Nirmaya Rodhi Club alongside folk singer Sheila Ale.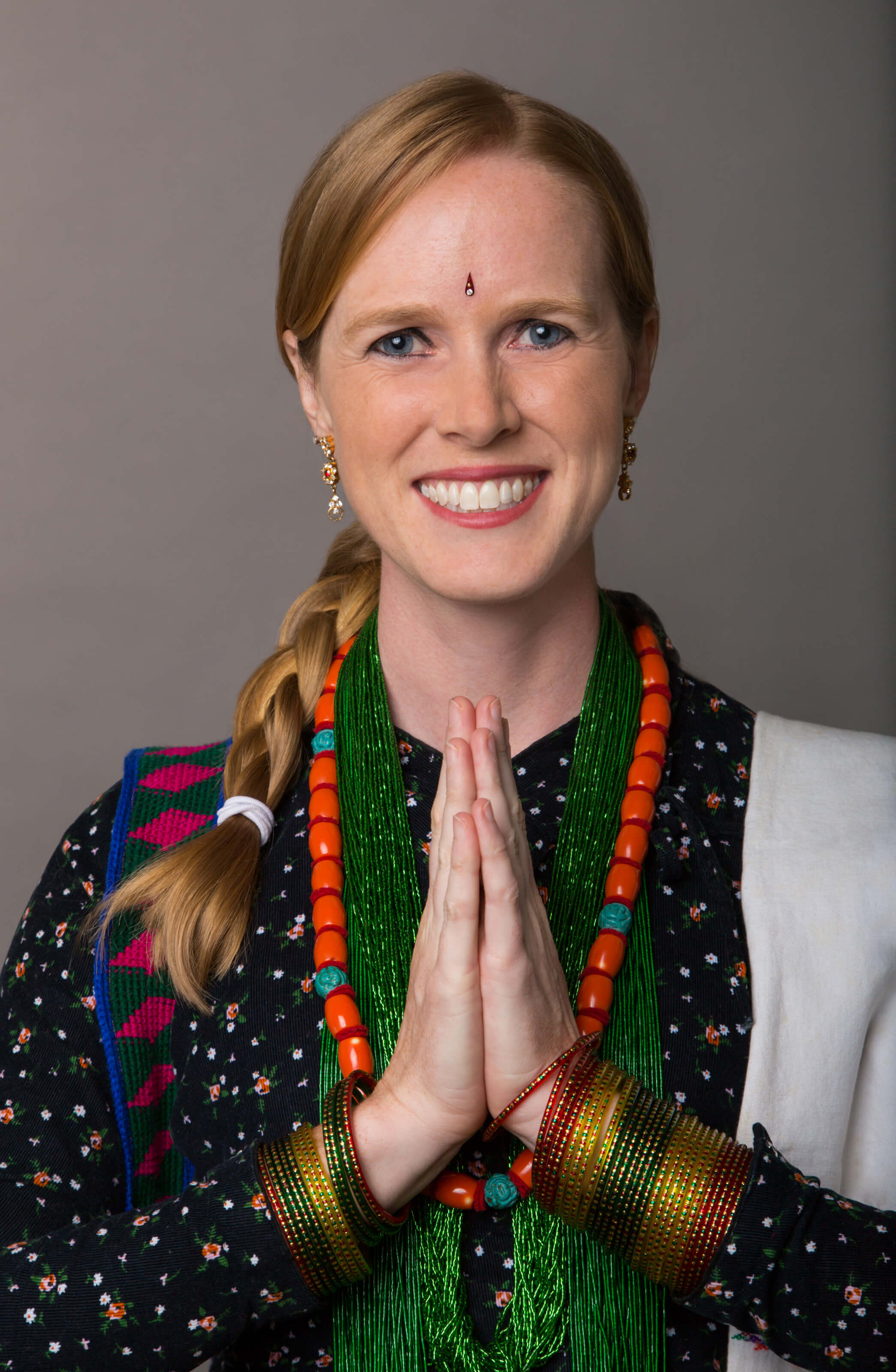 Preforming in traditional attire with near-perfect Nepali inflection, Anna Stirr is as much Nepali as she is American. She considers Nepal as her second home, and even though she is 13,000km away in Hawaii she keeps her connections alive through dohori and preparing Nepali food of which her favourites are local kukhura ko masu and alu ko achar.
Stirr says she would still like to visit many more places in Nepal, exploring and studying different regions and their folk music, and she would have been in Nepal now if it had not been for the COVID-19 crisis.
She told Nepali Times in an interview in 2008: "I can make people laugh when I sing a dohori, but I haven't yet been able to make them cry."
Read also:
Songs of our past, Amar Gurung
Norway-Nepal lockdown concert on the internet, Nepali Times
Singing Across Divides: Music and Intimate Politics in Nepal
By Anna Marie Stirr Oxford University Press, 2017
312 Pages $105 ISBN: 9780190631970
Paperback Oxford Scholarship Online
Ebook