Till next year: adieu, Jazzmandu
The 18th edition of Surya Nepal Jazzmandu 2022 that began last week with a concert and competition for young music lovers at Malpi College performed one last jam session with a full festival line-up at the Yak & Yeti on 19 October.
Also on the first day, old and new friends warmed up with Nepal's roving ambassadors to the jazz world, Cadenza Collective, at Jazz Upstairs in Lazimpat for an evening of lively music followed by enthusiastic applause.
Visiting artists Jamie Baum Sextet from the USA, Jin Jim from Germany, Catia Werneck from Brazil and France, and Yumi Ito from Switzerland, played intimate session across four different venues in the Valley, offering the audience a different taste of the swing and blue notes, musical improvisations, and the rich polyrhythm.
Saturday 15 October was all about large stages and group revelries, as the musicians wowed crowds at the edge of Gokarna forest. The day showcased not just international artists, but also gave them something to take back and learn about Nepali music – in line with jazz's cross-cultural nature.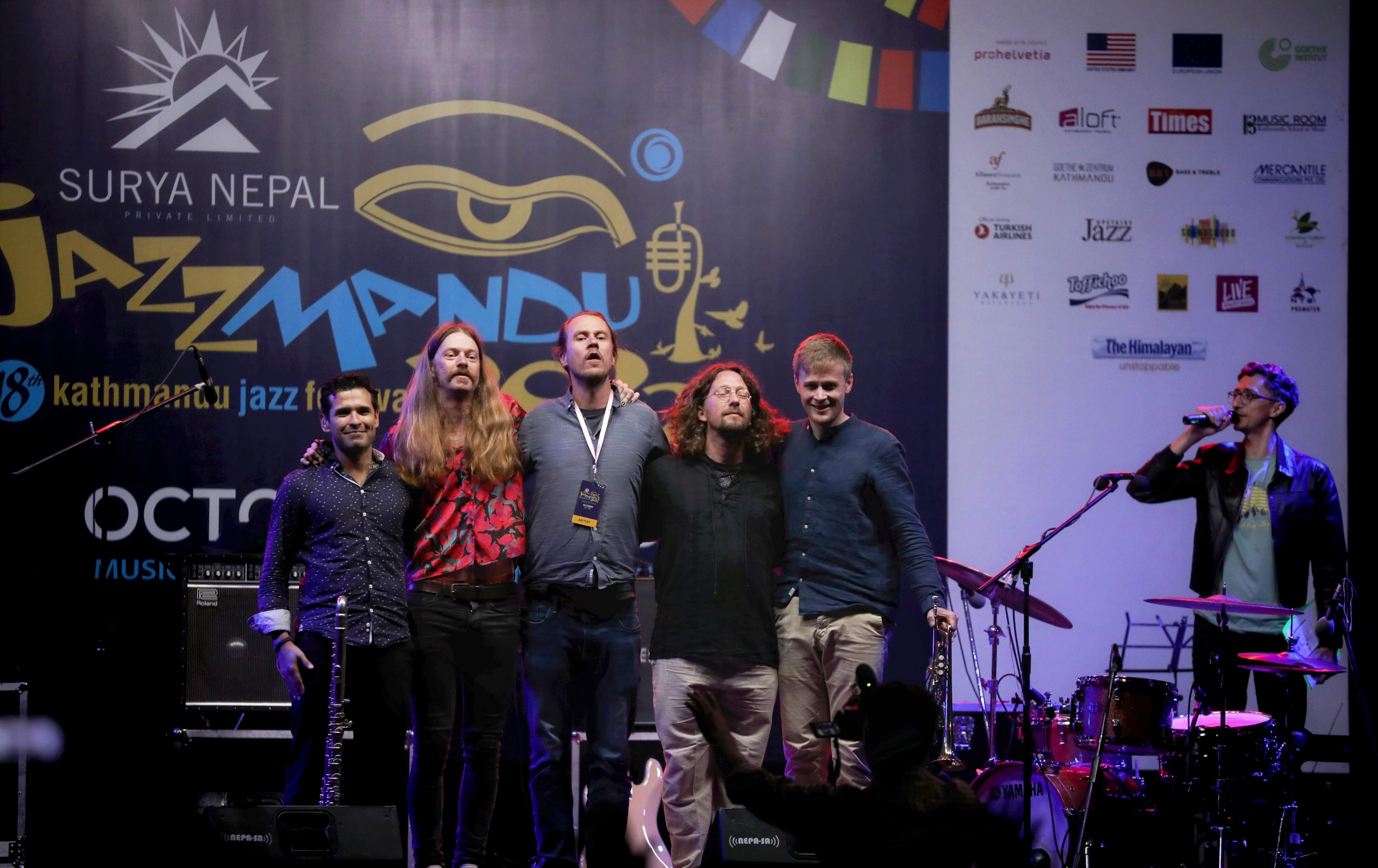 The Gokarna Resort also marked Jonisha Poudel's second performance after Jazzmandu 2019. "I was curious to see again how people responded to Eastern Classical music," she said. "The beats are different so it was a nice experience for us to experiment as well, and to see the crowd enjoy it."
This was followed by an exuberant evening of Afro-funk and Brazilian jazz on 17 October at Aloft in Thamel and a magical confluence of Nepali classical and jazz, with tabla attuned to the saxophone and the flute to the guitar on 18 October at Yalamaya Kendra in Patan.
"This place Patan has something more in spirituality, in the energy," observed Catia Werneck. "I have been halfway around the world but it is truly amazing to have a place here in Patan and to sing here. It's awesome."
On 19 October, the week-long extravaganza ended with all the performers coming together at the Yak & Yeti garden for a rousing evening of entertainment, and the festival bid adieu to its 18th edition and 20th year – until next time.
Samir Chhetri of Cadenza, also one of the organisers of Surya Nepal Jazzmandu 2022, noted that the turnout this year was consistent with previous years, but much bigger than the first Kathmandu Jazz Festival 20 years ago when only a handful of jazz musicians played in the country: it is no longer an unfamiliar genre.
"The challenge we had was to bring the festival after a two-year-long Covid hiatus," Chhetri said, "but it has been rewarding to invite international musicians and continue the tradition."
Yumi Ito echoed this sentiment. This was her first time in the country and she found the interaction between musicians from all over the world a highlight of the festival. "It was really special," she said, "I wish it would go on forever."