Off the beaten trek in Nepal
I had heard so many stories of multi-coloured rhododendrons along the mountain trails near Bhojpur that I was determined to see it for myself.
So, in April my wife Tan hiked Nepal's famous rhododendron trail at peak flowering season to see forests ablaze with red, pink, shocking pink and even purple flowers.
The Himalayan foothills have at least 30 varieties of Nepal's national flower, and there is nowhere better to observe them than the TMJ Trail (Tinjure, Milke, Jaljhale) that follows a ridgeline at elevations of 1,500-4,000m here in eastern Nepal.
TMJ's rhododendrons are so famous that there is a rural municipality here named Laligurans, and despite new roads and transmission lines the forests are still an explosion of colour in spring.
Bhojpur is now accessible by road from Kathmandu, but the 300km journey would have been too arduous so we plucked some courage to take the Nepal Airlines flight. And although the company website claimed there were flights 6 days a week, the reality was different: only three flights a week and no online booking.
So we headed to the Nepal Airlines building near New Road to book a flight for mid-April, since we had missed the peak blooming week lower down. The airline makes it so difficult to buy tickets that it is only the really determined passengers who are rewarded with them.
As a Nepali and a senior citizen, I was charged only Rs4,162 -- only slightly more than it had cost us to take a taxi from Dhulikhel to Kathmandu that morning. My wife Tan, who is Thai, had to pay nearly four times more, thanks to the Nepali scourge of differential pricing for foreigners.
Read also: Eastern Nepal's Mundum landscape, Achyut Tiwari and Ramesh Kumar Rai
Then we found out that flights cannot be booked more than a week in advance so we could only book one-way tickets. Even weirder: since the airline has so few planes and the weather is so uncertain at Bhojpur's small airfield, passengers are lucky to fly even if they have tickets. The clerk at the desk advised us to tune into the Radio Nepal bulletin on the evening before the flight to find out if the next morning's flight would take off or not.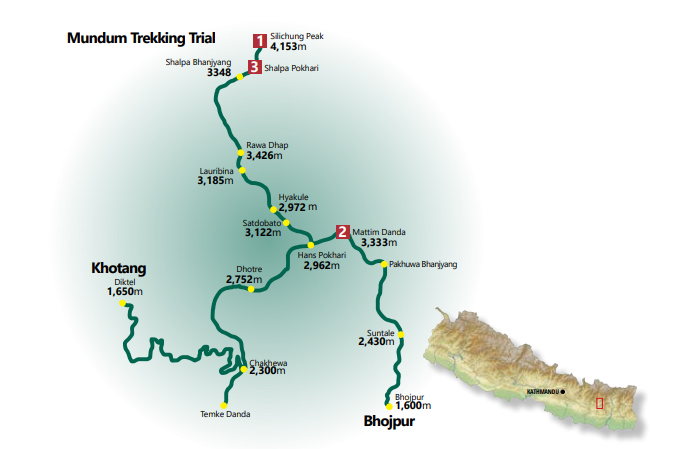 After jumping through many hoops, we finally had our tickets in hand and eagerly awaited the flight date. Arriving at the domestic terminal bright and early, we lined up at the desk with a Bhojpur sign. Check-in was surprisingly smooth.
Also waiting to checkin was another Ramesh, a Peace Corps volunteer who had served in Deurali village near Bhojpur Bazar. His real name was Richard and he had just retired from the College of Agriculture at California State University. He was on a trip to relive the memories of his youth in Bhojpur decades ago.
The flight was bumpy, and a fellow passenger barfed most of the way. The air was fresh and cool, and Ramesh/Richard joined us on the ten-minute drive on a surprisingly smooth road to Bhojpur Bazar. We stayed at the Bal Guest House run by Surendra Bal, who worked in Japan and Korea and was using the skills learnt there to run a clean and efficient hotel.
Despite years of being away, Ramesh/Richard spoke Nepali well and had phenomenal memories of old Bhojpur. He could still do the dhan nach paddy-planting dance, and sing a few folk songs. The first thing he did that morning was to take a solitary walk to Duerali to find his old agriculture office, where he said a former colleague recognised him, and even called him Ramesh.
Bhojpur's Saturday market was in full swing, and compared to the open haat bazar of my childhood, this was a much improved version. The tables were overflowing with potatos and vegetables from the surrounding hills, baby pigs, dried fish from Pikhuwa Khola, apples and even grapes imported from Sunsari in the southern plains.
Sadly, the one memory from my youth that was missing were the Sherpani wearing their thick wool tongkok, angi or ratuk blouses selling my favourite yak milk sargam.
Read also: The Other ABC Trek, Bimal Kadel
Bhojpur Bazar is not the sleepy backwater it once was. The boom is ascribed to the district's recent connection to the national Mid-hill Highway linking it to Kathmandu and the Tarai. Traditional mud, brick, stone and timber buildings are being replaced by concrete, cement and glass structures.
The town has turned into a regional shopping hub, with pharmacies, mobile phone shops, grocery stores, restaurants stocked with beer and liquor and guest houses sporting local names such as Sumnima, Tyamke and Kiranti. There is even a six-storey shopping complex with a hardware store on the ground floor and fully air-conditioned hotel rooms upstairs.
The Way to Mundum
Early Sunday morning our guide Mohan Rai and helper Shiba Hang Rai came to the guest house and we all piled into one of Nepal's ubiquitous workhorses: the Bolero jeep. The 30-minute drive north to Bagkhor was even bumpier than the one on the Twin Otter from Kathmandu. Baghkhor got its name from traps villagers used to catch leopards, and it is now on a strategic junction of roads to Dingla in the west and Khotang in the west.
We rendezvoused with the third member of our team, Ganesh Lama, with his aptly named horse Lambu (the tall one). Ganesh has his own homestay near the trailhead. Mohan and Shiba Hang were delighted that the tourism along the newly developed Mundum Trail was giving them a new income source.
The trail was formally opened in 2018, and runs 100km from Sampang just outside Bhojpur Bazar to Salpa Pokhari past Maiyung and then back to Chakhewa and Tyamke.
It strides high ridges, winds through forested slopes and along gurgling streams. Unlike other treks in Nepal, it does not have too much up and down. The name Mundum itself represents the indigenous shamanistic and animistic beliefs of the indigenous Kirat people who populate these mountains. Once completed, the trail will be one of the longest ridge walks in Nepal connecting Makalu-Barun National Park to the Sagarmatha National Park.
Read also: Lifetime experience on Pikey Peak, Shusma Barali
All the dozen or so homestays in Bagkhor had been fully occupied during the previous week's Nepali New Year holidays. He had to cook five local chicken to feed his own guests, who also rode on his horse and took a seemingly infinite number of selfies.
The trail is mostly level, and there are well maintained stone steps in places where therea re inclines. Mohan was involved in designing and laying these trails for four years and pointed out the new and old paths.
The trail was a pleasant surprise with pristine paths through the wilderness with well-designed rest areas with wooden benches, stone tables and water flowing out of stone spouts nearby. Some rest stops even featured such local cultural items as chindo and tandhunga, together with ditches for plastic bottles and other trash.
Some spots the trail was marked with mane stones etched with Om Mani Padme Hum prayer letters dedicated to the gods of Lama Buddhism. Some of these inscriptions looked ancient. There are also new chautara rest stops below trees providing shade for the weary traveller.
The higher we got the more picturesque the scenery was. It was almost Tolkien-like amidst huge outcrops and ancient trees. Yaks, cows, sheep and ponies grazed in the high meadows, amidst a backdrop of forested ridgelines and the snow mountains beyond.
We stopped for lunch at Pakhua Bhanjyang, a picturesque rest area sprinkled with stone monoliths, some recently installed and some there for aeons, and a babbling stream of clear, cool water nearby. We ate dal bhat tarkari with a bit of pork prepared by Ganesh the master chef and his assistant Shiba Hang. Our horse Lambu concentrated on his own lunch, munching grass just below the trail.
A short descent was followed by a climb up the hill until we got to Ekrate where we halted for the night at a 'gothstay', a homestay made of a herder's bamboo shed. That night, the full moon was as bright as a street light, illuminating the clearing and the dark forest beyond.
Read also: Nepal's Grand Trek Road, Kunda Dixit
The next day we headed up to Maiyung Danda, 3,333m. The rhododendrons were out in force, and got a lesson in local taxonomy of the flowers. Just as the Inuit has many words for snow, locals here have different names for different colours of rhododendron.
The first ones we saw were pink, which the locals call chimal. The red ones, we were told, are gurans, and we saw them bloom on trees at 2,500m and higher. At that altitude, the trees clung to rock outcrops carved over millennia by rain, wind and snow and covered with moss and lichen.
At the foot of Maiyung we stopped for lunch at a goth which had been newly refurbished by the local ward office with wooden tables and benches. We caught a fleeting glimpse of Makalu in the east, and Silichung at 3929m, the highest peak in Bhojpur.
It was a sunny day, and after lunch we climbed another two hours or so to a guest house recently built by the Maiyung village wardg. It is a gurans country all the way to the guest house. The yaks grazing by the trail seemed just as curious about us as we were about them.
The rest house had a commanding view of the vast grassland and rhododendron forests. Inside, there was one large room and an adjacent kitchen. With its strong roof, wind-proof stone walls and windows and fresh wooden planks under our sleeping bags, it felt like a four-star accommodation.
The only downside was that the toilet house outside had been vandalised. It was also unfortunately placed so that it spoiled our view of the mountains.
We were woken up by a bright shaft of sunlight piercing through the cloud from behind Maiyung. We walked to the top to catch the sunrise, but alas the view of Mt Everest, Kangchenjunga and Makalu was blocked by clouds.
Disappointed, we descended to the guest house for a quick breakfast and then through the fog-bound meadows to Hans Pokhari. The mist parted and we found ourselves as if by magic right in front of a forest full of rhododendrons in full bloom.
This part was the highlight of our journey, erasing any memory of our disappointment at missing our mountain view earlier. We were surrounded and mesmerised by the colours of Nepal's national flower: pink, pale pink, bright pink, shocking pink. It was as if we had wandered into a painting.
Horses and yaks grazed all around us guarded by Tibetan mastiffs as we strolled down through the grass. Lambu neighed to them, as if he was saying hello to the horses. We spotted a pair of bhotekukur looking after a host of newly born lambs.
Read also: The Tamu Trek Trail, Jit Gurung
Soon we checked into the Hans Pokhari (2962m) rest house, which was much more developed than the hilltop one where we had spent the previous night. There was an adjoining grocery shop, a restaurant and kitchen, an outside toilet and a rest area with a large compound.
All had been built by the Shadananda Municipality. Not long after our arrival, the heavens opened and it poured rain, complete with thunder and lightning. But we were cosy in a room of our own and tucked into our warm sleeping bags.
During dinner in the restaurant, we had the delightful company of the slightly inebriated neighbour Dandy Sherpa, a herder with a nearby goth where he kept scores of yak. He kindly offered to send us milk for our morning tea.
The next morning, sure enough Dandy had sent us milk. Hans Pokhari was surrounded by rhododendron, and some daphne lokta plants, from which local paper is made, but we saw none of the migratory swans or ducks that give the pond its name. Perhaps they had already passed through.
The trail gets even better from here on. Funded jointly by Shadananda Municipality and the Swiss Development Agency and built under the latter's supervision, the stone and grass paths were dotted with chautara and mane stones, making the walk a pleasure.
En route to Dhotre(2,752m) we passed some bamboo forests, the home of the elusive Red Panda, and stopped for lunch by the river side in the village of Jaljale, where a local shepherd informed us that the rhododendron had been at their best until the first week of April, when heavy rain brought the flowers down.
The Mundum Trail cuts a picturesque path right through Dhotre, and there are water pipes and even a toilet for the use of the village. Our guide arranged with a local shopkeeper for us to spend the night there.
On Day 4, we depart Dhotre for Chakhewa Bhanjyang, our final destination. This stretch of the trail is mostly level over ridges with spectacular views of the mountains of Khotang district. Along the way, we encountered a large herd of sheep being looked after by a grandfather and his grandson from the nearby village of Buipa. The day was cloudy so we decided against climbing Matim Danda and headed straight for Chakhewa pass, where we spend a night at a hotel by the main highway to Bhojpur.
The next morning, Ganesh left town riding Lambu even before we were awake and reached Bagkhor in four hours. We boarded the same Bolero which had taken us from Bhojpur Bazar five days earlier, thus coming full circle.
The full Mundum Danda trail runs 100+ km from Sampang Chok all the way through Hans Pokhari to Silichung. Our trek from Bagkhor via Hans Pokhari and Dhotre to Chakhewa Banjyang covered only about 70 km of the trail. Judging from YouTube videos posted by other travellers, other sections of the trail looked equally well maintained.
Read also: Holy hike to the sacred Khaptad Plateau, Bharat Bandhu Thapa
The Maiyung Temke Salapa Silichung Tourism Promotion Center was founded in 2017 with the express goal of bringing together the Municipalities of Temke, Bhojpur Municipality, Rupakot Majhuwa Gadi and the Nepal Tourism Board and the Swiss Development Agency (SDA) to develop the trail and the various shelters along the way.
I asked Ramesh Rai, the MTSS president,who was responsible for the trail's upkeep and general maintenance, since even our short outing revealed several instances of vandalism and deterioration. "No one," said Ramesh Rai.
Will this be another unfortunate case of "Nepali maintenance" – that is, a total lack thereof, in which millions of rupees are spent on infrastructure only to have it all deteriorate due to shoddy work, corruption, and negligence? To ensure that this mostly pristine trail will remain the same five years from now is a question all the stakeholders need to think about. In addition, the overnight shelters need improvement and better facilities, some of which has already happened in Hans Pokhari. Such improvements will attract more travelers and investors.
The shelters need not be fancy, merely clean and functional, with fixed fire areas, outhouses and perhaps piped in water. Perhaps they could be maintained by volunteers as they are on the Appalachian Trails in the United States.
Why not put some of that money for more trails with so much fancy stone work, grass pathways and rest areas with cultural markers, and make simple log cabins or improved goth to spend night.
And most importantly start maintaining them right now before they get all washed away in the next rain? The challenge now is to manage and market the Mundum Trail.
Read also: Go take a hike, Sewa Bhattarai