Sky is the limit for Nepal's women scientists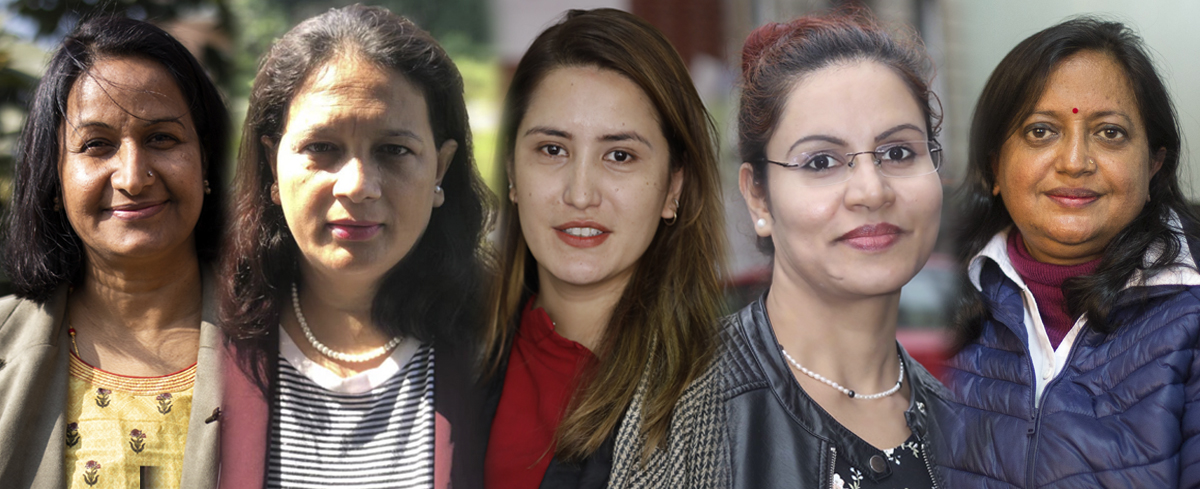 There are many examples to prove that, given the right opportunities, Nepali women can perform as well as, if not better than, their male counterparts.
Nepali women professionals have proven this time and again despite a persisting gender gap in all the fields. And it is in science and technology that the representation of women has been low.
However, Nepal's women scientists have been making their mark in fields as diverse as medical research, engineering, genetics and even astrophysics.
On International Day of Women and Girls in Science on 11 February, we bring you five women scientists who between them have pioneered in forecasting droughts, developing climate-friendly agriculture, the diagnosis and treatment of congenital diseases.
These Nepali researchers were internationally recognised with the 'Early Career Fellowship' award worth $50,000 by UNESCO's Organisation for Women in Science for the Developing World (OWSD) between 2018-2020.
OWSD was set up in 1987 to encourage women in developing countries in the field of science and research so that their work can create an impact at the regional and international levels.
Shobha Paudel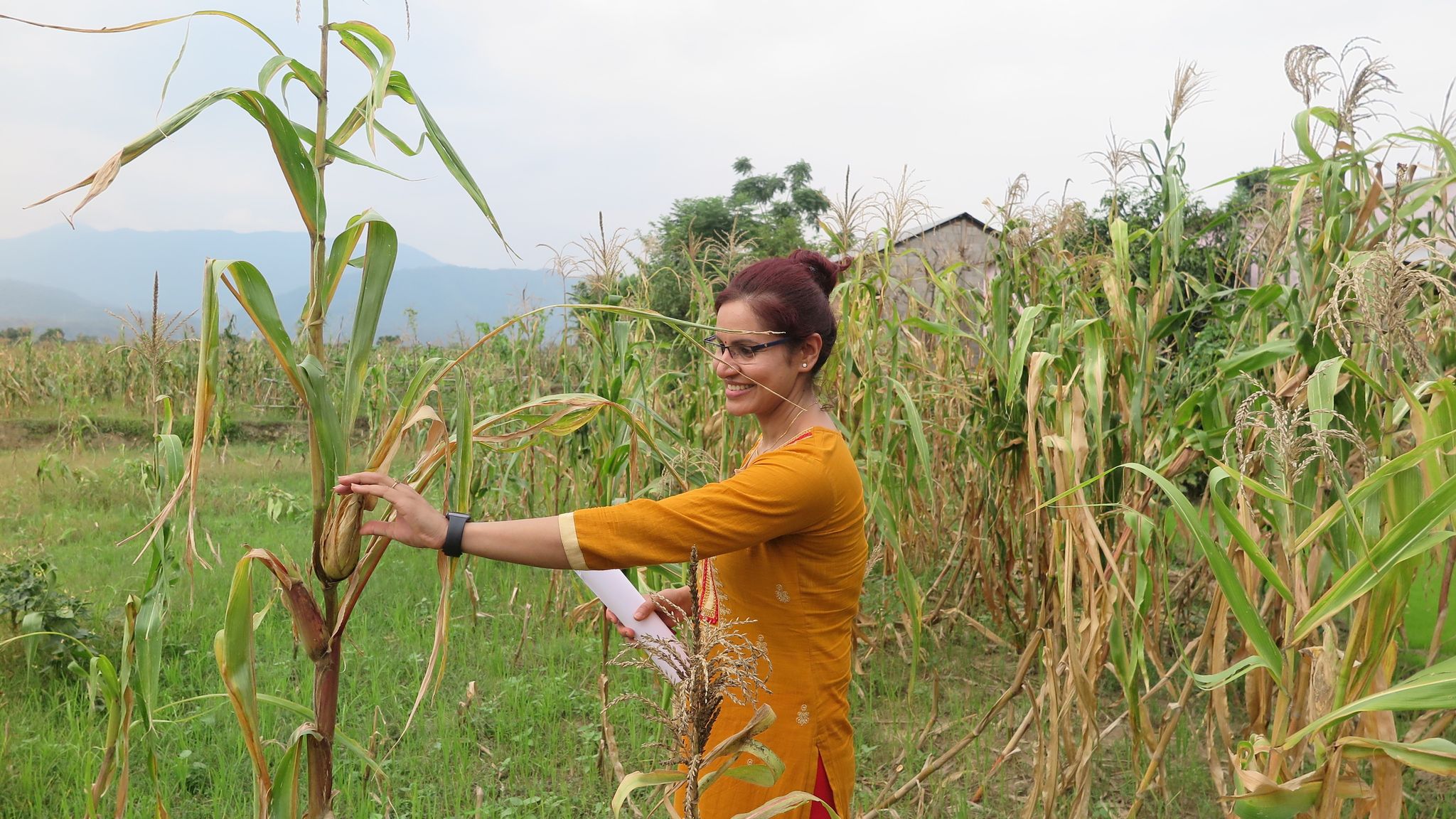 Unseasonal downpours last October decimated much of Nepal's paddy fields and reduced harvest. This was one of the impacts of the climate crisis on food productivity. Agriculture is also one of the most energy intensive sectors of the economy, thus contributing to global warming.
Which is why 'Smart Agriculture' is the new buzzword and researchers around the world are working to develop technologies that allow for crop production that does not add to climate change. One such researcher from Nepal is Shobha Paudel.
Born to a family of farmers in Chitwan, it was only fitting that Paudel would continue her ancestral profession but at an entirely different level. Following the completion of her PhD from Kyoto University, she has been looking into advancing environment-friendly agriculture practices in Nepal.
First, she closely studied a village in Nawalpur declared as climate-friendly and its farming methods that produced less carbon but increased productivity, and in turn income for the farming families.
She picked eight research areas including organic fertilisers, solar-powered irrigation, jab planter for corn, and other zero-emission technologies. She then proposed to analyse environment-friendly farming systems in the Gandaki Watershed region.
Her research showed that solar-irrigated crops were more expensive but the use of organic fertilisers and jab planters led to higher yield as well as reduced emissions. She also identified systems applicable to places with similar topography like Nepal.
Paudel has now opened an online platform and an app for farmers to reach consumers directly with their products and in the future, she aims to scale up Nepal's smart agriculture system in other Asian countries.
Hemu Kafle
Last year, the mountains of Nepal suffered one of the longest droughts of recent times. Since the majority of farmers in Nepal depend on rain-fed agriculture, information on precipitation patterns and forecast of impending drought can help prepare farmers. This is where Hemu Kafle's research can prove useful.
Kafle obtained a Master's degree from the Ben Gurion University in Israel and her PhD in remote sensing from Nagoya University in Japan. After returning to Nepal, she joined NAST but soon after that in 2014, she set out to open the 'Kathmandu Institute of Research Sciences'.
For her OWSD proposal, Kafle decided to continue her research on drought estimation in Israel and Japan using photos taken by remote sensing satellites in Nepal. Kafle was unable to continue her study in Nepal due to relatively fewer ground stations in the country.
"Nepal has varying geography and climates which makes it difficult to set up meteorological stations in remote areas," says Kafle. But with her grant money, she built her own low-cost mobile meteorological station in a van to study drought patterns in remote Nepal by analysing satellite imagery.
Kafle's study also records air pressure and humidity which can help predict weather, estimate farming capacity and drought patterns of the area. She has found that most of Nepal will experience drier March and April in the coming decades.
For now, Kafle is trying to secure a patent for her meteorological station and find a way to set up a fleet of similar stations across the country. "The government does not support researchers financially and it is costly to buy equipment on your own, so we have to find ways around it," she adds.
Tista Prasai Joshi
Nepal has one of the lowest figures for access to safe drinking water among developing nations with some 71% of all water sources contaminated with Escherichia coli, a leading cause of gastric infections among children.
Tista Prasai Joshi's proposal in 2019 aimed to purify water using organic arsenic which was the subject of her PhD in China's University of Science and Technology. Her research into arsenic, (which can be a poison if it is of a different chemical composition) is to see if it could be a water purifying compound is unique and could have implications for other developing countries.
With the grant money, Joshi bought a nanoparticle analysing equipment 'Zeta Potential,' which came in handy also for fellow researchers who previously did not have access to such a tool to help with their studies.
"Science has never been prioritised by our government," says Joshi who is currently with the NAST. "In fact, when I came back I had a few pieces of equipment that I could use for my study."
Such blatant disregard for the field has meant that Nepal has not been able to retain young and promising researchers who have left for the US or Europe in search of better opportunities.
Prativa Pandey
Prativa Pandey always dreamt of one day becoming a biological engineer. She fulfilled it by getting a degree in chemistry and mathematics from Northwestern University in the United States before doing her PhD in nanotechnology chemistry.
By 2015 she was working as a semiconductor scientist, and she decided to return to Nepal after the earthquake. But she had no idea what she would do next and she travelled all over the country trying to identify her next venture.
"I saw potential in medicinal herbs and plants. Although it had nothing to do with my studies, it is an important area but with little to no research," says Pandey, who then started researching plants.
At the time, she was with the Research Institution for Bioscience and Biotechnology, to find ways to increase the value-added products of acidic fruits such as oranges, lemons, and jams.
When she heard about the OWSD fellowship, she sent her proposal which aimed to process waste citrus and turn them into cosmetic and medicinal products.
Pandey has three focus areas: extracting oil from the citrus waste, developing power and decomposing the bark for bacteria on the fruit, forming a basis for her research which will take place in Rupandehi, Palpa and Gulmi districts with their abundant citrus production.
After the project ends, she plans to use the waste to develop cosmetics for commercial sale and has in fact, already set up a company. She hopes she can source raw products domestically and for a country where farmers are unable to sell their produce in lack of transport or due to low market value, reusing them for value-added products can be a good alternative.
Jyoti Bhandari
Jyoti Bhandari is an associate professor at the Institute of Forest Studies in Pokhara and has been involved in the conservation of bats since her time at China Agricultural University as a PhD student.
During this time, she got an opportunity to tour grasslands and forests across Nepal and came to a swift realisation that the country lacks proper documentation of its plants and herbs.
Which is why for her 2020 OWSD proposal, she decided to extend her research work into Nepal's traditional herbs to conserve them and also find ways to farm them sustainably so that it can raise living standards of farmers.
This meant training local farmers in the scientific commercial farming of herbs, and this is exactly what Bhandari has been doing since receiving the grant in 2020.
She has also concentrated her study in the Annapurna region and she frequently visits Sikles, Ghandurk, Lamjung and Lower Mustang to document the herbs found in the region, what they are used for and whether they are commercially produced.
Bhandari had previously received the Plant Conservation Fellowship, Rufford Small Grant and WWF Russell Eton Fellowship.