The Gangster of Love
When Nepal became a destination for overland travelers in the 1960s, one young man was ready: Trilochan Shrestha, probably Nepal's first hippie. Born in 1945 as the oldest son to a wealthy Newar family, he grew up in Jhhochen where his aunt lived.
Trilochan used to skip school to swim in the Bagmati at Pashupati, and it was there that he met the Aghori Babas, a cult of Shaivite ascetics. They took him under their wing, and inspired the young boy to grow his hair and to smoke.
"I was always an overexcited child, nowadays I would be diagnosed with ADHD. Ganja helped a lot, it cooled me down. For me, it is a herbal medicine," says Trilochan, who easily connected with the overland travelers.
"I was a hippie before the word was invented. Hippies are the babas of the twentieth century. I simply loved them."
Read also: 'Hippinis', Lucia De Vries
With his Mediterranean complexion Trilochan was often mistaken for a Westerner, and the western hippies in Jhochhen were intrigued by his ability to light a chillum. "You smoke like a chimney," they told him admiringly.
Trilochan's first hippie friend was Eight Finger Eddie, an American bohemian who is credited with popularising Goa as a tourist destination. Trilochan started living with overland travelers in Kimdol below Swayambhu, cultivating three longterm relationships with Western women, with whom he fathered two children.
Trilochan tried various drugs, starting with LSD and magic mushrooms, got addicted to coke but managed to kick the habit.
Read also: 'Photo returns to Kathmandu', Monica Deupala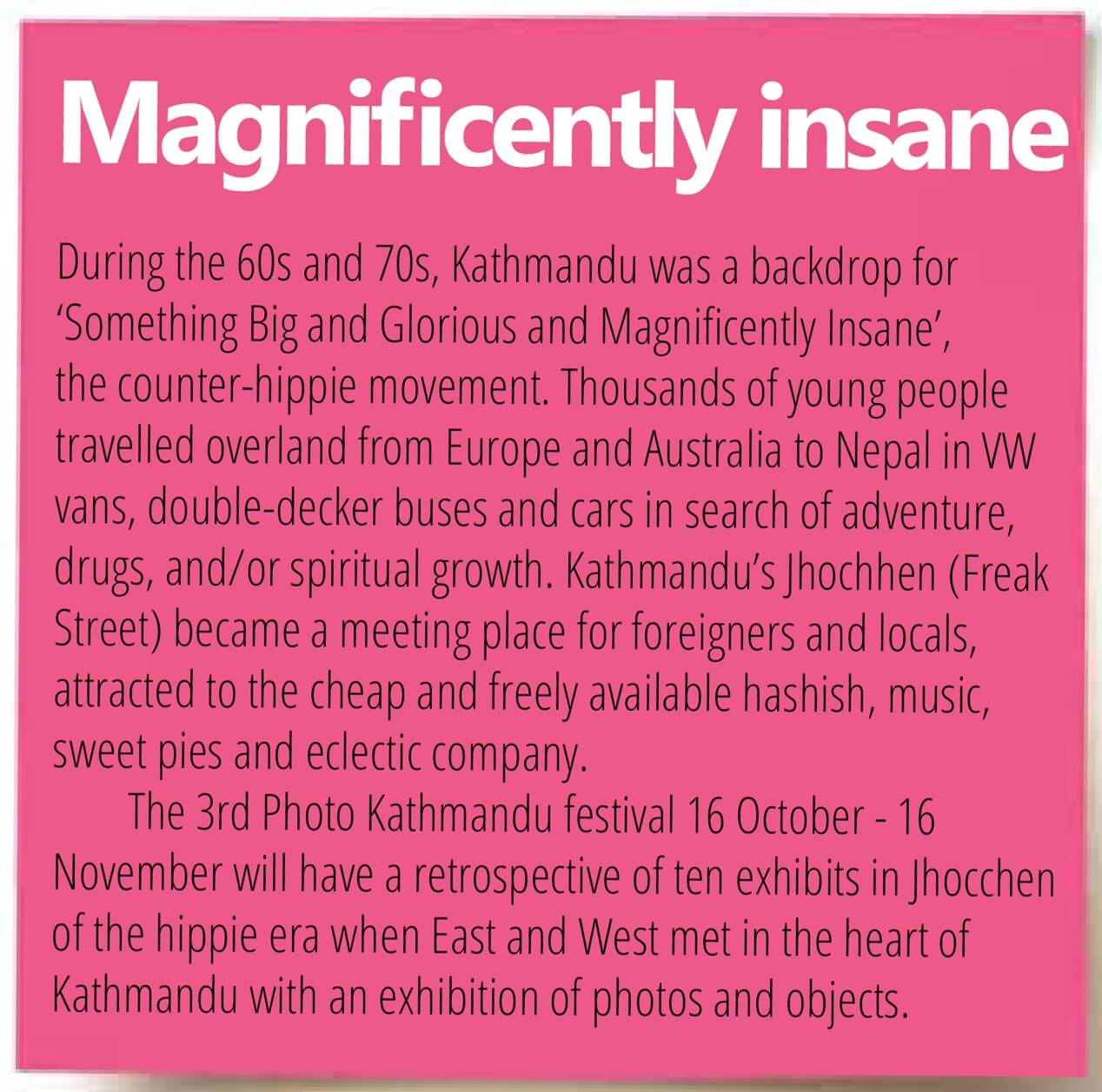 In 1970 Trilochan and his Spanish partner Curry Ojeda opened Ying Yang Restaurant in Jhochhen. An artist at heart, he created an unforgettable design with drapes, funky lights, and the best sound system in town.
"Ying Yang was a magic place, it was the only club in Nepal at the time and it had a view on the old palace and the souvenir market. It became Freak Street's main meeting point and I was somehow in the middle of it all," Trilochan recalls.
'On cleverly devised, carpeted levels and in an atmosphere of vermillion, and gilded gloom, seekers of bliss drift through before dinner beers, meals and after-dinner joints,' wrote Desmond Doig about the place. At Ying Yang, people could dance any time of the day and stay late. The place never seemed to close, remembers a regular, Susan Burns: "Trilochan had all of us trapped in there."
Trilochan used to invite Pashupati sadhus and beggar children to the restaurant to give them free food. When Trilochan registered the Ying Yang he put Jhochhen as its location, with 'Freak Street' in brackets – immortalising the name.
He says: "I was a freak myself, so I figured it was a good name. I never thought it would become so popular."
Trilochan feels hippies have been misunderstood, and were not given due credit. He says: "Freak just means 'different'. We are all born freaky, but society wants to put us in a box. Hippies just want to get out of the box and create a peaceful, creative society."
Trilochan went on to become a successful tourism entrepreneur, but also a black sheep of his family. "It was painful to listen to people criticising me for being a hippie who ruined the family reputation. What did they expect? That I would drive a Rolls Royce and live an artificial life?"
In 1976, under pressure from the US government, Nepal banned the use and sale of marijuana. Trilochan started a campaign to revoke the decision, and was arrested with 30 other families. Although no drugs were found on him, Trilochan spent seven years in prison.
When he came out, the scene had changed, marijuana had been replaced by hard drugs like 'brown sugar' and heroine. A new breed of travelers started coming, but they went to Thamel. Trilochan went back to Pashupati and reconnected with his sadhus.
He still lives 'the baba life' and practices sun meditation, which he considers to be his new 'drug'. Despite suffering two strokes, he still visits trance parties, dancing all night.
"Sometimes I look at myself and I think: Wow, beautiful, the child in me is still intact. I remain a gangster of love," says the aging hippie. "I feel blessed having met many beautiful souls from all over the world. They taught me wonderful things."
Trilochan Shrestha's photo collection is featured in 'Something Big and Glorious and Magnificently Insane' exhibition as part of the Photo Kathmandu festival in Jhochhen, 12 October-16 November.
Read also:
Feeling groovy, Lucia de Vries
Not so freaky anymore on Freak Street, Alok Tumbahangphey
Circumambulating with Swayambu Billy, Lucia de Vries
Real people, real lives, Hannan Lewsley