Tsering Sumjok is all right
Last November, in the waiting room of a hospital in Bad Kreuznach in Germany, Tsering Sumjok Gurung caught glimpse of a familiar face.
The tall man with graying hair and moustache was wearing a white coat over a yellow jumper. He was none other than plastic surgeon André Borsche who had treated her horrific childhood burn injury at the Sushma Koirala Memorial Hospital in Kathmandu ten years previously.
"It was an emotional reunion for both of us," Tsering, now 23, remembers. "He was very friendly and wanted to see how my injuries had healed."
Tsering was 18 months old that summer when her family made the annual migration up to high pasture to graze their yaks. One day, while her mother was tending the livestock, Tsering fell off her crib right into the fireplace. She was badly burnt on her back, and right arm.
Read also: A burning desire to help, Kunda Dixit
There were no doctors in her village of Bhijer, so she was treated for the next four years by the local amchi healer. This kept her alive, but the skin on her right arm was fused with the torso. All her childhood, Tsering was carried around in a doko bamboo basket.
"Burns are common in Dolpo because home life revolves around the kitchen fire," says Tsering. "I was lucky."
Despite being painful to move around, Tsering started going to school in Bhijer and excelled in studies. In Grade 2, a group of wealthy American and Swiss trekkers visited the school that they had supported. They noticed Tsering, examined her injuries, and helped bring her to Kathmandu for school and treatment. Over the years, the two families have also funded a hospital and a cheese factory in the village.
Tsering used to watch her classmates in Kathmandu run and play, or dance in school programs, but could not participate because of her injury. She was eventually admitted to the Sushma Koirala Hospital, which is supported by INTERPLAST-Germany, where André Borsche and his team performed five major operations with reconstructive surgery. Every week, she had to make a painful bus ride from her dorm in Boudha to the hospital in Sankhu for physiotherapy and follow-ups.
She missed many classes, but she made up for it by reading books which inspired her to become a doctor, so she could serve her community in Dolpo. Not able to afford higher education, in 2017 she started working as a hostel warden at a school in Chobar.
That is when she met German journalist Peter Hinze who was researching his first book on The Great Himalayan Trail, and Tsering later travelled with him to Upper Dolpo to make a film with herself as the lead character.
Tsering was back in Bhijer for the first time in ten years, and her family and neighbours were surprised how much she had grown and changed. Her injuries were not visible anymore, and no one could believe that a little girl who had such terrible injuries would be so transformed.
Read also: Lending a hand, Nepali Times
"I met the right people who helped me get treatment otherwise my life would have been different," Tsering says. "Even now, there are many children in my neighbouring villages who are not as fortunate."
The film project was cancelled because of the pandemic, but Hinze converted the research into the book 100000 Schritte zum Glück about Dolpo, and invited Tsering to Germany for the unveiling in November. The book made it to number 4 on Amazon's best seller list in Germany.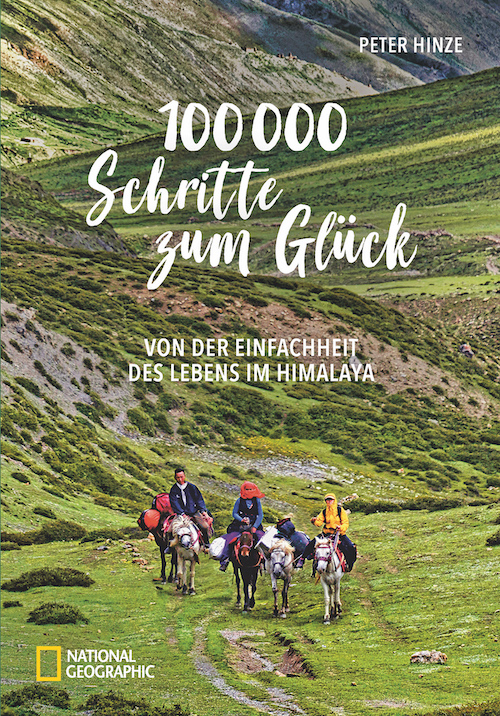 And he had a surprise in store – a meeting with the surgeon who had treated her in Kathmandu all those years ago. It was an emotional and joyful reunion.
"This was one of the best days in my 26-year career, when I could see the wonderful result of our charity work," said André Borsche.
Tsering was equally happy: "I made it from my family stone hut in Bhijer to the hospital in Germany to meet the surgeon who changed my life."
Read also: Nepal's acid attack survivors find a saviour, Sabina Devkota
In the hospital, Borsche examined her burn scars and was satisfied with how well her back had healed. He suggested one more operation, but Tsering refused any more treatment.
"I am over medical procedures for now," Tsering told Nepali Times on her return from Germany. "After all those surgeries, I am put off by the sight of blood. I don't want to think about the pain afterwards. For now I think I am ok."
These days, when Tsering is not busy with her full-time work at the Chobar school, she helps Hinze with Project Dolpo, a private initiative to help those who need assistance in her home district. She gets frequent calls from families in Dolpo who are in distress.
Says Hinze: "I think this is a motivating story about a girl who never gave up, and who trusted herself. It shows how when help gets to the right people, the underprivileged and the almost forgotten, it can make a big difference to their lives."
This past week in Kathmandu, Tsering has been busy taking a seven-year-old boy from Dolpo who was also badly burnt with boiling water, and was brought to Kathmandu for treatment. Tsering has been taking the patient to the burns hospital in Kirtipur for medical attention.
"It happened to me, and now to this boy. These accidents occur so frequently and Upper Dolpo just does not have the facilities to treat burn injuries," says Tsering.
For now, she wants to complete her education and ultimately return to Dolpo: "I feel it is my responsibility to give back to my community. The only way my village is going to develop is when young people like me get educated, and head back to help others like us. There is so much to do."
Read also: The prolonged trauma of acid attack survivors, Laxmi Basnet