A little help goes a long way in home isolation
Even as the Nepal's Covid-19 second wave appears to be cresting, and many hospitals do not have to turn away patients anymore, there are still at least 80,000 active cases across the country, most them isolating at home often without proper medical consultation.
The pandemic is also spreading rapidly in villages across Nepal's remote districts, where there is not much testing being done and no medical care for the severe cases. There is an urgent need to ensure essential healthcare and hygiene products to local communities and infected people.
This is where the non-profit Health Advancement Programs to Serve All (HAPSA) Nepal and the White Grain Foundation have stepped. They are distributing home isolation kits in more than 20 municipalities in the remotest parts of Nepal in Jajarkot, Khotang, Baglung, Gulmi and Sindhupalchok districts.
The money was mainly raised via a crowdfunding campaign on the GoFundMe platform. The project is a brainchild of Ramu Kharel, and HAPSA Nepal and has received $50,000 so far through hundreds of donors. The German non-profit Impact Week, Nepal Rising in the US, and Pasa Puchah Guthi UK are also supporting the cause. Students from the local Nawa Asha Griha school sewed the first 100 kits.
"Currently we are on a mission to deliver 20,000 home isolation kits across the country. They are distributed by the concerned municipality to affected households," says Kharel, whose team works directly with mayors and local representatives to distribute the kit.
He adds: "We value partnering with the local government and building the government's capacity to serve its people. That is why our work is done in partnership with the municipal administration."
Kharel works as an emergency medicine physician in the United States and has been in Nepal for the past three months. In collaboration with the Covid Alliance for Nepal, his team has also been actively involved in providing training to isolation centres, medical professionals, frontline doctors, and clinical care providers.
Kharel's team had also been conducting meetings with mayors across the country to find out the kind of technical or material need the group could help with to counter the surge of Covid-19 cases in the villages.
In the course of our conversation with the mayor of Dhangadi, Nripa Odd, it became clear that one immediate point of intervention was encoring the large population of folks coming in from the district and from India to isolate at home for as long as possible," says Kabita Parajuli of the Covid Alliance for Nepal. "With that in mind, some quick brainstorming yielded the isolation kit idea. The municipality's enthusiasm and use of local resources was also instrumental in getting this off the ground."
The kit includes a pulse oximeter, thermometer, at least 25 surgical masks, medications that are important during home isolation, sanitiser and soap, as well as a brochure on what to do and not to do while isolating at home. The brochure includes a video with detailed instructions on how to use the kit.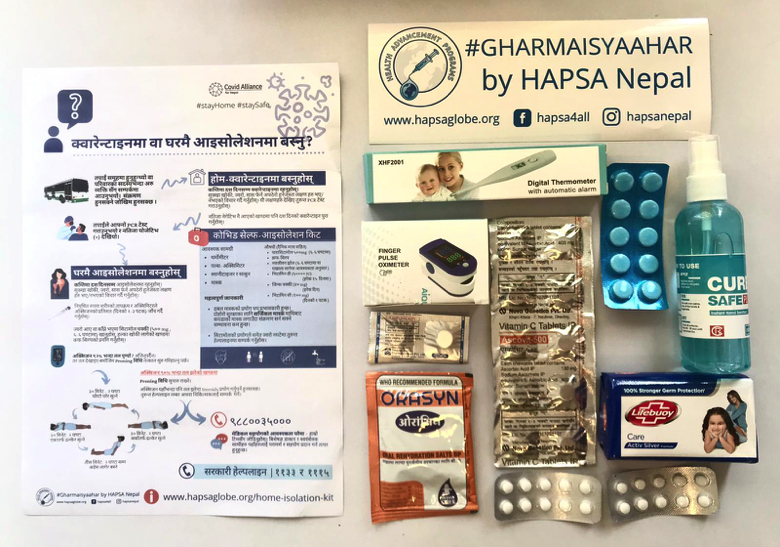 Presently there are 77,858 active cases in Nepal. 5,860 of them are undergoing treatment in various hospitals across the country with 1,261 in ICU and 382 requiring ventilator support.
On Thursday, Nepal recorded 3,749 new confirmed cases, with 5,293 having recovered. There were 59 fatalities in the last 24 hours. Kathmandu registered record low new infections at 540. Lalitpur and Bhaktapur have 125 and 99 new cases.
"Eighty per cent of those infected with the coronavirus are managed at home or at an institutional isolation centre. We have started providing home isolation kits to facilitate the process and reduce the burden in hospitals," says Aman Bhattarai from HAPSA's strategic partner Impact Week.
The team recently delivered its first batch of home isolation kits to Shankharapur Municipality, Sindhupalchok, where HAPSA has been working on health advancement for more than 10 years.
"We very much appreciate this support from HAPSA, the kits will be crucial in our battle against coronavirus in the region," says the Mayor of Shankharapur Municipality Subarna Shrestha.
, Once a household has recovered, local recipients are expected to return the pulse oximeters to the municipality which are them re-distributed to other isolation centres or local health facilities, according to HAPSA Nepal president Pankaj Bhattarai.
Says Kharel: "Each kit costs nearly $20, and for the goal of 20,000 Home Isolation Kits, we need to raise nearly $400,000. Funding for this important work is our biggest bottleneck right now."
Interested individuals can GoFundMe or by visiting the HAPSA Nepal website.