Gharial found breeding in Nepal after 37 years
Conservationists from Zoological Society of London and Biodiversity Conservancy Nepal have discovered the first successful nesting and breeding site of gharial crocodiles in Nepal since 1982. More than 100 hatchlings of the gharial were found in Bardia National Park, giving new hope to the conservation of the critically endangered species.
The findings of ZSL's EDGE (Evolutionary Distinct and Globally Endangered) of Existence was published by the IUCN SSC Crocodile Specialist Group last week. Only other population of gharial known to be breeding is in Chitwan National Park.
Read also: A guide to what is left, Kunda Dixit
"Understanding whether gharials were breeding in Bardia National Park was considered to be a top priority for the species, as upcoming plans to divert nearby river systems, which would likely have an impact on the habitat and quality of the river for gharial, are currently underway," said Rikki Gumbs, researcher at ZSL. "Given the species is limited to around five populations across its entire range, this is such a positive discovery, and a critical step for the long-term recovery of the species in Nepal."
With fewer than 100 adults remaining in Nepal, several fragmented populations in India and virtually extinct across the rest of their former range, gharials are among the world's most endangered reptiles. The species have suffered a 98% decline since the 1940s, mostly due to destruction of its riverine habitat caused by construction of dams, irrigation canals, sand-mining, pollution and agriculture. Over-hunting for skins, egg collection, accidental bycatch and pollution in the form of toxic effluents into the rivers from factories upstream also led to the decline.
The discovery means experts can now prioritise this population for conservation action, including conducting feasibility studies into whether the species can be translocated from the south in Chitwan and researching survival rates of hatchlings. This needs strong commitment towards conservation and huge funds to support it, stress conservationists.
Read also: No more crocodile tears for gharials, Abha Eli Phoboo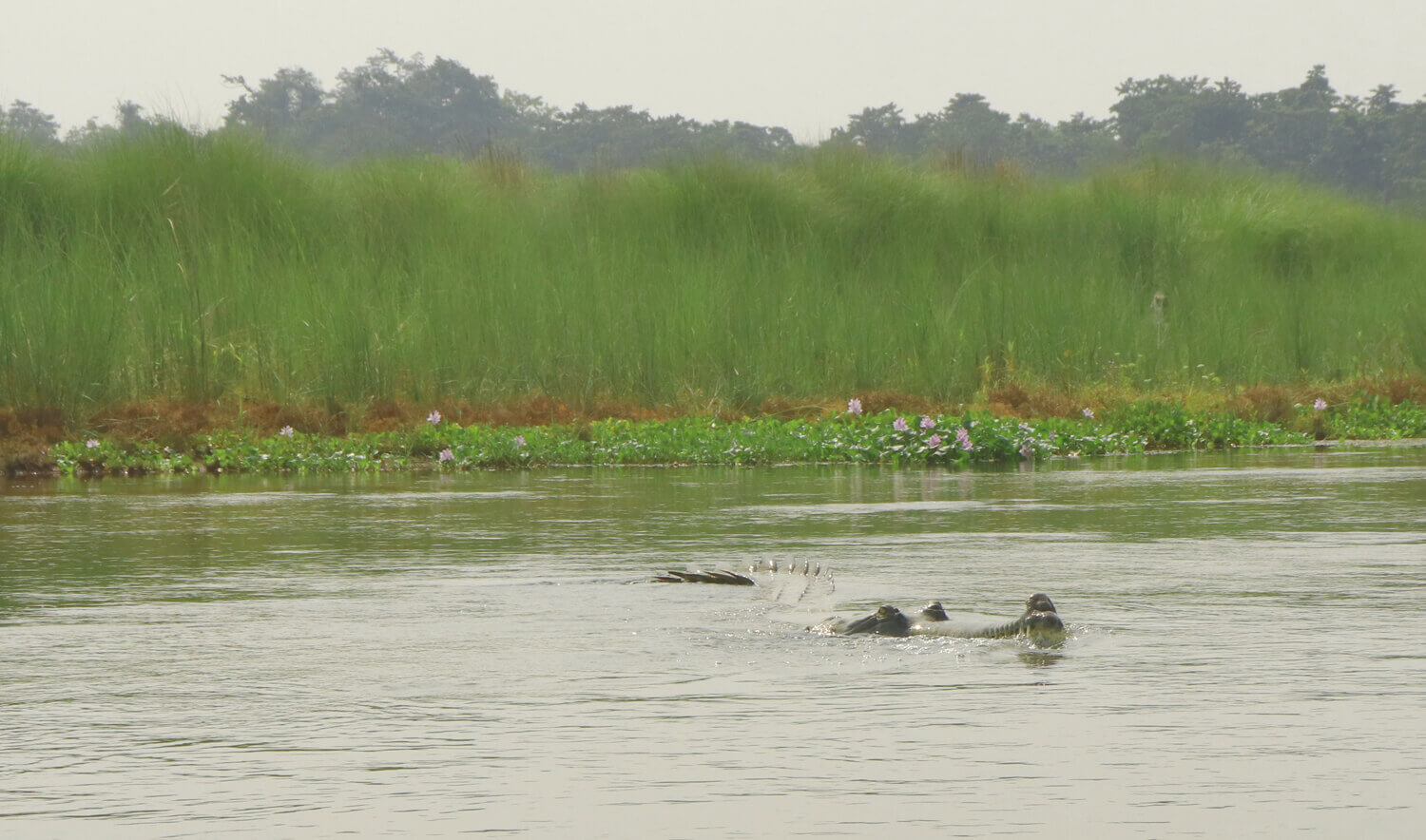 Gharial travel large distances in search of suitable locations for feeding, breeding and nesting. This makes them susceptible to being isolated from suitable habitat since they can be trapped on the wrong side of dams and barrages when monsoon floodwaters go down. They're also highly susceptible to human disturbance, which is increasing due to urban sprawl in Tarai.
Communities around protected areas in Nepal are heavily dependent on natural resources and rely on fishing for their livelihoods. ZSL has been working within local communities to set up 'Gharial Guard Groups' outside of Chitwan National Park in order for them to patrol and protect gharials from direct threats such as unsustainable fishing.
Said Ashish Bashyal, Project lead and National Geographic Photo Ark EDGE Fellow based in Nepal: "People generally have a great affinity for gharials, they don't attack humans as they generally feed on. We want to try and harness that love for the animal into local community conservation action in order to help monitor how the hatchlings fair."