World's rangers face wide-ranging challenges
It is an indication of just how dangerous the job of rangers is that during the four days that the 9th World Ranger Congresswas being held in Nepal last week, up to five rangers may have been killed around the world.
Opening the congress, outgoing International Ranger Federation president Sean Willmore asked for a minute's silence for the 1,038 colleagues who had fallen in the line of duty over the past ten years – mostly in protected areas of Asia and Africa.
More than half of them were killed by armed poachers, and the congress looked at ways to make the job safer for those at the frontlines of protecting natural resources and biodiversity. Ranger welfare means safety, but also health, psychological well-being, and job security.
A worldwide survey of rangers conducted by the World Wildlife Fund released this week reveals that inadequate training and lack of basic equipment like shelter, uniforms and communication devices, puts rangers at risk, and makes them ill prepared for the dangers they face.
Willmore asked at the congress: "Which would you like first, equipment and training, or drones? I'll bet that most rangers would like a good pair of boots before they would like a drone."
The threats that protected areas face around the world were very real because Australian and Brazilian rangers in Chitwan were constantly checking their phones for updates on wildfires destroying forests in their countries. By last week, 1.6 million hectares of land in New South Wales had been ravaged by fires that scientists have attributed to the climate crisis.
Brazilian ranger Felipe Avino said about his government's policy that is destroying the Amazon: "I just try not to think about it. Every day there is some new terrible news. If I thought about it I wouldn't be able to function."
His colleague Marcelo Segalerba said that many are responding by preparing themselves for the challenges to come. Segalerba's group trained 600 rangers for the Amazon in 2005, in a program that pioneered the training of indigenous rangers in Latin America. It is now training rangers to protect the Brazilian savanna.
Nearly half the rangers attending the WRC were women, part of an effort to ensure that the ranger workforce, overwhelmingly male, is a more welcoming place for them. Putting women in positions of responsibility radically improves conservation work.
In 2017, the Africa-based International Anti-Poaching Foundation (IAPF) trained the world's first armed, all-female anti-poaching unit to work in Zimbabwe's Lower Zambezi Valley. After training these women and giving them positions of responsibility, ranger-community relations improved and cases of corruption decreased.
Conservation has become increasingly militarised, and IAPF's Damien Mander says that ranger-poacher encounters often result in casualties on both sides. But in the two years since the creation of the armed, all-female anti-poaching unit, the unit has conducted 130 arrests without a single bullet being fired.
Participants emphasised the need for indigenous people to be rangers because their traditions and strong spiritual connection to the land are already protecting the earth.
People living close to national parks often rely on agriculture or livestock for their livelihoods, both of which can be threatened by the wildlife that rangers work to protect.
Krissie Clark, co-founder of the Tanzania-based PAMS Foundation says communities need to be engaged in conservation: "Goodwill and trust needs to be built up. If we want conservation, we have to support communities with what matters most to them. Then they will be better willing to tolerate the elephants."
Clark added that having national parks contribute financially to poor people's lives is more of a challenge in places that do not attract tourism.
Pakistani ranger Rizwana Aziz agreed that anti-poaching work becomes much easier once rangers have good relations with the surrounding community. "They can be our eyes and our ears. So we need to find ways to build these relations, for a better and safer world."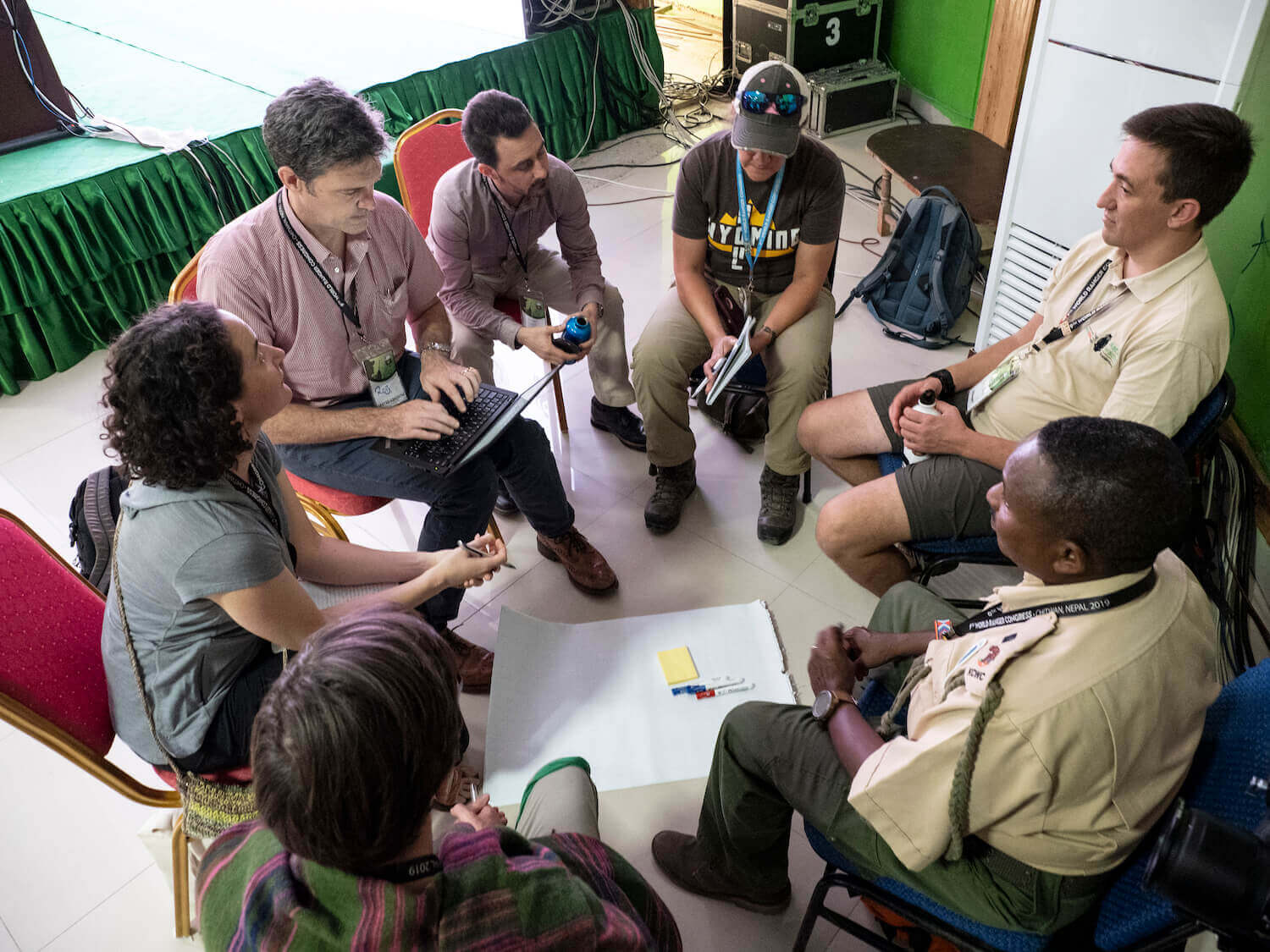 This the first time the World Ranger Congress is being held in Asia, and Nepal's Chitwan National Park was chosen in recognition of Nepal's conservation success in nearly doubling its tiger population since 2010, and achieving zero poaching of rhinos. The congress is held every three years, and themes discussed this year included ranger welfare, women rangers, indigenous rangers, and ranger-community relations.
Stuart Chapman of the World Wildlife Fund's tiger conservation program told Nepali Times such gains are difficult to accomplish and take strong political commitment to make possible.
NCP co-Chair Pushpa Kamal Dahal extolled the conservation gains made by Chitwan National Park in his inaugural address to the congress, but he has also been pushing to expand the Kasara-Thori road that runs through the park into a four-lane highway. Conservationists say this would fragment the wildlife habitat, putting at risk both conservation and tourism.