Expressing culture and nature in eco-art
Twenty-one acrylic portals on the crossroads of physical and spiritual worlds await visitors along an unassuming corridor. In Siddhartha Art Gallery, contemporary artist Binod Pradhan depicts the mythical Beyul, sacred hidden valleys in the Himalaya that offer peace and refuge in times of crisis.
Pradhan returns after an eight-year hiatus with Sacred Realms, marking his ninth solo exhibition. He combines Nepal's landscapes, cityscapes, culture, and fragility into an ultimate form of self-expression.
"Development and the climate crisis have changed the landscape of my childhood home," Pradhan explains, "I wish to spread and preserve its memory through my paintings."
He records his experiences through nostalgic strokes and altered colours. Indian red reminiscent of the disappearing slopes of Mustang and floors of Darbar Squares illuminate the landscapes of Pradhan's imagination.
Pradhan uses his signature technique: watercolor application for acrylic painting which give his work depth typically found in pieces employing multiple art supplies.
"Writers write to fight for their cause. I paint for mine," says Pradhan, "Through trial and failure, I invented a way to texture my paintings to communicate my experiences better."
The muddy remains of a dried-up Fewa Lake is patiently layered acrylic in Fewa Lake Existing, and one can almost smell the lake bed. Inspired by an article about the shrinking of Fewa lake, he painted the gorge empty of water. Sapanako Dunga (Boat of Dreams) holds the Barahi temple in the composition as the climate threat and uncontrolled development tarnish the lake. Safe to say, he embraces intertextuality and intergenericity.
In Natural Touch, a piece completed in 2020, Pradhan references Michelangelo's Creation of Adam. Amidst the erosion of bright, beautiful colours, hands of rocks, some bare and some covered in green, touch.
"Nokia used Michelangelo's hands to symbolize human connection," he adds, "I painted his hands to symbolise our connection with nature."
On either side, a temple and a Chorten stand aloof on top of mighty mountains. The connecting hands might also portray the harmony between Hinduism and Buddhism in Nepal. Pradhan grew up with merging influences from both, and he communicates his nostalgia with surrealism, smearing watered-down white acrylic as clouds to create a dream-like haze.
Using modern practices, he tells the story of the disappearing traditional heritage, transporting the viewer to the landscape of premonition through his form and dimension.
The red-brick monuments of Kathmandu, Bhaktapur, and Patan decay in Reflection Realms. Pradhan again uses clever, confident brush strokes to create texture in the decay lit by a golden sky. The puppet of Akash Bhairab, the god of death, stands out, blue in contrast to the striking yellow background.
When Shiva, the destroyer, is angry, he is depicted as Bhairab who is said to protect the Valley in crisis. Pradhan shows the parallelism between the concept of Bhairab in Hinduism and Beyul in Buddhism.
This subliminal spirituality is also also depicted Intangible Realms, a 48x48 inch painting in which a fiery palate overwhelms the scenery, drowning out the green of the trees. The tall mountains appear to be an illusion behind the burning branches.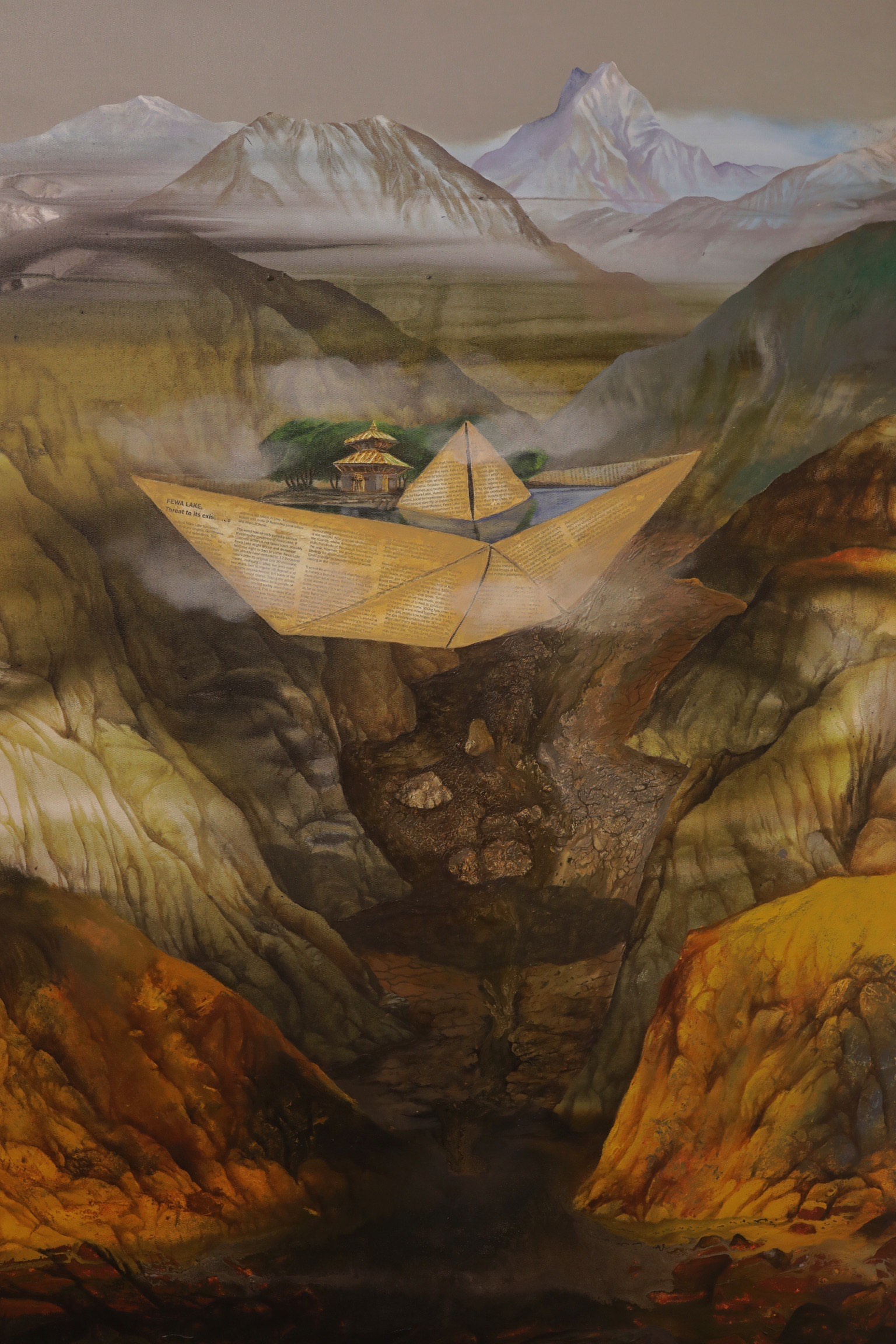 Pradhan's subconscious overpowers his actual vision resulting in a dreamscape. He says, "I meditate when I am painting, I find my subconscious and express myself in dye."
Pradhan, who painted most of the 'Sacred Realm' art during a Covid quarantine, obtained relief from all the negative news through art. He recalled and transferred the blue-green landscapes he witnessed in his 2016 Annapurna Circuit Trek into canvases.
"I hope the audience feels the same emotion I felt when I first experienced my Beyul through eco-paintings," Pradhan says, "We should think about our impact on nature."
Sacred environments are not places to escape the world, but to enter it more deeply. Pradhan, who experienced the era where the locals and visitors treated heritage and nature with reverence, knows all too well the interrelationship between the two.
"Every Beyul is located in the lap of nature in Nepal," says Pradhan. "We artists convey ourselves through collections that take years to complete. I hope to start a dialogue for a progressive future."
Read also: Lights, shadows and space, Ashish Dhakal