Drones to the rescue in Melamchi
Before and after interactive map of Melamchi Bazar and the confluence of the Indrawati-Melamchi rivers. Image on right on 20 June. Source: original interactive story map.
The devastating floods in Melamchi on the night of 16 June provided a test case of how drones can be deployed in future rapid disaster response in Nepal to assess damage, rush relief and to quash rumours.
Drones can be air borne in the immediate aftermath of floods, landslides or earthquakes, and they are cheap to set up and operate. Nepali engineers have also amassed a wealth of experience in using drones for everything from collecting tuberculosis samples in remote mountain areas to anti-poaching wildlife patrols.
"Hourly drone images at the Melamchi headworks allowed us to capture the extent of the damage, and made us realise the importance of having a ready to deploy experienced drone team within the country," says engineer Uttam Pudasini of Nepal Flying Labs, an initiative that started in Nepal and now present in more than 30 countries around the world.
Drone surveillance of a disaster-hit area has many advantages besides being cheaper and faster to deploy. In Melamchi, for instance, heavy rain hampered helicopter rescue and reconnaissance flights, and cloud cover meant that satellite images were not immediately available.
Immediately after hearing of the disaster, GeoVation Nepal scrambled pilots who had many hours of flight experience in difficult terrain, and transported them to Melamchi.
"Datasets captured by our drones helped us realise the importance of having a ready to deploy experienced drone team within the country and also understand how quickly a drone can monitor changes after a flood disaster," explains Biplav Pageni, co-founder of Nepal Flying Labs.
Preliminary assessment suggests that heavy rainfall starting on 14 June caused massive slope failures in the upper catchment area of the Indrawati and Melamchi basins and their tributaries in Sindhupalchok district. The terrain is still unstable after the earthquakes in 2015, and many of the landslides from that time are active.
Some bigger landslides blocked both the Indrawati and the Melamchi rivers upstream, with the water breaching the obstacles and coming down the rivers in walls of liquefied debris to cause death and destruction downstream.
The worst affected was the intake structures of the Melamchi Water Supply Project, although the tunnel itself was saved because the gate had been closed a few hours earlier. Five staff of the project are still unaccounted for, and altogether 20 bodies of people have been retrieved downstream. Some 260 households with 600 people have been displaced, and early warning by local governments allowed many to climb to higher ground for safety.
After the floods, a consortium of various private and non-profit organisations including Nepal Flying Labs carried out rapid aerial assessments of flood-hit areas. The team consisted of disaster risk reduction and management experts Suraj Gautam at the Institute of Himayan Risk Reduction, Basanta Raj Adhikari from the Tribhuvan University Institute of Engineering. Pravin Lamsal of GeoVation Nepal led all aerial missions to collect data, which are currently being processed for analysis.
Since accessibility is a crucial factor to plan emergency rescue and relief activities after a disaster like the floods in Melamchi, high resolution images from drones provide a clear picture of the terrain and conditions in the disaster affected area.
Early oblique images from Melamchi showed the damage to roads from Melamchi Bazar to the headworks site in Helambu, and interpretation of the orthophoto maps showed that many bridges had been washed away. This allowed the local government to plan for alternative access routes.
The drone images came handy because helicopters were grounded for most of the next few days because of poor visibility, and satellite images of Sindhupalchok from Planet Labs were obscured by clouds.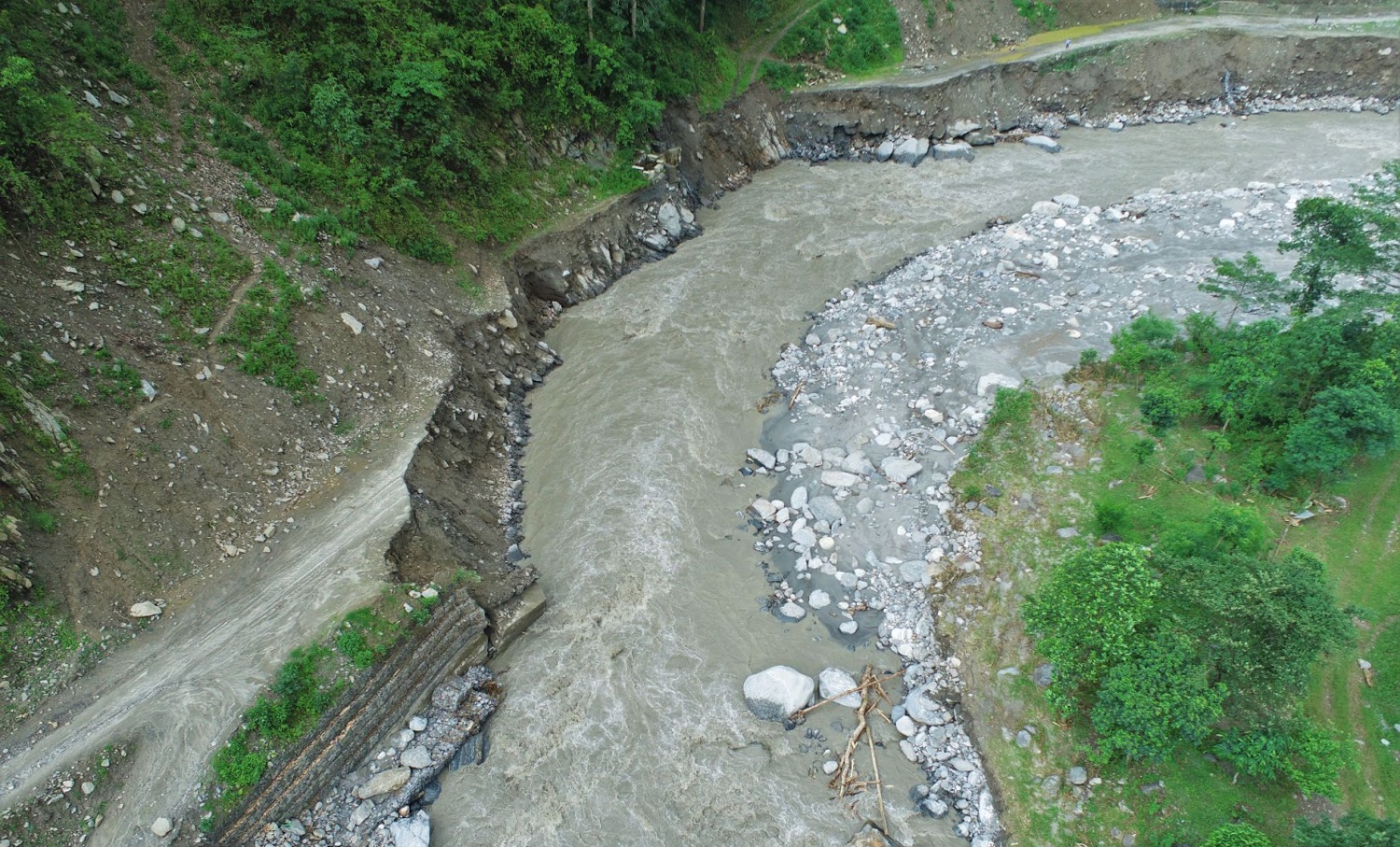 In contrast, the drones flew below the clouds and captured clear and sharp videos and stills of the terrain below. An orthophoto map with the resolution of 10cm/px of the upstream stretches of Melamchi enabled the engineers to measure the width of the flood, and measure the size of boulders brought down by the waters.
The orthophoto map processed with drone pictures were compared with satellite images for before and after images to assess areas suffering higher aggradation, deposition of sand and debris, and destruction of agricultural land.
This year, the monsoon arrived in Nepal right on schedule on 11 June, and within its very first week had swept through Nepal. Surprisingly, there was unprecedented rainfall in trans-Himalayan districts like Manang and Mustang as well as in Central Nepal, causing loss of life and heavy damage especially to hydropower projects and roads.
Video of heavily sediment-laden flood waters at the headworks of the Melamchi Water Supply Project (above) on the afternoon of 16 June taken by a GeoVation Nepal drone that recorded images to capture hourly flows.
The Melamchi Drinking Water Supply Project and Geovation Nepal conducted an aerial inspection of the headworks area on 18 June, and the flights were planned complying with the Remotely Piloted Aircraft Guidelines by the Ministry of Home Affairs and the International Humanitarian UAV Code of Conduct.
The team took off from Amathang 2 km from the headworks area and captured high resolution images of the damage to the intake structure which were covered in debris. The team was able to assess the flow and aggradation patterns at hourly intervals.
On 18 June, the team carried out an aerial inspection of the damage to Melamchi Bazar. But these were disturbed by frequent helicopter flights in the area which kept the air space busy. More flights were conducted on 20 June, with a team from the Nepal Engineers Association.
As drones can fly at a lower height, they provide more accurate situational awareness. The flight teams in Melamchi flew drones at 30-70m above ground level for photos and videos, and at 70m for photogrammetry purposes.
Says Pudasaini: "Rapid, locally-led drone deployment demonstrated that it is an effective technique for real-time damage assessment, as well as the dynamics of the river and debris flow."
For Nepal Flying Labs, some of the lessons learnt from the Melamchi experience was the need to coordinate with helicopter search and rescue flights in the area. Drones need to be deployed immediately, so permission process needs to be expedited as well as coordination with air traffic controllers at nearby airports, and local security agencies.
Fully vetted drone pilots need to be on a roster so they can be called upon during disasters. Drones equipped with infrared and thermal sensors can play a significant role in helping first-responders to identify missing people. Nepal must now also develop data-sharing protocols so drone images are easily available to rescue teams and local governments.
Says Gautam, "High resolution aerial images from drones have proven their worth to develop a baseline information to understand the scale and impact of any disaster, assess damage to help emergency responders. We must prioritise the use of frontier technologies such as drones to reduce risk and manage future disasters."
Emails: [email protected], [email protected]