Jazz returns to the 'Mandu
If it is October, it must be Dasain in Kathmandu. And it must be time for Surya Nepal Jazzmandu. This year, the 17th edition of the Kathmandu Jazz Festival returns with artists from all over the globe performing in the city.
International bands like Tropic Green, RSxT, Adrian Crookston & Palouse Forro, Paul Tynan & Jake Hanlon and Faby Medina, as well as The Blue Fret, Cadenza Collective and Jooni from Nepal will be performing from 17-23 October in different venues in Kathmandu Valley.
Jazz has come a long way from the African American communities on the cobbled streets of New Orleans in the late 19th century to different corners of the globe. It has evolved into latin jazz, gypsy jazz, Afro-Cuban jazz, and even Nepali jazz. But even though the blues and swing-inspired art form has branched out, improvisation -- the essence of jazz -- is still its heart and soul.
Read also: Kathmandu, and all that jazz …, Sewa Bhattarai
"In Nepal, jazz has influenced and inspired lot of Nepalis into listening, learning and playing jazz. Surya Nepal Jazzmandu has promoted jazz in Nepal and has brought renowned world class musicians to audiences in Kathmandu" says Samir Chettri, an organiser of the festival and band member of Cadenza Collective.
The Collective with its eclectic Afro-Funk tunes, Nepali lyrics and jazz undertones have defined the diverse identity of Nepali jazz since its inception almost two decades ago. With the bass, keyboard, bansuri and sarangi. The Blue Fret band has also created its own jazz sound, combining the swing and blues roots of jazz with the traditional spin of Nepali instruments.
Read also: Jazz it up in 'Mandu, Sahina Shrestha
Jooni, a quintet composed of artists from Nepal and around the world, embodies the sound of modern jazz and traditional Nepali music, giving life to a diversity of sounds and rhythms.
The variety of international and national artists this year will add music to the streets and halls of Kathmandu between the holidays, sprinkling their melodious magic.
Says Chettri: "Having musicians from different parts of the world brings cultural interaction and diversity. The fusion of Nepali classical music with jazz has also been one of the biggest highlights of the festival. The festival itself is a very inspiring and unique experience for visiting artists, Nepali musicians as well as the audience."
Read also: West African Soul
Paul Tynan and Jake Hanlon, Canada
Trumpeter Paul Tynan and guitarist Jake Hanlon are a dynamic jazz duo from Canada. Having played together for more than 10 years, they have developed a rare musical chemistry that is ever present through their fluid improvisations during performances.
"Improvisation is the heart and soul of jazz. It's where the art lives in jazz music. As a jazz musician improvisation means creating new music in the moment while being mindful of the surrounding sonic environment and what the other musicians are contributing to that by reacting and interacting. It's a lot like a deep verbal conversation in many ways."
Faby Medina, France
Faby Medina is a captivating singer-songwriter who released her debut album Following Love in 2017.Her songs are deeply personal, upbeat, occasionally influenced by her Caribbean background and touched with soul, swing and pop. She will be backed by Frank Herrgott (keyboard), Bruno Schorp (bass) and Julie Saury (drums).
"Ella Fitzgerald! The first time I heard her voice, I was in shock. Her swing, her scat, her humour, her joy! I just fell in love! My Caribbean roots has also influenced my sound. It helps me to sing with my body. My parents come from Guadeloupe and it's very important to dance out there! Everyone is comfortable with their body."
The Blue Fret
Led by the musical Suman Thapa, this Nepali band combines the traditional sound of the bansuri and sarangi with western tones and both English and Nepali lyrics. Its much anticipated debut album Jiri Blues was released in 2018.
"When music came through, it was hard to separate the western and eastern style, and the genres we experimented with. But the music incorporated all the elements and it worked. The versatility of the musicians, and the open mindedness to play what feels and sounds good has been crucial to executing this."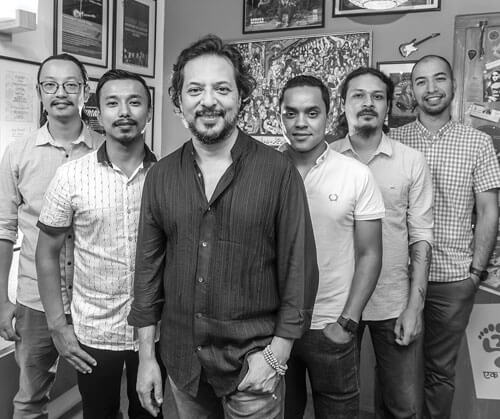 Jooni Collective
Jooni Collective is the musical project of pianist and composer Abhisek Bhadra and vocalist Maria Fajardo. Now a quintet with Alessio Cazzetta on the guitar, Rajat Rai on the bass and Kiran Shahi on the drums, its music is a reflection of the diverse backgrounds and experiences of members.
"Nepali music is a very rich tradition with a lot of variations. But the reason why most traditional Nepali music forms, specially Nepali classical music and jazz does work well together is that both forms of music are deeply rooted within the concept of Improvisation. Same is the case for jazz and most folk traditions. Whether or not it blends seamless together or not simply relies on the artist's intentions and methods to achieve it."
Adrian Crookston & Palouse Forro, USA
Palouse Forró's music isn't exactly 'jazz'. Forró is a genre, dance, rhythm, that originates in the northeast of Brazil. The sound is inspired by the language of jazz and improvisation through the percussion and accordion. Much of its style is influenced by premier jazz accordion players like Dominguinhos and Sivuca who got their start with Forró.
"For me, Jazz is an incredible innovation and gift given to the world primarily by Black Americans. Now, people all over the world are innovating in Jazz, it's happening right here right now in Kathmandu and has been for a while by Nepalis too!"
Tropic Green, Singapore
Tropic Green is an 8 piece jazz band based in Singapore and composed of musicians from Singapore, Venezuela, USA and Cuba. Its music is composed and arranged by pianist Susan Harmer. According to Harmer, 5 horns give the band its unique sound, adding harmonic and textural richness to their music.
"Jazz musicians are unashamed borrowers -- there is no single element that is uniquely jazz. Jazz borrows harmonies, rhythms and the element of improvisation from all global genres. It is this universal richness, where no single performance of a tune is alike that is recognized as being jazz."
Eastern Classical
Vocalist Manmohan Thapaliya Sharma has performed across Nepal and India and has recorded two albums Kahile Gham Kahile Chayaand Shanti Sutra. Flautist Dhan Bahadur Gurung honed his skills in a workshop with the legendary Hariprasad Chaurasia, and received accolades for his work. Gandharva, a travelling traditional Nepali band, has taken its music across the villages of Nepal, keeping folk music alive with classic medleys and local instruments.
The late Rabindra Lal Shrestha was a maestro of classical Nepali music. His compositions, teachings and tabla-playing skills have left a lasting impression on younger musicians. His son Bijay Shrestha is performing at Surya Nepal Jazzmandu to pay tribute to his father who remains an inspiration to a new generation of tabla players.
"Our classical Nepali music and traditional songs are a part of our identity, history and culture. It is our duty to preserve it. But it can only be preserved and promoted through the collaborative efforts of the government, media, fine arts education and programs like Jazzmandu."
Cadenza Collective
Cadenza Collective, Nepal's first jazz band, seamlessly blends Jazz, Afro-funk and Nepali folk music with an eclectic, energetic sound. It not only pioneered jazz in Nepal but also experimented with it to create a completely unique form of jazz.
"Jazz has got better and has come a long way in Nepal, it has become a household word alongside other music genres. Besides guitar, bass, keyboard and drums, we have young musicians picking up horns (trombone, trumpet, and saxophone etc.) and quite a few jazz bands in the scene. It's looking good but we got to keep on pushing further
RSxT, Germany
RSxT breaks through genre barriers by seamlessly blending jazz, electronic music, soul, pop and hip-hop. The 'x' in RSxT (Roman Schuler X Trio) stands for 'unknown and the extraordinary' and 'for the crossing of Boundaries and directions'. As it constantly remixes its own music, you will never truly know what to expect but you can always look forward to an exciting and dynamic performance.
"Jazz for us is not only a genre, but more the permission to be free while expressing ourselves. I love combining the lyrical power of the piano with grooving beats. Hip Hop, Soul and Electronic are styles that have this groove, and also have the space for keyboard sounds of all kinds. I love all this styles and that is why I want to play them, bring them together and mix genres. I'm not afraid to break boundaries."
"Although we are all educated jazz musicians, Jazz for us is not only a genre, but more the permission to be free while expressing ourselves. I love combining the lyrical power of the piano with grooving beats. Hip Hop, Soul and Electronic are styles that have this groove, and also have the space for keyboard sounds of all kinds. To most simply answer is: I love all this styles and that's why I want to play them, bring them together and mix genres. I'm not afraid to break boundaries."
Surya Nepal Jazzmandu 2019
CONCERT FOR YOUNG STUDENTS
12-1:30pm, 17 October
Alliance Française, Jhamsikhel
By invitation only

Jazzmandu kicks off with a free concert playing great music for young minds. The Concert for School Students continues Jazzmandu's long tradition of promoting music education and cross-cultural understanding. Interested schools and individual students can request invitations by writing to [email protected]. Seating is limited. Gates open at 11.30 am, please be seated by 11.50 am.
GROOVIN AT UPSTAIRS
7-9pm, 17 October
Jazz Upstairs, Lazimpat
Ticket: Rs600
Cadenza Collective gather new and old friends for an explosive jam at the heart of Jazz in Nepal, Jazz Upstairs! Gates open at 6 pm. Seating is limited.
VALLEY JAMS
7-9pm, 18 October
Ticket: Rs600
Moksh, Jhamsikhel – Tropic Green
Jazz Upstairs, Lazimpat – Paul Tynan & Jake Hanlon / Palouse Forro
House of Music, Thamel – RSxT
Manny's Eatery and Tapas Bar, Jawalakhel – Faby Medina Gates open at 6 pm and close at 7 pm. Seating is limited.
JAZZ BAZAAR
2:30-10pm, 19 October
Gokarna Forest Resort
Ticket: Rs1400
Get away from the hustle and bustle of Kathmandu and be surrounded by the lush, serene Gokarna Forest Resort and great music. Gates open at 1.30 pm and close at 7 pm. Seating is limited. A ticket does not guarantee a seat. No outside food or beverages allowed. No pets allowed. Free shuttle buses to Gokarna will depart every hour from 1 pm to 4 pm from outside Hotel Marco Polo in Kamal Pokhari, and will stop for pick-ups outside the Hyatt Regency gate in Boudha. Return shuttles will be available between 10 pm and 11 pm, with drop-offs at Boudha and Kamal Pokhari.
SOUNDS OF LATIN JAZZ
7-9pm, 20 October
Dhokaima, Patan
Ticket: Rs1600
Experience the sounds of authentic Afro-Caribbean and Brazilian Jazz. Gates open at 6 pm and close at 8 pm. Seating is limited.
JAZZMANDU MASTERCLASSES
11am-1:30pm, 22 October
Kathmandu Jazz Conservatory, Jhamsikhel –Vocal & Instrumental Workshops
Free Entry

The Jazzmandu master classes are an opportunity for music students & jazz enthusiasts to interact with visiting musicians, share their experiences and stories and learn techniques and tips on various instruments and vocals. Seating is limited and not guaranteed.
JAZZ AT THE TEMPLE HOUSE
6:30-8:30pm, 22 October
Kantipur Temple House, Thamel
Ticket: Rs1600
An evening of Nepali classical music fused with Jazz in a rich and soulful ambience. International musicians share their musical ideas and energies with Nepal's top classical musicians and Cadenza Collective at the fabulous Kantipur Temple House. Gates open at 5.30 pm and close at 7pm. Please be seated by 5.45 pm. Seating is limited.
JAZZMANDU FINALE
5:30-10pm, 23 October
Hotel Yak & Yeti, Durbar Marg
Ticket: Rs1400
The Finale BIG JAM! Musicians from different bands come together on one stage to light up the festivities creating a high-energy, improvised musical treat. Gates open at 4.30 pm and close at 8pm. Seating is limited.