Lain Singh Bangdel's legacy lives on
On 15 September, a UK-based art promotion site MutualArt sent an auction notification to its over 500,000 members. For sale was a rare 1955 watercolour painting of a woman, and it bore the signature of Nepal's foremost artist, Lain Singh Bangdel.
Within two days of the announcement, the painting was bought for £100, and that price understandably left Nepal's artist community, connoisseurs of Nepali art and Bangdel's own family members disappointed.
"The 100 pound auction price is extremely low for someone of Bangdel's stature," stated Sangeeta Thapa, art curator and director of Siddhartha Art Gallery. "Nepali artists and their artwork are finally getting the momentum they deserve, but this is dismal."
Thapa is a lifelong admirer of Bangdel's work, and says she owes a lot to "Lainji" to launch her own career in art. She worked with Bangdel's daugher, Dina, in promoting Nepali art in the international arena. Dina's sudden death left a deep void in the country's art scene, Thapa says, and Nepal will probably never have a better father-daughter duo than of the Bangdels.
The auction in September was organised by the UK-based Burstow & Hewett via The Abbey Auction Gallery, and the watercolour portrait was under the lot #1063. But this is not the only Bangdel painting that has been sold abroad at such a low price: three other abstracts were sold via a Canadian auction house, Westbridge Fine Art Auction House, in 2016 and 2017, each at less than 700 Canadian dollars.
"In places like Canada, we can assume people haven't heard enough about Bangdel and that could be what determined the price," says art crime professor Erin L Thompson at the City University of New York.
Dina's husband Bibhakar Shakya is also saddened to see the latest auction price: "Most of the paintings are in our collection at home, and my father-in-law never really sold paintings, he mostly gifted them in the later years of his life."
Shakya has been keeping Lain Singh Bangdel's legacy alive with their son Deven, cataloguing the collection of 300 to 350 of his father-in-law's paintings at their home in Sanepa. He also plans to publish the English translation of Bangdel's book Langada Ko Sathi, and find a permanent gallery for the paintings.
"It was Dina's dream to carry on in her father's footstep, it is my responsibility to pick things up from where she left," says Shakya, who says Bangdel could write as beautifully as he painted.
Lain Singh Bangdel was born to Ranglal Rai in 1919 near Darjeeling. As a child, he would paint everywhere, even on the walls of his home and street with images of gods and goddesses. Ranglal worked at a tea estate, and one day came home with a small collection of postcards given to him by his British employer. Bangdel was only eight then, but the images of various Impressionists and post-Impressionist artists, Corot, Millet, Monet, Manet and Turner were etched in his young mind. More than the others, Bangdel said later it was the French painter Corot whose work 'captured his soul' and inspired him to pursue his passion.
It was only in high school that Bangdel came to realise that he wanted to be an artist. In 1939, he joined Calcutta Arts College. Calcutta was where that he met Indian filmmaker Satyajit Ray, and the two became lifelong friends.
In 1952, Bangdel enrolled at the French National Art School in Paris. Part of the cost was defrayed in a strange way. Bangdel had painted a portrait of Balkrishna Sama and it impressed General Keshar Shumsher Rana so much that he sent over Rs5,000, quite a hefty sum in those days.
In Paris, Bangdel was introduced to the works of Pablo Picasso and Georges Braque, and he was deeply influenced by their style. But he felt the tug of home, and was taken by Laxmi Prasad Devkota's Muna Madan which impacted on his paintings and writings. Bangdel later used the epic as a theme for his most famous impressionistic works.
In later years, Bangdel went on to receive many national and international awards, including the French Ordre des Arts et des Lettres, the Order of the Crown of Italy (Commendatore) for his contribution to the study of Nepal's early history and art. In 1987, Bangdel was awarded the honorary Knight Commander of the Victorian Order by Queen Elizabeth II.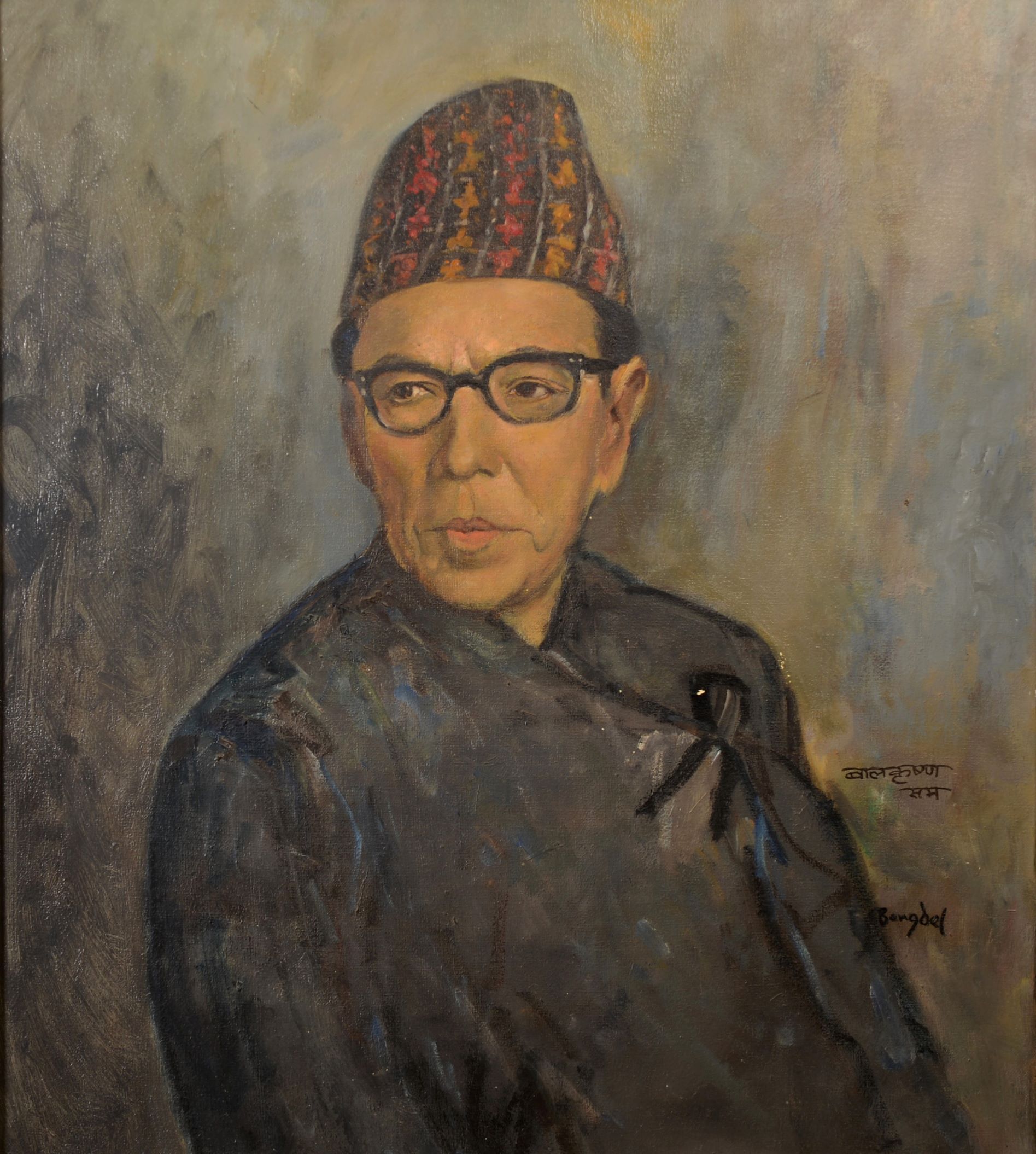 Bangdel died in October 2002 in Lalitpur at age 83. Two decades have passed, and many young Nepalis have never heard of him. His son-in-law Shakya wants to change this. "It is due to Lain Singh Bangdel that Nepal's modern and contemporary art started being noticed internationally, and we have to keep his works alive," he says.
Lain Singh Bandgel was not just a painter, he was also an established writer, art historian and to a select few, a passionate art teacher. His daughter Dina Bangdel carried forward his legacy until her own untimely death in 2017.
After Paris, Bangdel travelled to London in 1957 where he received a letter from his friend B P Koirala to return to Nepal. Koirala went on to become Nepal's first democratically elected prime minister, but within a year was removed in a coup by King Mahendra in 1960. It was then Mahendra who convinced Bangdel and his wife Manu to return from Europe to Nepal.
In 1961 after moving to Kathmandu, Bangdel got a job at the Royal Nepal Academy and eventually became its vice-chancellor. He later went on to become the founding general-secretary of Nepal Art Council and the New Art Circle, where he taught 15 talented new artists for free.
Bangdel also wrote three Nepali-language novels between 1948 to 1951, Muluk Bahira, Maitighar and Langada Ko Sathi. They were tales of struggle and hardship of families in the mountains. Bangdel's eyes saw the world: he lived through wars and revolutions, he saw pain, angst and misery all around him, and he transferred them to canvas and text.
In later years, Bangdel went on to become an art historian and was an activist lobbying for the return of Nepal's stolen religious objects. He wrote Early Sculptures of Nepal (1982), 2500 years of Nepali Art (1987), and Inventory of Stone Sculptures of the Kathmandu Valley (1995). However, his most important book, and one that is still as relevant today as when it was written in 1989, is Stolen Images of Nepal which documented 300 missing religious objects from Kathmandu. Most of them are still missing.
Bangdel built the home in Sanepa with his wife Manu Kumari Thapa, a nurse, who figures prominently in his biography, Against the Current: Life of Lain Singh Bangdel. In the book, Bangdel narrates his beautiful love story with Manu and her undying support for all his work. She went on to become a matron in Prasuti Griha, and is now in her mid-90s, still living in the home she built with her husband in Sanepa.
Dina was the sunshine of Lain Singh and Manu's life. An only child, she was her father's confidante in the later part of career as an art historian, and shared the same passion for Nepal's heritage and their preservation.
Dina Bangdel and Bandana Thapa were childhood friends, and they used to walk school from home together during which Dina would share extraordinary stories of her adventures with her father, of going to various heritage sites and taking pictures.
"I remember Dina's excitement when she narrated her father's work to document stolen idols and we could all feel her passion even when young," Bandana Thapa recalls.
Dina's death left a lot of her work to preserve her father's legacy incomplete. But Lain Singh Bangdel lives on through the brush strokes of his students, some of whom have now become accomplished artists themselves.
Abstract painter Jeevan Rajopadhayay studied under Bangdel till the year he died, and has only fond memories of a gentle and patient teacher. "If it wasn't for Bangdel Sir, maybe I would never have been an artist in the first place," he said.
Rajopadhayay was also shocked by how little his teacher's painting fetched in an European auction. He said: "Even in the nineties, Bangdel's paintings were selling for at least Rs500,000 in Japan's Fukushima Museum. He is the father of Nepal's modern art. We need to value his work more."
Excerpts from Against the Current: The Life of Lain Singh Bangdel:
Bangdel's life:
Lain Singh changed his name from Rai to Bangdel in 1939, and as Lain Singh Bangdel he eventually became an able interpreter of Nepal's economic and intellectual Diaspora, with its poverty and personal sorrows in villages existing side by side with the comparatively rich and inspiring intellectuals of towns. The socio-cultural traditions that the youthful Lain Singh grew up among profoundly flavored his life, guiding his scholarly development throughout a distinguished and multi-faceted career.
B P Koirala's letter to Lain Singh Bangdel:
Meeting Satyajit Ray for the first time:
The table where Lain sat belonged to someone named Ray who was away from the office for a few days, he was told. 'One morning near the end of my first week at about 10 o'clock, a tall and imposing man I'd never seen walked in and came directly to my desk. He spoke to me in Bengali: 'Arrey, kokhon eley?' (Hello, when did you arrive?) It was Ray's typical greeting on first meeting someone, a hallmark of his personality. Then he said, 'This is my table. Are you sitting here?'
Lain did not know what to say. He had not been introduced. Then the stranger asked somebody, 'Why don't you provide another place for this gentleman?' Only then did Ganguli come over and introduce the stranger as Satyajit Ray whom he addressed familiarly as 'Manik Babu'.
Space for Lain was arranged right next to Ray and in time they got to know each other, who each was, their interests and so forth. They were immediately attracted to one another, as fellow artists and inspired young intellectuals.
Against the Current: The Life of Lain Singh Bangdel
Writer, Painter and Art Historian of Nepal

by Don Messerschmidt with Dina Bangdel
Orchid Press, 21 July 2006
258 pages
Read also:
Dina, the daughter Bangdel, Dhruba Simkhada
Return of the gods, Sujata Tuladhar
Lain's legacy, Sraddha Basnyat