Nepal struggles to balance nature and industry
Nepal's economic planners are proud of the fact that Nepal is now self-sufficient in cement. Indeed, domestic production has expanded greatly to meet demand that has sky-rocketed since the 2015 earthquake.
The boom is seen in any drive along Nepal's highways — the wall of every other house is painted in glaring signs of various cement companies. Nepal's cement market is so lucrative that two Chinese joint venture companies Hongshi and Huaxin are among the biggest in the sector.
As recently as 45 years ago there was only one cement factory, Himal Cement on the outskirts of Kathmandu. There are now some 72 plants operating across Nepal that can produce 15 million tonnes of cement a year.
Together, 21 of these factories with mining capacity extract 12 million tonnes of limestone from 46 quarries in the country. There is so much limestone in these mountains that geologists estimate there is enough to sustain cement production in Nepal for another 100 years at least.
However, Nepal's cement boom is coming at enormous environmental and social cost. Investors and shareholders have gotten richer while the land and people poorer. Unregulated quarrying, lack of safeguards, and overexploitation have led to worsening floods and landslides, as well as air, water and soil pollution.
50 years ago a Panchayat-era minister proudly said that Nepal needed more smoke stacks to develop. Today, Dhruvaraj Thapa of the Nepal Cement Manufacturers' Association echoes the same mindset.
"We cannot overlook the benefits, including employment opportunities, provided by the cement industry," says Thapa. "We will limit our possibilities if we constantly bring up environmental protection."
The government would like to think that the cement industry is helping the economy boom and earn revenue. While it is true that domestic production has reduced the need to import, what local and national governments get in terms of royalty fee is small change compared to the enormous environmental cost.
Nepal's cement companies pay only Rs60 for each tonne of limestone in royalty fee compared to Rs140 across the border in India. Yet the market price of cement is twice as high in Nepal as in India.
In the past eight years, the government has collected only Rs2.84 billion in royalty from cement industries. On the other hand, the yearly turnover from the industry, says Thapa, amounts to Rs150 billion.
For example, Sarbottam Cement extracted 371,000 tonnes of limestone from its quarry in Palpa district in the fiscal year 2019/2020. The company earned a profit of Rs1.17 billion, but paid royalty worth only Rs20.2 million — a mere 1.9% of its earnings.
Similarly, Shivam Cement distributed Rs1.4 billion (24% of its total profit) to shareholders in the fiscal year 2020/2021, but the company paid just Rs26 million in royalty to the government.
At the Department of Mines and Geology, director general Ram Prasad Ghimire advocates raising the fee for limestone extraction from quarries to a more realistic level, taking into account the environmental cost. Thapa at the Cement Manufacturers' Association counters, saying this could only make cement costlier for builders.
Nepal's annual per capita cement consumption is 303kg, which is higher than India (195kg), but much less than China (1,716kg) and even Bhutan (734kg). At the present rate of growth spurred by infrastructure projects and housing, domestic cement demand could reach 25.8 million tonnes by 2025.
This means an unsupervised cement industry would end up not just affecting ground water, disturb fragile mountain slopes to trigger landslides, but also increase Nepal's carbon footprint at a time when the country has committed to net-zero emissions by 2050.
Environmental impact is not just something that concerns city-based activists or non-governmental organisations. Mahendra Pandey, a local in Dobhan of Palpa, knows all too well what having a cement quarry in the neighbourhood can do to agriculture.
"Everyone talks about the benefits of the cement industry, but no one cares about how it affects us farmers here," says Pandey, who has to deal with the impact on groundwater supply, soil and air pollution from the nearby Sarbottam Cement plant. "The government is no help, it does not care about what the people here on the ground face."
It is not that the government is unaware. All new cement factories have to complete an environmental impact assessment (EIA), but this can be easily circumvented, while report after report submitted to the government have been warning about the need for harm reduction in the cement industry.
In a 2021 survey conducted by Nepal Rastra Bank, 92% of respondents said that cement industries caused air, water, noise and soil pollution in their communities, severely impacting their livelihoods.
But in a country where an overwhelmingly high number of mayors and ward chairs are contractors, and big companies have political protection, awareness is insufficient for corrective action.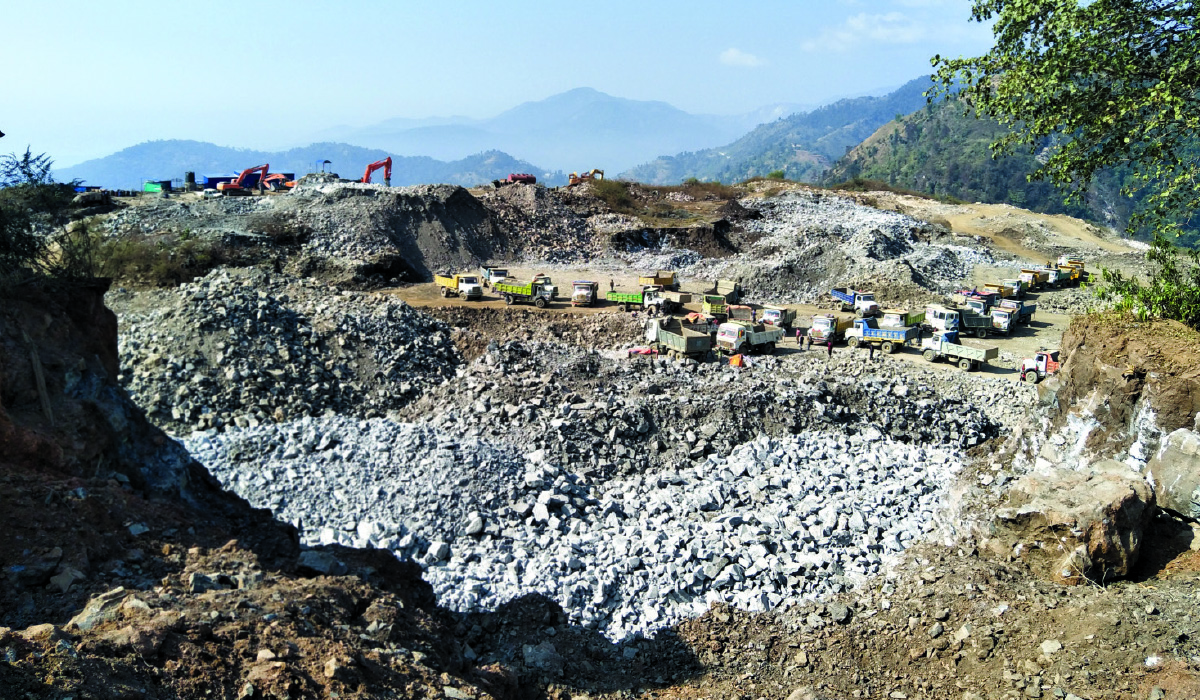 It took two decades of relentless activism for the government to close down Himal Cement Factory in Chobhar which had affected the health of Kathmandu Valley's population. But that was because it was the capital.
Since then, the government has allowed two private cement factories to operate in Dhading's Naubise which is situated in a narrow Valley that traps suspended particles.
Locals living near mining sites in Palpa and Dang have long opposed the operation of cement factories in the districts due to increased pollution in the region. Residents in Makwanpur have also held protests against the limestone mines operated by Shivam Cement, citing environmental pollution.
In fact, not even World Heritage Sites like Lumbini are protected: there are now a dozen cement factories within the 10km-radius from the birthplace of the Buddha.
Just last week, the Commission for Investigation of Abuse of Authority (CIAA) filed a case against nine cement companies, their operators as well as officials of the Department of Mines and Geology. They have been accused of exploiting more limestone than permitted without considering the environmental consequences and for evading royalty fees.
There is no government monitoring on place to check the amount of limestone being extracted. The royalties are determined based on the documents submitted by the companies themselves. As such, there is every possibility that more limestone is being extracted than permitted.
Cement factories transporting limestone and raw materials from quarry to factory have also destroyed road surfaces in many parts of the country. Ironically, an industry that is supposed to be the backbone of infrastructure is ending up destroying infrastructure.
In a research article on waste management of limestone quarrying in Nepal published in the Journal of Development Innovations in July 2021, authors Birendra Sapkota and Kumar Khadka directly link soil erosion to poor management and monitoring of Nepal's limestone mines and harmful excavation practices.
Shivam Hongshi, one of the largest cement companies in Nepal, obtained the EIA approval in 2017 after the project was already half-completed. Huaxin Cement Industry was up and running in 2019 without EIA approval, concerns over which were even raised in Parliament.
Moreover, in May 2021, the Ministry of Forests and Environment made amendments to the Environmental Protection Regulations 2020 such that development projects will now be allowed to use up to 25 hectares of forest land after conducting only a preliminary environmental assessment. Previously, an EIA was mandatory for all projects requiring more than five hectares.
Read also:
Drawing a line in sand, Bhrikuti Rai
Drowning in Sorrow, Mukesh Pokhrel
Meanwhile, even as Nepalis living and working in proximity to mining sites and cement industries bear the brunt of resulting environmental and health crises, they receive few financial benefits.
Ghimire of the Department of Mines says that the government has not yet tried to ensure that the benefits of the industry are more equitably distributed, as is the case with investments in hydroelectric schemes.
"Stone, gravel and sand mining are controlled by a select few Nepali companies who reap the financial benefits while the locals incur damages to their livelihoods and the environment," says former finance secretary Rameshore Khanal.
Indeed, the excavation and sale of aggregates, boulders and sand from riverbeds have become so lucrative that local governments depend on them for revenue for development work. An estimated Rs100 billion worth of riverine products are traded annually in Nepal, with at least 600 'crusher' industries converting them to raw materials for infrastructure.
Meanwhile, the contribution to local governments is negligible compared to the huge profits made by the contractors who usually have local political leaders as partners or in their payroll.
Nepal's community forestry program is internationally acclaimed, and it doubled the country's tree cover in 25 years to nearly 45%. This is mainly because the responsibility of forest management was handed over to local consumer groups which have expanded to over 22,000 all over the country.
At COP26 in Glasgow, Nepal pledged to increase its forest cover to 45% of land area. But the overexploitation of natural resources, such as the government-owned forest areas and vacant lands for infrastructure, with hotels, cable car ventures, hydropower plants, haphazard housing colonies now threaten these gains.
Economist Pushkar Bajracharya is studying how benefits of natural resource exploitation accrues to Nepalis. He says: "When natural resources are managed in a way that benefits the people, it can reduce poverty and increase income."
But Nepal clearly has not found that balance as it hurtles headlong down an unsustainable growth path.
Translated from the Nepali original in the December 2021-January 2022 issue of Himal Khabarpatrika.