The road to electric transportation in Nepal
In 1911, Nepal became the second country in Asia to install a hydroelectric plant, and was a pioneer in electric transportation with the opening in 1922 of a ropeway connecting Kathmandu to Dhorsing and later to Hetauda.
The Chinese gifted an electric trolley bus line from Kathmandu to Bhaktapur in 1975, which provided valuable commuter service for nearly 30 years. In 1995, the government replaced polluting diesel three-wheelers with electric ones, and 700 of the Safa Tempo are still running on 28 routes, serving Kathmandu's public transport needs.
However, despite these milestones in electric transportation, Nepal has not taken the leaps it could have in powering mass transit with the country's plentiful renewable energy potential.
"We missed the bus on electric buses," says environmental expert Bhusan Tuladhar. "We could have taken e-vehicles to the next level much earlier."
Indeed, the Safa Tempo now faces competition from diesel buses on trunk routes, and government policy on replacing larger diesel buses with electric ones has been erratic. Daily commuter volume in Kathmandu today now needs larger mass transit modes, but Safas are ideally suited for narrower streets of the inner city.
"After the diesel three-wheelers were replaced by Safa Tempo, the government adopted a contradictory policy of promoting micro-buses," explains Dharma Kumar Shrestha of NEVI (Nepal Electric Vehicle Industry).
Sadly, in the early 2000s, the trolley bus system and another cargo ropeway to Hetauda were closed due to losses and mismanagement. Although private electric cable cars are coming into operation nationwide for tourism, there is still no strategic solution in sight for electrified public transportation, particularly electric buses.
Electric vehicles still have problems with carbon emission during production and battery disposal, but they will help improve the air quality and reduce Nepal's petroleum imports which have more than doubled in the past 10 years.
Some 12% percent of the greenhouse gas emissions from the energy sector in Nepal comes from transportation, with heavy vehicles like fuel-run trucks and buses being the main polluters. There are now about 6,000 battery two-wheelers, over 27 thousand electric three-wheelers, and 1,000 electric vehicles in Nepal, but this is still only 1% of the total, according to a Ministry of Forests and Environment report.
"Since transportation contributes a significant amount of Nepal's total greenhouse emissions, a shift to electric is essential to achieve the country's goal of being carbon-neutral by 2050," says Radha Wagle, Chief of the Climate Change Management Division under the Ministry of Forests and Environment.
Electric Vehicles are initially more expensive, but in the long run not are not just less-polluting, but will also help improve Nepal's balance of trade deficit with India. While production and battery cost of electric bus makes them more expensive than a new diesel bus of the same capacity, running costs, maintenance and repairs means that for every kilometer travelled, an electric bus will be Rs14 cheaper to run.
"The operational cost of a diesel bus is high," says Tuladhar, who is also a board member of Sajha Yatayat, where 40% of the running cost is diesel. "If we switch to an all-electric fleet, we will have significantly lower costs that will let us provide better service. But because of the higher initial investment necessary, a government subsidy is necessary for the purchase of electric vehicles."
In this year's budget, the government reinstated tax rebates on electric vehicles which now makes their cost comparable to 4- and 2-wheelers of the same capacity. However, the capital cost of electric buses is still more than double the cost of diesel-run buses, which is why further subsidies are needed. The government can easily recoup the lost tax revenue from reduced petroleum import bills, experts say.
NEVI's Shrestha agrees that government subsidies would inventivise buyers for electric vehicles, and also setting up charging stations across the country.
Among all registered vehicles in Nepal, nearly 80% are privately owned two-wheelers, but they contribute only 8% to total emissions from transportation. Trucks and public buses emit 57% of CO2.
The demand for electric vehicles is highly sensitive to government policies. With the taxes imposed in 2020, the import of electric vehicles in the first 5 months of the fiscal year at the start of 2021, declined by 88% compared to the previous year. However, sales are expected to pick up again after the tax reversal. Electric rickshaws are gaining popularity in the Tarai, with over 26,000 registered –- making up 0.82% of all vehicles in the country.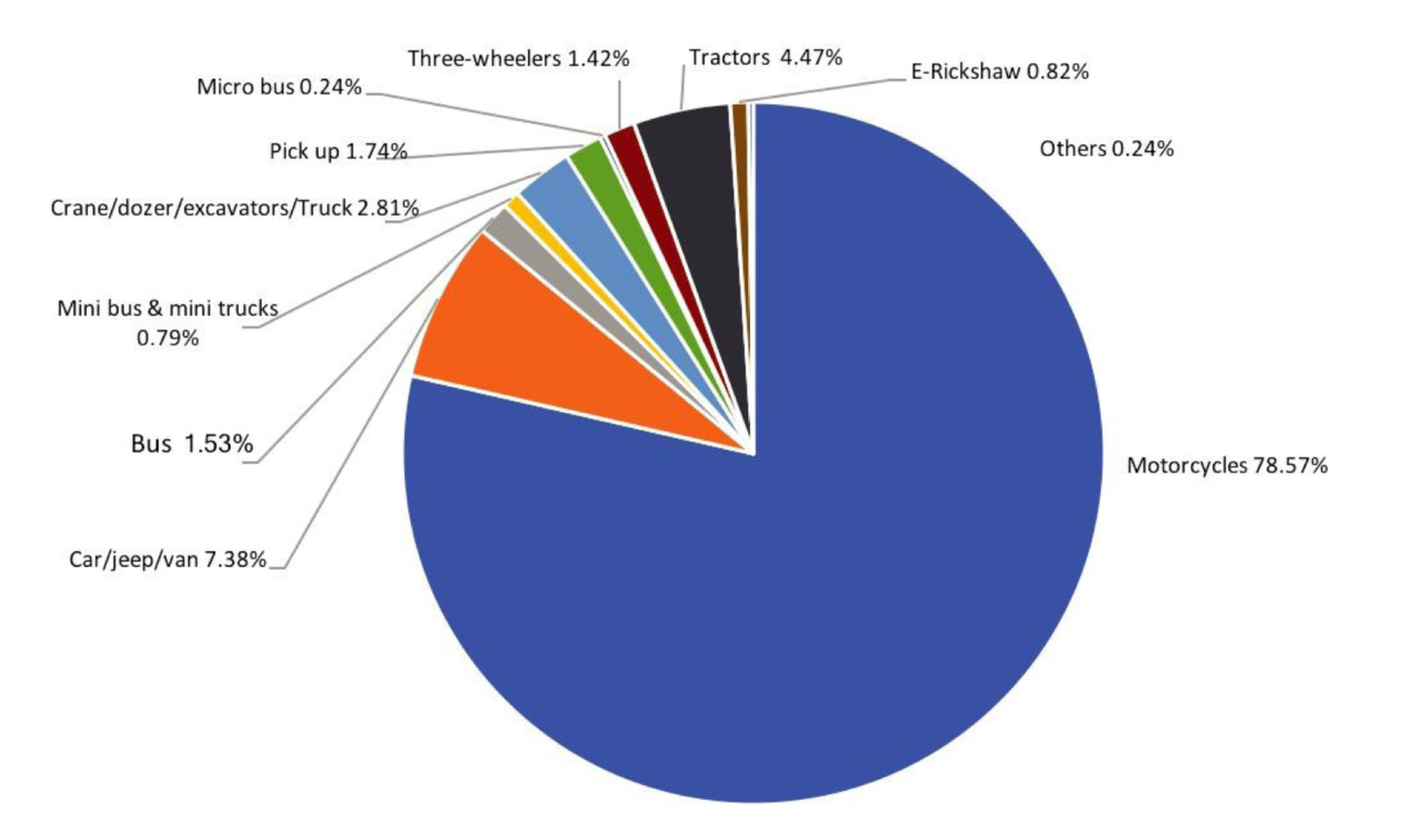 "A transition towards e-transport will reduce our trade deficit massively and further ensure green economic growth," says Rajan Thapa, a climate change expert.
Over the past decades, successive governments have taken pro-electric policies. The National Transport Policy in 2001 was developed to make the transportation sector environmentally friendly, and the Environmentally Friendly Vehicle and Transport Policy of 2014 calls for diversifying vehicles to run on electricity, hybrid, and gas. The government also is going to open 50 charging stations across the country and announced that it is buying 300 electric buses.
The second Nationally Determined Contribution (NDC) that Nepal submitted to the UN last year pledges a 200km electric railway network, increasing the total sale of private e-vehicles to cover 90% and public transport (besides three-wheelers) to 60% of imports by 2030. This is expected to reduce carbon emission by 28% and lower pollution levels in cities.
"The government of Nepal is being more ambitious and committed to ensuring net-zero emissions ahead of 2050, " says Prem Kandel, secretary of the Ministry of Forests and Environment (MoFE). "We have made a long-term strategy that will provide us with evidence and policy choices to look at potential ways of reducing carbon emission. E-mobility is one of the means of achieving our ambitious target."
Diya Rijal is a communication consultant for the UK government-funded Policy and Institutions Facility.