11 Nepalis among migrants in Guatemala rescue
Guatemalan police said that there were 11 Nepalis among the 126 US-bound migrants who were rescued from a shipping container abandoned by a roadside in Guatemala.
They were believed to have been left there by traffickers after being paid to take them to Mexico and onwards to the United States. Most of the 126 were from Haiti, while 9 were from Ghana.
Police were notified after hearing banging from inside the container, which was abandoned near the town of Nueva Concepcion, reports said.
"We heard cries and knocks coming from inside the container. We opened the doors and found inside 126 undocumented people: 106 from Haiti, 11 from Nepal and nine from Ghana," police spokesman Jorge Aguilar told news agencies.
The group has been taken to a shelter, and will be sent back across the border to Honduras, the last country from which they entered Guatemala.
Although there have been harrowing tales of Nepalis being among migrants from Central America and Haiti trying to get into the United States, this is the biggest rescue of people from Nepal.
Nepalis stranded in Mexico have said that they paid human traffickers tens of thousands of dollars to take them on an arduous journey from Kathmandu to Bolivia and then overland across the Darien Gap in Panama through Central America to Mexico.
Before the pandemic flight restrictions, the migrants were usually taken via Kuala Lumpur or Moscow to Sao Paolo and La Paz, where Nepalis get visa on arrival. Most do not make it, and are deported from transit airports en route.
Last month, nearly 30 Nepalis en route to Sao Paolo and Bolivia via Moscow were detained at Frankfurt airport after suspicions that they were being trafficked. Some of them have been deported back to Nepal.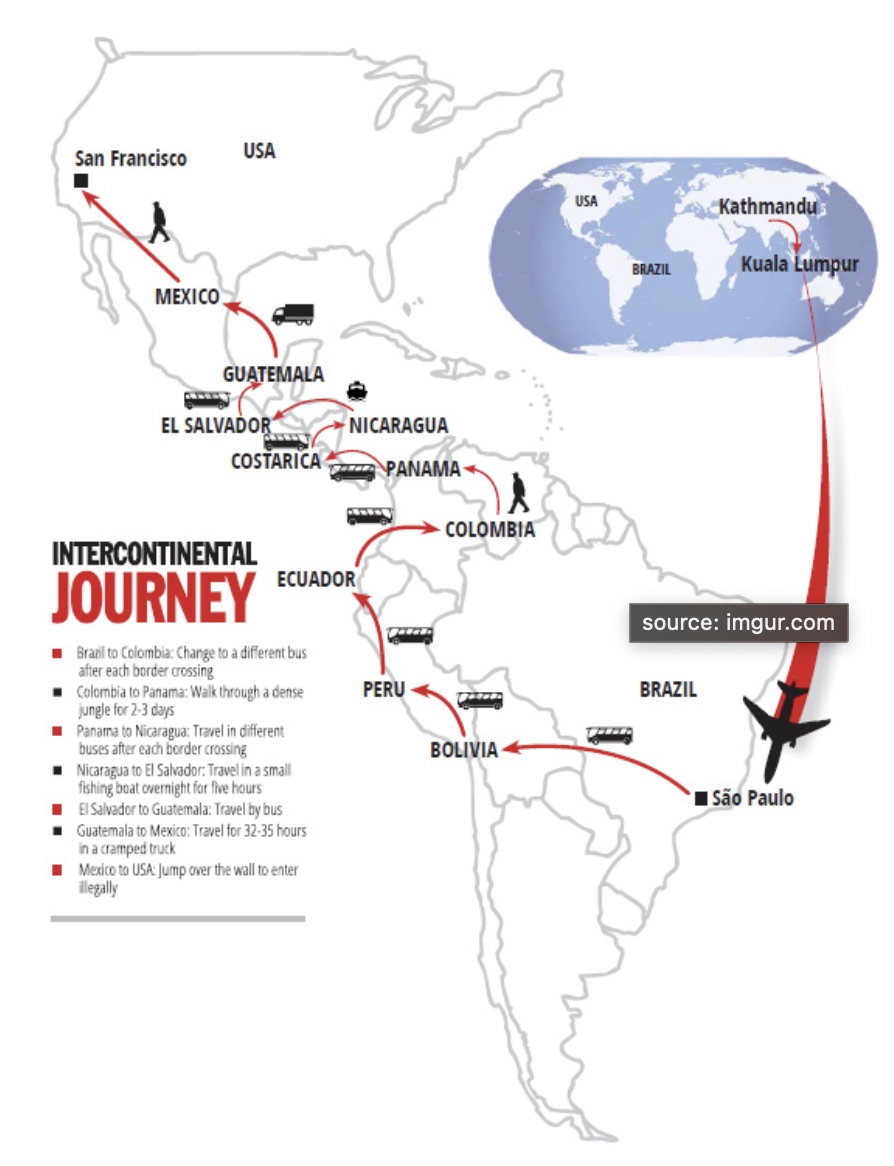 The United Nations Office for the Coordination of Humanitarian Affairs (OCHA) says that more than 90,000 migrants mostly from Haiti have crossed over from Colombia through the jungles to Panama this year, hoping to reach the United States or Canada via Mexico.
The figure is said to be three times higher than the estimates for 2016, and probably show a backlog of migrants who were not able to travel during the pandemic.
"Border closures and economic contractions due to the Covid-19 pandemic led to an increase in irregular migration,'' said Santiago Paz, International Organisation for Migration (IOM) Chief of Mission in Panama.
The Darien Gap is said to be the most dangerous part of the months-long trek across the Americas to Mexico for the migrants.
Nepali migrants who managed to reach the United States or have been speaking to families back home from Mexico say they have paid more than Rs5 million to traffickers, or bribes to immigration officials along the way to get there.
There are said to be hundreds of Nepali migrants in Mexico who are trying to find ways to cross over into the United States at a time when the plight of Haitians at the Mexico-Texas border is making headlines in the US and around the world. The US is deporting many of them on flights back to Port au Prince.
OCHA says that nearly 60,000 people who left Haiti four years ago have crossed Panama between January and September 2021, many of them are children who were born during their journey,
It says the migrants passing through Panama also included nearly 13,000 from Cuba, 1,500 from Venezuela, as well as dozens from Bangladesh, Senegal, Ghana, Uzbekistan, India and Nepal.
"The situation faced by irregular migrants in transit in the Latin American and Caribbean region must be addressed from a regional approach and cannot be the responsibility of a single country,'' said the IOM's Paz. "The Global Compact for Safe, Orderly and Regular Migration recommends cooperation among States to respond quickly and coherently to the needs of migrants in vulnerable conditions, and this need for cooperation is especially evident in the Darien Gap."