Protecting the world's largest squirrel in Nepal
When the government announced a lockdown at the height of the second wave in the summer of 2021, our plans to visit eastern Nepal were put on hold indefinitely. Wildlife surveys must be conducted at a specific time of the year. The monsoon is the worst time in the field, whereas during the breeding season researchers can cause undue disturbances to endangered species.
So we were able to resume our plans to monitor small cats in the remote villages of Jhapa and Ilam districts only in October of 2021. Nonetheless, I was excited to be back in the field, and there was a possibility of new discoveries but also of disappointment. I was prepared for both.
After flying from Kathmandu to Bhadrapur and an hour-long bus drive later, with team member Amir Basnet we reached Budhabare of Jhapa. This was our second field targeted at finding elusive small cats in Nepal's Eastern Himalaya.
Read also: Yes, there are flying squirrels in Nepal, too, Bashu Baral
The next day, we ventured into the forest with local guide Binod Dahal to install 14 camera traps with their GPS points. Then, as we were traversing a dense sal forest, my eyes caught two graceful figures emitting a unique but harsh crackle from the upper canopy.
This was the largest squirrel in the world, the Black Giant Squirrel (Ratufa bicolor) in its natural habitat. The two squirrels watched us from their perch atop a branch high up in the tree, and we did the same from the ground.
They had a black body and buffy yellow in ventral pelage at the neck region -- exactly like a photograph of a Black Giant published by the group Small Mammals Conservation and Research Foundation (SMCRF) in its field guide Squirrels of Nepal (2016).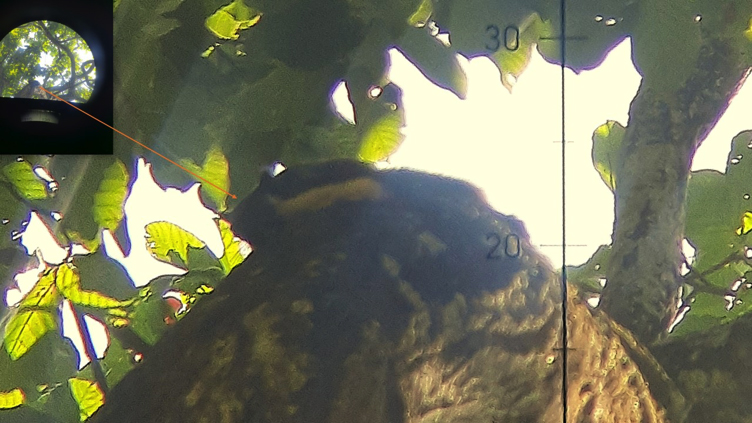 This was our second encounter with squirrels in Eastern Himalaya. Previously, we had encountered a juvenile Hodgson's Giant Flying squirrel on a rhododendron tree at an elevation of 1,920m. This Giant Black was much lower at 380m.
We were eyeball-to-eyeball, and after a while the pair started taking swift leaps from one tree to another and quickly disappeared from view.
The Black Giant Squirrel is the largest squirrel in the world found between 210-2,000m above sea level in tropical, subtropical montane evergreen and dry deciduous forest to subtropical and temperate deciduous forest.
Read also: Not so charismatic mammals, Kunda Dixit
Tree squirrels are diurnal, as opposed to the nocturnal habits of gliding squirrels. They have a variable body size, ranging from the tiny African pygmy squirrel Myosciurus at 16g to the largest giant squirrel, genus Ratufa at 2kg. Their diet consists of fungi, seeds, nuts, flowers, leaves, sap/bark and opportunistically, animals like insects, birds and eggs.
According to Squirrels of the World (2012), the genus Ratufa includes four species of giant squirrels, two of these are restricted to India and Sri Lanka, and the other two are found from Nepal and southern China to Borneo, Java, and Sumatra.
The habitat of the black giant squirrel in Nepal is primarily outside protected areas including Ilam, Morang, Sunsari, Terhathum, Sankhuwasabha, Panchthar and Chitwan districts.
We were told by locals how lucky we were to have spotted the Black Giant Squirrel, they said the animal is hunted for bush meat and often mistaken for the Asian Palm Civet, which it resembles and is considered a pests by farmers.
More worryingly, and much like other endangered small mammals, the numbers of Giant Black Squirrels is declining in the wild and their habitat is being encroached upon as forests are cut for agriculture or housing.
Read also: Between existence and extinction in Nepal, Sonia Awale
The Black Giant Squirrel is categorised globally as near threatened in the International Union for Conservation of Nature (IUCN)'s Red List. The National Red List Series of mammals of Nepal has assessed the squirrel as endangered and it is also in CITES Appendix II List.
Tree squirrels are an integral part of the forest ecosystem, they play a significant role from seed dispersal to pollination and they are indicator species as their presence represents good forest health.
But with most conservation attention focused on charismatic mammals like tigers and rhinoceros, there are very few anecdotal records about them and the researchers have largely ignored these elusive animals. These forest-dwelling squirrels demand dedicated conservationists, continuous monitoring and an educated local community involved in their protection.
After completing the camera trap installation we returned through the same forest and looked for the squirrels but we could not locate any. We wonder if they are leaping from one tree top to another in the jungles of Ilam, or have been hunted down for someone's dinner.
The Eastern Himalaya of Nepal is a wildlife treasure trove but it is in a dire need of dedicated research and the SMCRF is leading the way by continuously trying to explore the status of different species in this region. On Small Mammals Conservation Day on 28 February, we pledge to continue to do so.
Read also: Nepal's unequal wildlife laws, Kumar Paudel
Bashu Baral is pursuing a master's degree from the Central Department of Zoology, Tribhuvan University and is with the group Small Mammals Conservation and Research Foundation (SMCRF).