Former Gurkha soldier turns author
As a boy from a far-flung village in Nepal's Kaski district, Tim I Gurung never made it to college. He joined his family's ancestral profession of enlisting in the British Army's Brigade of Gurkhas.
During his school days, Tim loved writing poetry, songs, and short stories, and his parents remember he had a way with words. But his family was hardwired to Gurkha recruitment though generations of service, and it was perhaps inevitable that he would also be a solider himself.
Like many of his forebears, Tim's destiny was to serve and risk his life defending a foreign country through its armed force. Without finishing his schooling, he joined the British Army and served as a rifleman for 13 years.
Although the Brigade of Gurkhas is supposed to have a long and glorious history, it is also tragic. It is hard to imagine that at a time when Nepal's population was only 5 million, 200,000 Nepalis fought in the trenches of Flander's Field and in Gallipoli in World War I. One in ten did not return home, leaving Nepal's villages devoid of young men. Barely 30 years later, 250,000 Gurkhas were once more sent to battle to defend the British Empire in Malaya, Singapore, North Africa and Europe. Almost 33,000 were killed in action, others died of disease in Japanese POW camps.
It was out of the question for Tim Gurung to leave the military before completing his tenure, but he managed to get early retirement to start a small business. He struggled to raise his family, and finally settled in Hong Kong, where he was based till the British handover of the colony to China in 1997.
At age 50, he decided he had enough of both the military and manufacturing, and he fell back on his childhood passion for writing. This enthusiasm for the world of words is amply demonstrated by a verse that is pinned on his Twitter wall:
The Gurkhas fought for the British over 200 years,
Yet nobody could defeat them in a fair game,
Now one of their own has arrived with a pen,
And promised to give them a proper name!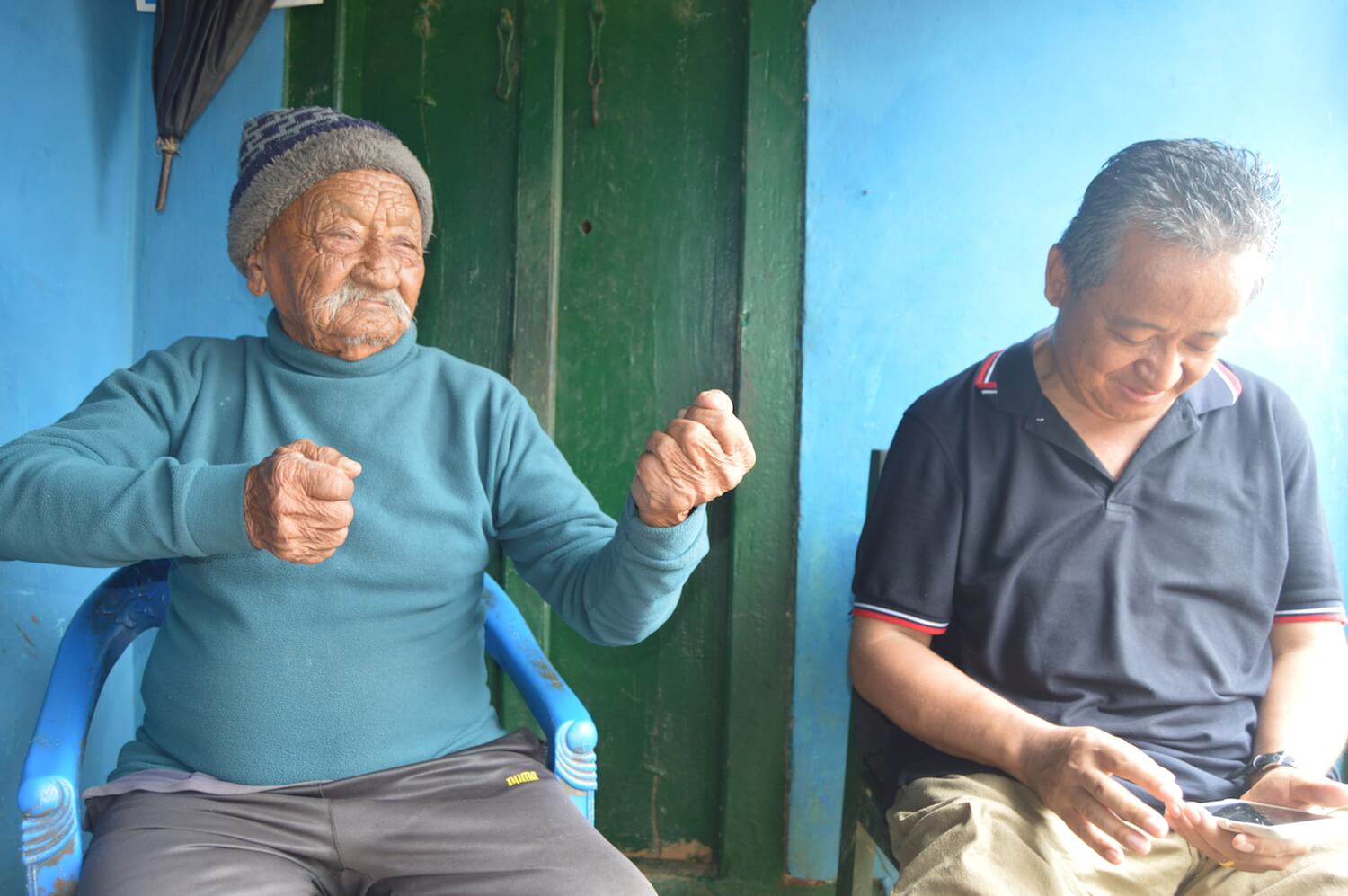 Tim did not let the English language and the craft of writing be a barrier to his assiduous research of retired Gurkha veterans. He tracked them down in remote villages in Nepal to record their testimonies before the world moved on, and forgot about their sacrifices.
It was precisely because he knew time was running out that he put all his effort into his writing mission with the goal of telling the true, and full story of Gurkha soldiers like himself. Some of the veterans like Tahal Singh Rana whom he went to interview in Palpa, are 100 years old – physically perhaps a bit frail, but sharp as ever with memories of their time in frontline military service. Tim goes all the way to Ilam to meet Karna Bahadur Rai, now 99, and then to Dharan to meet 92-year-old Indra Jit Wanem Limbu who proudly pins all his British Army medals of valour on his shirt for a photograph.
Tim Gurung had no clue about the world of books, although he had been self-publishing works of fiction from Hong Kong. In 2015 he was profiled in the South China Morning Post, and wrote op-eds for the Asia Times portal, but he knew that although bringing out his own books gave him independence as an author, he could not sustain a career in writing. He made it a point to be at major book fairs in Hong Kong and the region so he could directly interact with readers and publishers.
After writing nearly a dozen novels that did not cause much of a ripple, Tim switched to non-fiction. His dream project was to try to document the history of Gurkha recruitment, as well as individual stories of servicemen like himself. Earlier this year, The Gurkhas: A True Story, was finally published by Penguin Random House.
Although the history of Gurkha recruitment from 1815 to the present day has been told and retold many times, some of them about the deployment of Gorkhas in the Indian Army, and tales of their bravery in battle, generosity and uncomplaining sacrifices are well documented, what makes this book different are the oral testimonies of veterans. It goes without saying that many of their experiences are more dramatic than any fictional account that Tim Gurung could have imagined in his novels.
While Tim writes incredibly fast, the project would not have been possible without adequate resources, energy and a well-framed and rigorous research plan that spanned three years. In that period, he visited most countries connected with the Gurkhas from Brunei to Britain. He visited the Kranji War Memorial in Singapore where many thousands of Gurkhas are interred. He met Ministry of Defence officials in London, and historians in Malaysia and Burma, interacting with diplomats and members of the Nepali diaspora.
But it was in Nepal where most of the retired protagonists are, and he has mined their memories with military precision for posterity. Accompanied by a camera crew, Tim toured Nepal from Pashupatinagar of Ilam in the east to Chadani-Dodhara in Kanchanpur in the western tip of the country, interviewing more than 90 ex-Gurkhas – many of them who served in Burma, Malaya and Italy during World War II.
What fascinates most in The Gurkhas: A True Story are vivid battlefield memories of the surviving veterans, their gallantry, sacrifice and suffering. Unlike other books on Gurkha history, Tim Gurung's account is not written through a western lens, thus offering a new indigenous perspective. Especially when it comes to the controversy of Gurkha pensions, we hear an impassioned plea for fairness and justice.
The book has been reviewed in Hong Kong's South China Morning Post and Singapore's Straits Times, and although they have raised bona fide issues of writing and editing, the fact remains that they are reviewed by non-Nepalis. It may be rough on the edges, but this is a true people's history of the Gurkhas, told by an insider.
For now, the book is available only in Southeast Asia through Penguin Random House, but will seen be released in a South Asian edition soon.
Chun B Gurung is a former UN media specialist in Nepal and Timor-Leste, and Chun is currently adjunct faculty of journalism at St Xavier's College in Kathmandu.
The Gurkhas: A True Story
by Tim I Gurung
Penguin Random House, 2020
Paperback 256 pages $ 18.84