On-screen mountains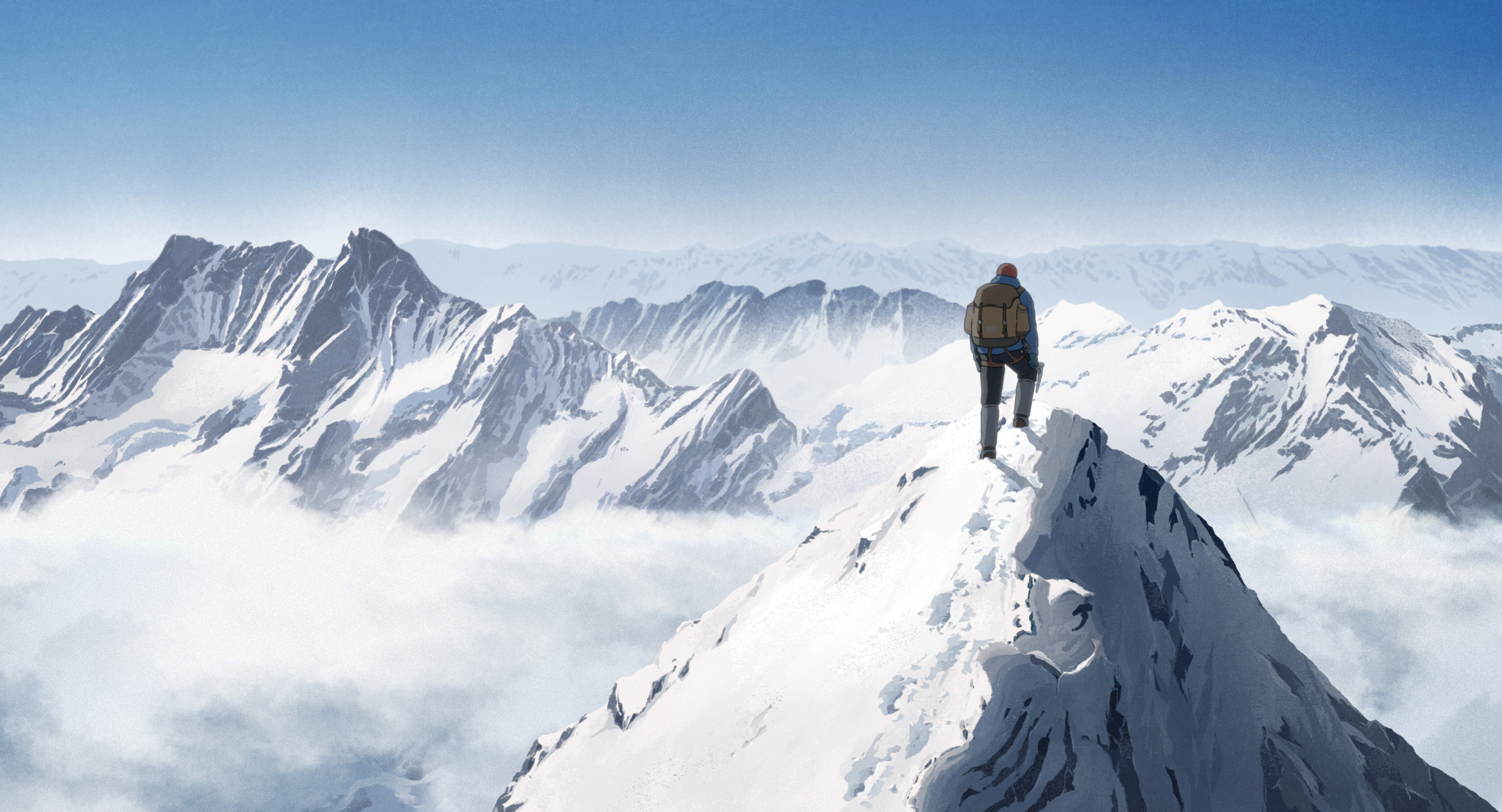 For those who have never climbed a mountain before, it may be difficult to understand the allure. After all, mountaineering is the furthest thing from easy. Climbing vertically often in appalling weather, while paying expedition expenses, traversing mountains of red tape for permits, while all along risking one's life is not everyone's cup of tea. So why do they keep doing it?
Two films that premiered on Netflix this month may provide some of the answers.
Directed by Torquil Jones, 14 peaks: Nothing is Impossible starring Nirmal (NimsDai) Purja, and his climbing partners Mingma David Sherpa, Lakpa Dendi Sherpa, Geljen Sherpa and Gesman Tamang opens with Purja telling viewers to dream big.
"Doesn't matter where you come from, you can show the world, nothing is impossible," he says as a drone camera shows him on Ama Dablam's vertical rock face.
The documentary chronicles Purja and his team's attempt to summit the world's 14 peaks over 8000m in just seven months. The previous world record was 7 years 310 days, set by South Korean mountaineer Kim Chang-Ho.
"I was told that my project was impossible. So, I decided to name it Project Possible," Purja tells viewers. This was not just for himself, not just for Nepal, but to show what human beings can do. But a point made over and over again in the film is that Nepali guides and porters who helped western expeditions never got the credit they deserved in the past. "They are ghosts," he says, and he is out to change that once and for all.
A newcomer to the mountaineering scene who first set foot on the mountains only in 2012. There are obstacles, but in October 2019 after summitting Xixapangma, the last of the 14 peaks, he proves that it is indeed possible.
14 Peaks is a story of teamwork, ambition, determination, perseverance, and patience. But what stands out is the generosity of spirit.
More than once, Purja's team rescue climbers stranded high up in the mountains. In Annapurna, he and his teammates go back up to rescue a climber after an exhausting climb, in Kanchenjunga he helps a climber who has run out of oxygen, and even when he develops HACE (high altitude cerebral edema), he manages to help a climber come down to Camp 4.
"In military I have never left anyone behind I wasn't gonna do that on the mountains," he says.
On K2, when the group reaches base camp, the climbers are ready to abandon their expeditions after three deadly avalanches. The Nepalis lighten the mood, dance to Resham Firiri and Purja rallies everyone to give it one more try while he fixes rope to the top.
Purja's optimism isn't for everyone. "You are a great boy, and it is lovely propaganda, but you don't change the mountain," says one climber during Purja's motivational speech at base camp.
Like Purja's book, the documentary has a macho tone, and at times one wishes he would tone it down a bit. The star of the film is Purja's wife Suchi, who is disarming while explaining his drive, her own fears but also the constant support she provides him.
https://youtu.be/8QH5hBOoz08
Purja's tender side shows in the scenes with his ailing mother, Purna Kumari Purja. Days after being discharged from the hospital, she gets on a helicopter to meet her son after he climbs his 14th eight-thousander. Later, at Kathmandu Airport, Purja tells reporters how a Western climber doing what he did would have got "ten times more publicity".
At 101 minute documentary has stayed in the Top 5 on Netflix for weeks, and touches on a lot of things: the financial burden of accomplishing such a monumental task, the physical and mental challenges of climbing, personal relationships, philosophical questions on mortality, power of social media in today's age and navigating the bureaucracy.
The documentary also attempts to address the criticism Purja faced for using bottled oxygen, with many 'purists' saying that disqualified his feat. Surprisingly, it is Reinhold Messner who himself climbed the 14 peaks without oxygen, but taking 16 years to do it, who defends Purja: "He was doing it this way otherwise it is not possible in such a short time."
Read Also:
What next for Reinhald Messner?, Kunda Dixit
Most of the film's climbing footage is taken by Purja and his team. Director Torquil Jones juxtaposes these with fresh interviews from the team, Purja's family and other mountaineers, and animations (which could have been better quality) for some near-death experiences.
Watching 14 Peaks is like watching a shōnen anime, with an underdog protagonist who has the odds stacked against him. Like every hero, Purja has a dream. For Naruto it was becoming a hokage, for Luffy it is becoming the Pirate King, and for Nimsdai Purja, it is climbing all the eight thousanders in record time.
With 14 climbs and their back stories, there was not enough time dedicated to specific mountains, team mates, or the specific challenges on each mountain. But for a genre that often focuses on individual feats, 14 Peaks goes beyond to show how far mountaineering has come from the days of the first industrial scale expeditions on the world's tallest mountains.
https://youtu.be/AwDVv6pDBx8
While 14 Peaks profiles a climber attaining an impossible goal, claiming glory for himself and his country, the animated French film The Summit of the Gods is quietly meditative. This is based on Jiro Taniguchi's manga adaptation of Baku Yukemura's 1998 novel and does not delve into the heroics of climbing, focusing instead on the obsession with it.
Working as a photographer for a magazine, Fukamachi Makoto (Damien Boisseau) heads up to Mt Everest to take pictures of a Japanese expedition, which aborts the climb and he is left without pictures for his story.
In Kathmandu, while on the phone with his editor, a man tries to sell him a camera that he says belonged to George Mallory, the British climber who disappeared on Everest in 1924.
The mystery of whether Mallory and his climbing partner Andrew Irvine reached the top, almost three decades before Sir Edmund Hillary and Tenzing Norgay haunts the climbing world to this day. Many believe that the camera, a Vest Pocket Kodak, which is still missing today holds the answer.
Back to the film: Fukamachi thinking it to be fake, does not pay much attention. But when he catches a glimpse of a man he believes to be Habu Joji (Eric Herson-Macarel), he suspects that it may be Mallory's. Habu is a famous, but fictitious, Japanese climber who disappeared years previously.
Fukamachi sets to track down Habu. The film flashes back Habu's childhood, his days in a climbing club and his perilous climbs. While Habu's endeavors are awe inspiring, he is clearly human. His shares of victories come with losses.
Fukamachi is as obsessed as his subject, and when Fukamachi finally gets to photograph Habu on Everest, both display powerful tenacity to push the limits.
Director Patrick Imbert captures five volumes worth of story in just 90 minutes. The 2D animation departs from the textured layers of the original manga and is reminiscent of the works of Studio Ghibli, with simple character animations and simply stylized photorealistic backgrounds.
It is the climbing scenes where the film truly shines. There is no dialogue, just struggle to breathe, the missteps, the trembling taut ropes, and the roar of wind. There are the movement of hands, eyes, and gestures in the dialogue scenes. This is animation at its immersive best.
Imbert and his animation team capture the mountains in all their raw wild power, and the audacity of those who dare try to scale them. Amine Bouhafa's score complements the story and animates the adventure.
This is a French film about a Japanese climber using Japanese cartoon techniques for a film set in Nepal, so it is surprising Netflix does not have a Japanese dub version with subtitles to give it more authenticity.
The Summit of the Gods, is not a happy movie, that much we can say. It does not gloss over the sacrifice and suffering to glamourise the adventure. 14 Peaks on the other hand, glorifies climbing. But both films show us what it is like to be a human attempting something super-human.
Read Also: