Does Nepal need a 4th international airport?
In 1994, when Nijgad was identified as the site of Nepal's planned new international gateway, traffic congestion at Kathmandu Airport was not as bad as it is today. It was difficult then to justify a new international airport so far from Kathmandu.
So, Nijgad was projected to be not just an airport serving the capital, but a regional hub for international destinations like Doha, Dubai and Singapore. Like everything else, the war and political wrangling delayed the project for decades.
Read also: Gigantism, Editorial
Today, ultra long-range airliners do not need refuelling and transit stops. The trend is towards point-to-point service with equipments like the Boeing 787 or Airbus 350. However, traffic volume today has exceeded the Tribhuvan International Airport's current capacity, and Nijgad may be feasible as a destination airport for Kathmandu if there is a new expressway to cut travel time.
The Communist government came to power with the promise of prosperity, and it is reviving the $6.7 billion Nijgad airport project as a catalyst for growth, and to take the pressure off of Kathmandu.
Read also: Groping in the dark, Om Astha Rai
Last week, the government approved the airport's Environment Impact Assessment report, even though 2.4 million trees need to be axed in 7,000 hectares of hardwood forest where the airport will be. In his budget speech on Tuesday, Finance Minister Khatiwada allocated Rs19 billion for the aviation sector, including Nijgad.
In an interview with Nepali Times (see below), Tourism and Civil Aviation Minister Rabindra Adhikari announced that the bidding process will start in six months, and the construction site will be cleared and readied for construction in just two years.
Adhikari claims Nijgad will be "bigger, busier and more advanced" than Indira Gandhi International Airport in New Delhi. "It will be a game changer for Nepal's economy," he said.
Aviation analyst Hemant Arjyal says: "Nepal can build a hub airport, but whether it will actually evolve into a hub depends on how convenient international airlines find it."
Arjyal argues that any international airport needs a big enough catchment area, and for Nijgad that will be Kathmandu. "If passengers cannot reach Kathmandu within one hour after landing at Nijgad, this multi-billion dollar airport will fail," he says. "So, the key to Nijgad's success will be how fast the fast-track to the Tarai will be."
Minister Adhikari argues that only 10% of passengers flying into Nijgad will be to or from Kathmandu, the others will be using it to fly on to international destinations, or reach domestic points. But aviation experts are skeptical, and say the whole hub concept is outdated and misplaced.
Retired Nepal Airlines captain Y K Bhattarai calls the plan to develop Nijgad as an international hub 'a flight of imagination'. He says the government should have considered geopolitical realities, and the modern aviation market in the Asia-Pacific.
"Let us build Nijgad, but only after taking into account that Nepal's air space is enclosed by a country that does not give us anything easily or freely," he says. "Nijgad's future as an aviation hub is in India's hands, and building a mammoth airport without taking air routes into account is like putting the cart before the horse."
Bhattarai is a member of a task force that will recommend ways to improve aviation sector. He has experience of Indian air traffic controllers restricting elevation and route clearance for flights to and from Nepal. India has refused inbound air routes through Bhairawa and Janakpur because its air force base is near the Nepal border. This is unlikely to be resolved in talks with the Airports Authority of India next month.
Meanwhile, congestion at Kathmandu is being used as a justification for Nijgad. Some critics say the airport's $100million ADB-supported expansion project is being deliberately delayed to justify Nijgad. Apron, taxiway and terminal building extensions and better air traffic management could ease the present congestion, and keep Kathmandu airport viable for decades more.
Despite its cost, however, Nijgad now seems to be a political fait accompli. Even infrastructure experts like Surya Raj Acharya say: "We should have built Nijgad at least a decade ago."
The last patch of Char Kose Jhari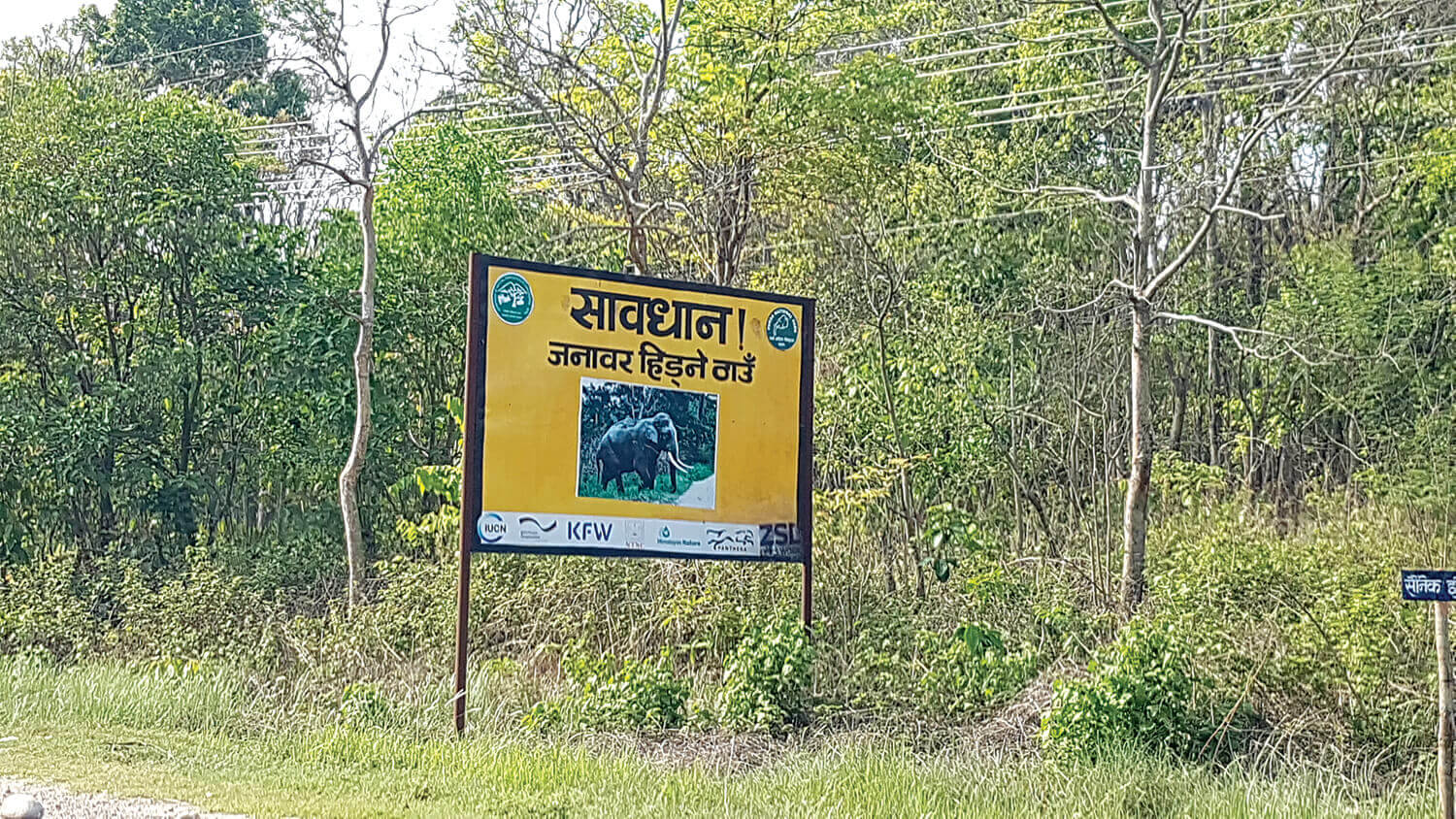 The Char Kose Jhari used to be a strip of dense malarial jungle in the Tarai separating the Chure Range from the Indian plains. After the eradication of malaria, the forests were cleared by settlers from the mountains and from India. Construction of the East-West Highway in the 1970s, transmission lines, the 1980 referendum, all helped shrink this primary hardwood forest to a few remaining patches.
Nijgad airport and the expressway linking it to Kathmandu will decimate the last remaining expanse of this once-vast jungle. In all, the Nepal Army is preparing to fell 2.4 million sal trees in a swath of 80sq km – wiping out the last remaining migration corridor for endangered wild elephants and tigers, depleting the buffer zone of the Parsa Wildlife Reserve, and removing vegetation that recharges groundwater. Conservationists also worry that a huge busy airport right next to a nature sanctuary will also disturb wildlife.
Although the government claims that selling the valuable timber from the site will fetch nearly Rs70 billion, it will prevent 22,500 tons of carbon from being sequestered in the vegetation annually, which in turn will deprive Nepal of earning Rs160 million annually from the global carbon fund. The economic value of oxygen lost due to deforestation for Nijgad airport is huge: Rs 230 billion, and that is not counting the airport's own carbon footprint.
Biodiversity expert Prabhu Budhathoki, a former member of Nepal Planning Commission, explains: "This is going to be the most serious deforestation of the Tarai in the last 50 years, it will affect wildlife, and also damage hydrological ecosystem and agriculture."
Budhathoki argues that clearing the forest for Nijgad Airport will set a bad precedent: and show that jungles are expendable and have to make way for new physical infrastructure.
The airport is the latest example of the need to balance economic needs with environmental protection, even though the main argument against the project is its cost and economic viability. The airport has pitted ecologists against economists: infrastructure expert Surya Raj Acharya maintains that the airport is so necessary that felling 2.4 million trees is "nothing compared to its economic advantage".
"Nijgad airport will be a game changer"
Tourism and Civil Aviation Minister Rabindra Adhikari is a man in a hurry. He wants Nepal to make up for its lost decades in aviation infrastructure. He spoke to Nepali Times this week about why he feels so strongly about Nijgad.
Nepali Times: After 20 years, the Environment Impact Assessment (EIA) report for Nijgad has finally been approved. What is next?
We will sign an MoU with the Nepal Army in a few days. The military will fell trees and build periphery roads. It may take two years to clear the construction site. But we will initiate the international bidding process within six months. We will finalise land acquisition and resettlement of the 1,400 families living at the site, either providing them with cash or a relocation site. We will even resettle those who do not have land titles. The project will not face any more delays, and the airport could be ready in less than 10 years.
Why this sudden urgency?
We badly need a second international airport. The only international airport we now have in Kathmandu is congested, and cannot be expanded.
But there are two more international airports coming up in Bhairawa and Pokhara …
You cannot compare Bhairawa and Pokhara with Nijgad. Not even Kathmandu will match Nijgad Airport's scale and scope. It will be an international air hub -- a real game changer for Nepal's economy. International flights from over two dozen cities will be landing every day, tens of thousands of passengers will catch connecting flights. Planes will also be making stopovers for refueling. It will be bigger, more advanced and busier than any other airport in Nepal.
Why not upgrade nearby Simara airport instead of clearing valuable forests?
Nijgad is Nijgad. It is an ideal place for an international hub airport not just from a business standpoint, but also because of climate. This is one place in the Tarai which remains largely unaffected by fog even in winter.
But Simara is just 10 km away from Nijgad.
Yes, but even that short distance makes a huge difference.
Over 2.4 million trees have to be cut to clear the site.
We will plant 25 saplings elsewhere for every single tree that is felled. We are also looking at minimizing the felling. One option is to not build the adjacent airport city planned for the second phase.
What is the economic viability of an airport so far away from the capital?
Nijgad Airport's future depends on Kathmandu-Tarai fast-track highway. But this airport will be a hub, as I said, and will not depend solely on Kathmandu traffic. In fact, we think only 10% of the total traffic will be for Kathmandu.
Nepal has only one entry point for international flights from Indian air space. Don't we need more two-way routes for Bhairawa, Pokhara and Nijgad?
We are not just a land-locked but also air-locked country at the moment. But we are negotiating with India for more air routes. A technical team from the Airports Authority of India will come to Nepal next month for talks, India is amenable to new entry points through Biratnagar and Nepalganj, and we are are also seeking Mahendranagar, Bhairawa and Janakpur.
Are you serious about a domestic airport in Kavre?
I am serious because it will ease traffic congestion at Kathmandu Airport by 31% . I am also pushing for inter-provincial air connections with Pokhara-Bhairawa, Pokhara-Biratnagar and Pokhara-Nepalganj flights.
People think I am connecting Pokhara to other cities because I am an MP from there, but Pokhara has huge growth potential. The airport will service flights to Lukla, Tumlingtar and other mountain destinations, and we can double the capacity for mountain flights, and help the tourism industry.
Readers write
Avista R-Rizal In my opinion after TIA one more international airport is far more than enough. But inter connectivity is required.
Radhakrishna Lal Deo By upgrading Biratnagar or Janakpur it can be postponed for few decades!
Darryl Mason Spend the money on TIA and the surrounding area and another airport won't be needed