Masks unmasked
To wear or not to wear masks has become an ideological issue in some countries, but here in Kathmandu wearing them is now the law as the number of COVID-19 cases rise in the capital.
Last week, the Home Ministry slapped a Rs100 fine on anyone caught in public without a mask. But Kathmandu residents did not need much persuasion — they were already in the habit of wearing masks outdoors because of the air pollution.
Now, Nepal's entrepreneurs and fashion companies are following the worldwide trend to turn masks into an essential item of clothing. The more creative ones are making designer masks for those who want to make a fashion statement while covering their faces. In recent street protests, some have even used masks with political slogans emblazoned on them.
Now that US President Donald Trump has also worn a mask in public, disregarding his own previous advice, the mask business worldwide has exploded. Disposable face mask sales exceeded $74.90 billion in the first quarter of 2020.
Businesses in Kathmandu have repurposed their workflow to produce masks. Some companies making trekking gear have switched to personal protective equipment (PPE) including gowns and hoods, garment manufacturers cannot produce cloth masks fast enough to meet demand, and fashion companies are producing more expensive designer masks.
Goldstar, Nepal's fast-growing footwear manufacturer, recently announced the release of its latest face mask line called MeroMask. It has several models, with or without valves and different price ranges.
Kolpa Store, a small-scale business based in Jhamsikhel has released its own range of masks that are elegant and functional.
Metro-Mask has been producing masks for health-conscious Nepalis even before the pandemic, and it has had to just speed up production and switch to a different filter.
"The demand for MetroMask has grown tremendously ever since the threat of the virus," says Tashi Gyalzen Sherpa, CEO of Metro-Mask.
The acknowledgement by the World Health Organisation (WHO) that COVID-19 is spread by the airborne route will add to the demand for masks. Kathmandu Valley saw a surge in confirmed cases last week, with the total now reaching 348. There were three more fatalities in hospitals here on Saturday, which brought the total to 9.
However, the government is now thinking of allowing public transport at half capacity when the current lockdown extension is over on 21 July. This has increased concern over which type of masks are foolproof.
Any type of mask will help in protection to some level, health experts say, but some masks are better than others. Metro-Mask has stopped making its signature masks that were designed to stop dust and soot particles in Kathmandu air, and now focuses solely on producing high-tech industrial masks like N95 and KN95.
Earlier pollution protection masks had valves to allow wearers to exhale more easily. These are not recommended for coronavirus because although they protect the wearer, the masks put others around them at risk. The one-way valve allows exhaled air to pass through a small filter disc attached to the side. A mask with a valve enables easier air intake than traditional masks, and with better air flow it prevents humidity and carbon dioxide from building up inside.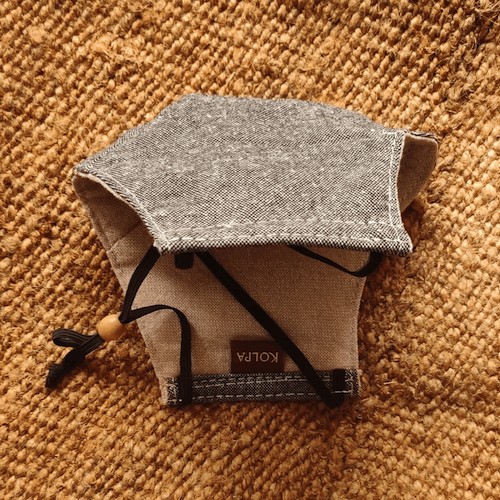 Experts also say that surgical masks are better at protection from the virus than a cloth mask. So while fashionable masks are a quirky accessory, buyers may want to reconsider if the cloth mask is worth the cost, when a simple surgical mask would do a better job.
According to a study on the effectiveness of cloth masks versus medical masks, the infection rate was the highest in cloth masks compared to any other medical masks. If a cloth mask is being worn, it should be washed frequently to keep them clean.
However, washable cloth masks if properly made are more environment-friendly and unlike disposable ones, will not add to Kathmandu's already choked garbage landfill sites.
Cotton Mill Nepal, which was producing high-end household linen items is offering a family pack of colourful face masks in three sizes for the whole family. The masks can be ordered online through daraz.com.
Similarly, Kokroma which makes baby clothing and accessories for export and the home market, is now also making cloth masks. Although the WHO does not say babies need to wear masks, some parents do not want to take risk. Kokroma employs seamstresses who work from home, and besides baby items they can also turn out customised branded masks.
Another social entrepreneurship company, Sabah Nepal, which has a network of 3,000 home-based women members all over the country to develop craft and food-based products, has been contracted by UNDP Nepal to make 40,000 cloth masks. The arrangement provides income for the women as well as produce protective item that is in short supply.
Meanwhile, Hemp Nepal, which produces fabric from the hemp plant to be turned into clothing items, cushion covers and even shoes, is also turning its attention to making masks. It says: 'Hemp is a breathable fabric has insulating properties in winter and is cool in summer, and the fabric has a molecular structure that displays anti-bacterial properties and reduce the risk of carrying and spreading infection.'
With all the new design companies coming up with new lines of masks, it is difficult to keep track. But the one that stands out for its colourful range of designer masks is Groomin. With its motto 'Style and safety', Groomin offers ladies' face covers that are elegant while at the same time having three layers of filters with adjustable ear loops. A 3-pack costs Rs1,000.
With the pandemic showing no signs of slowing down in the United States and spreading rapidly in neighbouring India, the demand for masks is only bound to grow.
At Metro-Mask Tashi Gyalzen Sherpa seems to be preparing to meet this growth in demand for both simple as well as fancier masks. He says: "We are slowly going to transition into making cooler looking high-tech masks."