Chill out at the new Keventers in Thamel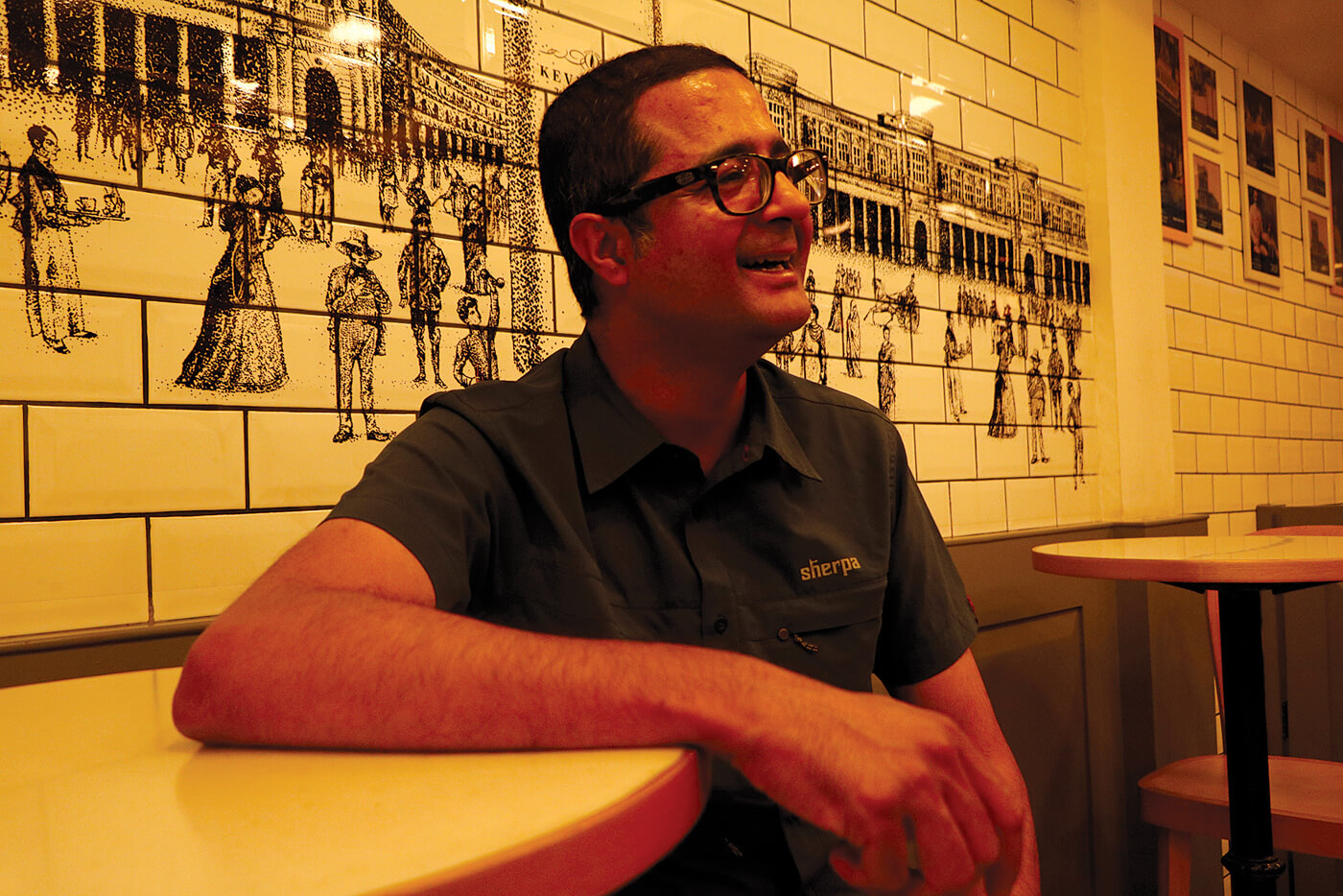 The famous Indian dairy parlour popular for its milkshakes has added another outlet in Thamel, as part of its expansion across the subcontinent.
The brand is building on the success of its milkshake shops in Labim Mall and Civil Mall.
Originally conceptualised as a working station, the Thamel branch has become a go-to place for people of all ages to take a break and relish fresh dairy beverages.
The shop is situated in a busy parallel street in Thamel and offers its popular menu of milkshakes with a new addition of South Indian blend coffee varieties.
"Opening a shop in Thamel for us meant making it more than a kiosk," says Bhaskar Koirala (pictured) who owns the franchise for Nepal with his brother. "Keventers is known for its quality and wholesomeness. We are also focused on the aesthetics and ambience of the outlets, and like to make it a place for customers to relax and chill out."
Koirala, himself a fluent Mandarin speaker, has taken note of the new demographics of tourists in Thamel by promoting the various flavours of milkshakes on sale in signs outside the parlour in Korean, Japanese, Chinese and Russian.
Ever since it became popular with Nepali boarding school students in Darjeeling, Keventers has had a loyal following even when the boys returned to Nepal and grew up to be men. Keventers uses local fresh organic milk from a dairy in Suryabinayak, with mandatory 3% fat concentration in the milk.
What makes the new Keventers in Thamel stand out is not just the shakes, but also the interior. A vintage brass letter box on the door, black and white mural on the wall tile of the old Connaught Place in Delhi, and classic framed photos of Keventers products hark back at the brand's colonial history.
The furniture is done in Ikea-esque minimalism and the ambience is kept refrigerator-cool so that customers immediately feel like they are insulated from the hustle, bustle and dust of the city outside. There is free wifi, and with the warm glow enticing post-dinner crowds for dairy desserts.
Keventrers was founded by Danish dairy entrepreneur Edward Keventers in 1925 with outlets in Darjeeling, Delhi, Calcutta and Aligarh. After Indian independence, ownership was transferred to Ram Krishna Dalmia, whose grandson Agastya Dalmia revived and recreated the brand in 2015. The Koiralas approached Dalmia to start with Keventers' first franchise abroad in Nepal.
Today, Keventers has more than 250 outlets and is undergoing rapid expansion in India. The Koiralas are hoping to start a new outlet in Darbar Marg soon.
The newest flavor is Salted Caramel Thick Shake which is served in Keventers' trademark bottle illustrated with a rhododendron blossom to give the product a Nepali touch.
Sikuma Rai
Read also:
Electric car service centre, Sikuma Rai
A real taste of China, Ziyu Lin