An energy windfall for Nepal?
Last month saw the historic signing of the Nepal-India energy Joint Steering Committee agreement to build the new Butwal-Gorakhpur 400KV crossborder transmission line. When completed, it opens up the possibility of Nepal exporting surplus power to regional markets like India and Bangladesh from power projects in the Marsyangdi, Kali Gandaki and Budi Gandaki corridors. With so many hydropower schemes in the pipeline, Nepal may soon have surplus energy at certain times of year, which makes crossborder transmission lines imperative. Discussions about Bangladesh's desire to import up to 9,000MW of electricity means Nepal must have a clear business model for the regional electricity market.
Besides hydropower, the new crossborder transmission line has also opened up the prospect of large-scale wind and solar farms in cold, windy and cloudless regions like Mustang and other trans-Himalayan districts.
A Global Atlas prepared by the World Bank shows Mustang is ideal for wind and solar energy development. Just using 2% of the district's land area for solar could yield a generation capacity of 3,000MW, along with 1,200MW through wind energy projects. (See accompanying maps).
Read also: Making Nepal powerful, Editorial
Some will question the need to go for wind and solar in a country with such abundant hydropower potential. However, wind and solar are the fastest growing energy sources globally, accounting for more than 70% of new energy addition since 2013.
Low cost and speed of installation make these technologies attractive even in countries with hydropower. Some of the potential for wind and solar power in Nepal will be discussed at the Independent Power Producers' Association, Nepal (IPPAN) Power Summit 2019 in Kathmandu, 21-22 November.
Latest solar auctions have seen prices drop below two cents per KW/h. In India, the Adani group built the 648MW Kamuthi solar power project in Tamil Nadu within one year. It is unimaginable to build a hydro project of such a size so fast.
To be sure, building wind and solar projects in Mustang would not be a cake walk. Transmission lines and road access remain challenges, although they are improving and could be surmounted if the resources are allocated. The 10m wide Beni-Korala highway currently under construction would be a notable step forward.
A 220KV substation is being built in Dana, 40 km from Jomsom, but land acquisition and environmental approvals are major roadblocks. The entire district falls inside the Annapurna Conservation Area and existing rules require environmental impact assessments for new energy projects — even though nothing would be more environment friendly than renewable energy development.
Read also: Decentralising (hydro)power, Gyanendra Lal Pradhan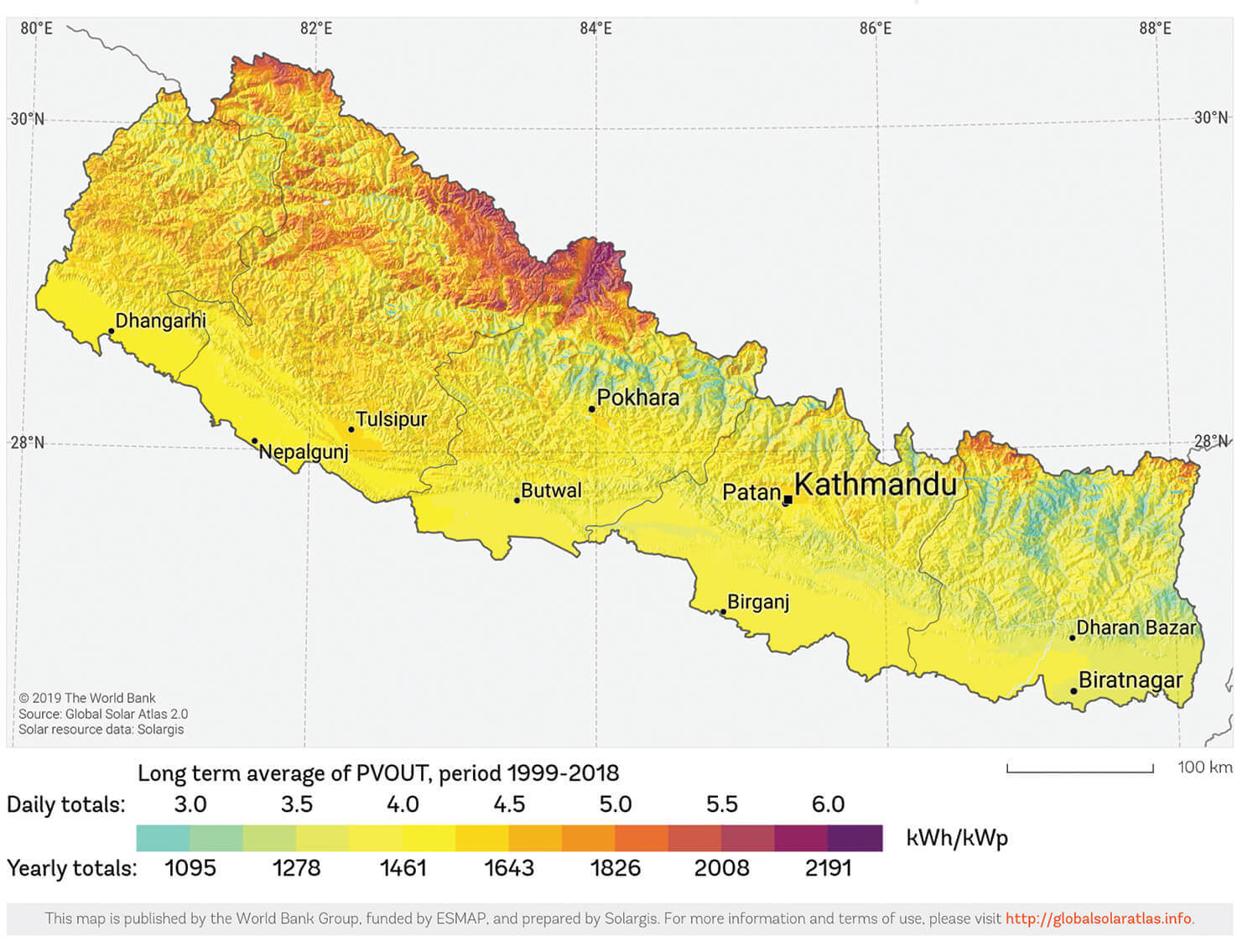 Red tape and overlapping jurisdiction between municipal, provincial and national government make the entire approval process more arduous than the construction itself. Likewise, almost 99% of the land in Mustang is government-owned, and buying or leasing it requires official approval, which could also take years. Without resolving these issues, it will be difficult to attract investment, domestic or foreign.
The onus is on the federal government to come up with a solution, and with a two-thirds majority in Parliament, the ruling party has an historic opportunity to move fast. One solution could be to replicate the successful model of the Solar Energy Corporation of India (SECI), a central government undertaking formed under the Ministry of New and Renewable Energy dedicated to developing large-scale, grid-connected solar and wind projects. Registered as a power trader, its role is to auction and manage solar and wind farms.
SECI develops large-scale projects then auctions them to independent power producers (IPPs) to build, own and operate. SECI then signs 25-year deals with the lowest bidders, buying the power from them and selling it to state electricity-distributing companies at a nominal premium. The SECI model is a win-win for IPPs and utilities, which do not have to spend time and resources to develop projects, while utilities get electricity at a competitive rate due to the bidding process.
Exporting electricity is arguably our biggest opportunity to reduce the trade deficit with India, and together with hydropower we must also pick the low hanging fruits of solar and wind energy. If we want to do it big and quick, we must develop gigawatt-scale wind and solar projects in Mustang, where it is realistic to generate and export 3,000MW of solar and wind power within five years.
Kushal Gurung is CEO of WindPower Nepal and head of the Energy Development Council.