Arko, the Nepali minstrel from Bengal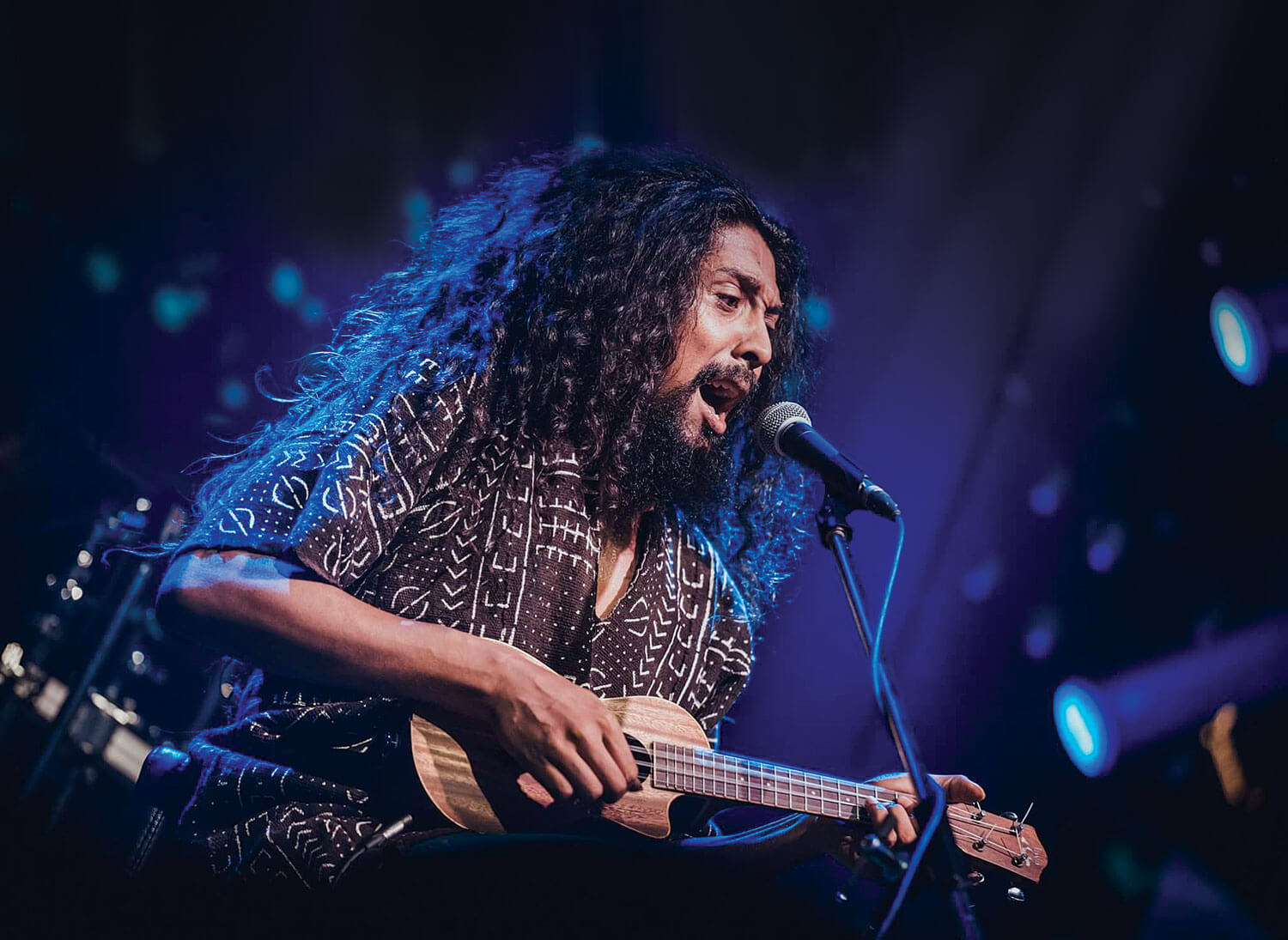 If you like Nepali folk songs, you must have come across a hirsute man on Youtube, singing old, familiar songs with an unusual accent and lilt. The backdrops to the music videos are always mountains wrapped in clouds and B rolls of smiling Nepali children. The singer strums his ukulele gently, and through melancholy spreads calmness and positivity.
This is Arko Mukhaerjee, a Bengali who grew up around Darjeeling, walking the mountains and dales on the other side of the border from Ilam and Sandakphu. The hills were alive with Nepali folk music, and he grew up steeped in its melody and beat.
"As a boy, I hiked along the border with Nepal and have done the Singalila trek, walking up to the base of Kangchenjunga many times," recalls Mukhaerjee, who has fond memories of tongba and sukuti sessions with Nepali-speaking friends who remain his best friends. He came to understand the difference between dai (brother) and daju (respected brother). It helped that his name 'Arko' ('sun' in Bengali) means 'next' or 'another' in Nepali, an icebreaker that is still the subject of endless jokes.
Read also: Moving songs from the boys next door, Sewa Bhattarai
Mukhaerjee was 11 when he heard his first Nepali folk song, Resham Firiri, from his trekking guide Arjun Sherpa. The whole village of Mane Bhanjyang, where the India-Nepal border runs through a house, would shut down for evenings of song and merriment, and people would dance to Mohani Lagla Hai and Tulsi Aagan ma Ropaunla. Because of Mukhaerjee's background in Bengali music, it was easy for him to learn the songs from Sherpa.
"My family came over to West Bengal from East Bengal, and as refugees we did not have much," he relates. "Families like ours hold on to the intangible heritage, which is all they bring with them. In my family that heritage was classical music."
But Mukhaerjee rebelled against the regimented nature of the classical tradition and turned to exploring and experimenting with melodies that touched his soul. He gave up formal training and learnt music by jamming and practicing. Today, he performs folk music in more than 20 languages and plays five different folk instruments, but he keeps coming back to Nepali music.
Mukhaerjee's connection to Nepal was forged in the Darjeeling mountains, through his friendship with Nepali-speaking Indians who sang songs of migration and their motherland. "Nepali music contains traces of the places Nepalis have been – Burma, Malaya, fighting world wars," says Mukhaerjee. "Some Nepali musical instruments are similar to those found in Mongolia or Afghanistan, and there are also some harmonic aspects from British influence on Rana music.
And then there are the characteristics of Nepali music that are typical of mountain music around the world: the use of more major notes and fewer minor notes, as with Irish, Mongolian, South American, and bluegrass music.
Among Nepali singers, Mukhaerjee is fond of Jhalakman Gandharva, the pioneering minstrel. He first heard a Gandharva song on a taxi ride from Tribuvan International Airport to Thamel. "Jhalakman's voice is unique not just in Nepal but in the whole world," he says. "When you sing to the accompaniment of a single instrument for many years, your voice automatically follows the instrument. Jhalakman sang with the sarangi, and his voice had acquired some micro tonal aspects of the sarangi which are impossible to replicate."
Read also: Eastern melodies in Kathmandu, Sewa Bhattarai
While in Pokhara to perform in January, Mukhaerjee visited Batule Chaur, the historical home of the Gandharvas, and says it was an emotional moment. "It gave me goose bumps," he says.
https://www.youtube.com/watch?v=3r6bDmdNl_k
Mukhaerjee has sung many of Jhalakman's songs, including Timro nai Maya, Allare Nani Kesi, and Bala Joban. He understands some of the lyrics, but gets a native speaker to transcribe the correct pronunciation. Ultimately, though, what matters to him is the feeling that the music inspires. Mukhaerjee recently discovered Mitrasen Thapa, and has started to upload videos of his renditions of the master's songs.
"When I sing to the Nepali communities in India, everyone sings along. That is so rare. You just forget all intellectual abstractions and enjoy the emotion the songs bring out," says Mukhaerjee. "My objective in performing Nepali music is to spread love and connect people."