Clothed in cannabis in Kathmandu
The weed may be illegal, but hemp fabric is catching on
Hippies flocked to Nepal in the 1960s and '70s, drawn by the freedom to buy and smoke pot. But today, tourists are attracted by t-shirts, shawls and jackets made from the marijuana plant.
While there are still weed pushers on the streets of Thamel trying to sell you a smoke, the tourist hub is now better known for designer apparel made from a blend of cannabis fibre and cotton.
"In my business cannabis isn't illegal. If cannabis was illegal then we wouldn't have these products on sale," says Yubaraj Timilsina, who started out as a vegetable vendor and now owns Hemp Headquarter, which manufactures and runs a wholesale shop for cannabis-based attire.
Timilsina and others who deal in cannabis fabric source their products from western Nepal, where marijuana cultivation is permitted for hemp production, under strict supervision of the local police. Western Nepal suffered greatly from the US-induced ban on cannabis in the 1970s, when already impoverished farmers were pushed into deeper poverty because of the loss of their cash crop.
Read also:
Legalise it, Alok Tumbahangphey
Push to undo hash ban in Nepal, Sahina Shrestha
On 26 June, International Day against Drug Abuse and Illicit Trafficking, instead of encouraging farmers to plant hemp and start a local industry, police are destroying plants in Tanahu and Chainpur.
"The cannabis bushes grow in the wild, they are not cultivated, and we collect the stems from which the fibre is sourced," says Baburam Bohra from Bajura, the district known to produce the healthiest cannabis plants.
While the shrubs can grow up to 3m tall, those harvested for fibre are cut before they flower, which means they cannot be used for smoking. The stems are soaked in water for 10 days so that the outer layer peels off, making it easier for the pulp inside to be extracted.
The raw plant tissue is then boiled with ash and washed multiple times to produce fibre. The whole process takes up to three weeks, giving one roll of fibre 3m in length. Hemp fibre is dark tan or brown and is difficult to bleach, but it can be dyed bright and dark colours.
Read also:
High time to lift ban, Sarthak Mani Sharma
The fibre does not contain tetrahydrocannabinol (THC), the naturally occurring psychoactive compound that gives cannabis its narcotic property, so it will not, for example, alert sniffer dogs at airports.
Clothing and bags made from 100% hemp fabric can cost up to Rs10,000 depending on their design and size. Yet production is still limited with those bags that are made going mostly to Australia, Spain and Canada, which have legalised marijuana to varying degrees.
"I come to Nepal every six months to buy hemp bags to sell them in Spain," says Nacho Baranas, who owns a shop in Barcelona featuring handicraft from all over the world, including Nepal.
Timilsina sells a variety of hemp-based products, including bags, shawls, shirts, trousers and yoga bags. "Foreigners like our hemp bags because they are durable and all-natural," he says.
Thamel trader Prem Dahal is acknowledged by his peers as the pioneer of the hemp trade. He was inspired to take it up 28 years ago after travelling with shepherds in western Nepal and finding that their hardy mattresses were woven from cannabis fibre.
"Hemp fabric is stronger, more absorbent and has better insulation against heat and cold than cotton," Dahal explains. "Hemp is environmentally friendly."
Given that half the pesticide sprayed worldwide is in cotton plantations, hemp is a nature-friendly alternative fabric. The plant also prevents soil erosion on mountain slopes because of its thick deep root system, and the fabric can be made into at least 100 types of products.
"If hemp was fully legal, and allowed to be grown on an industrial scale, it would be as valuable as gold," says Dahal, who is critical of MPs from western Nepal who do not push for the legalisation of marijuana, which would be a rare job booster.
Timilsina sells up to 400 hemp bags per month, but sees another threat on the horizon: cheaper Chinese bags.
Social fabric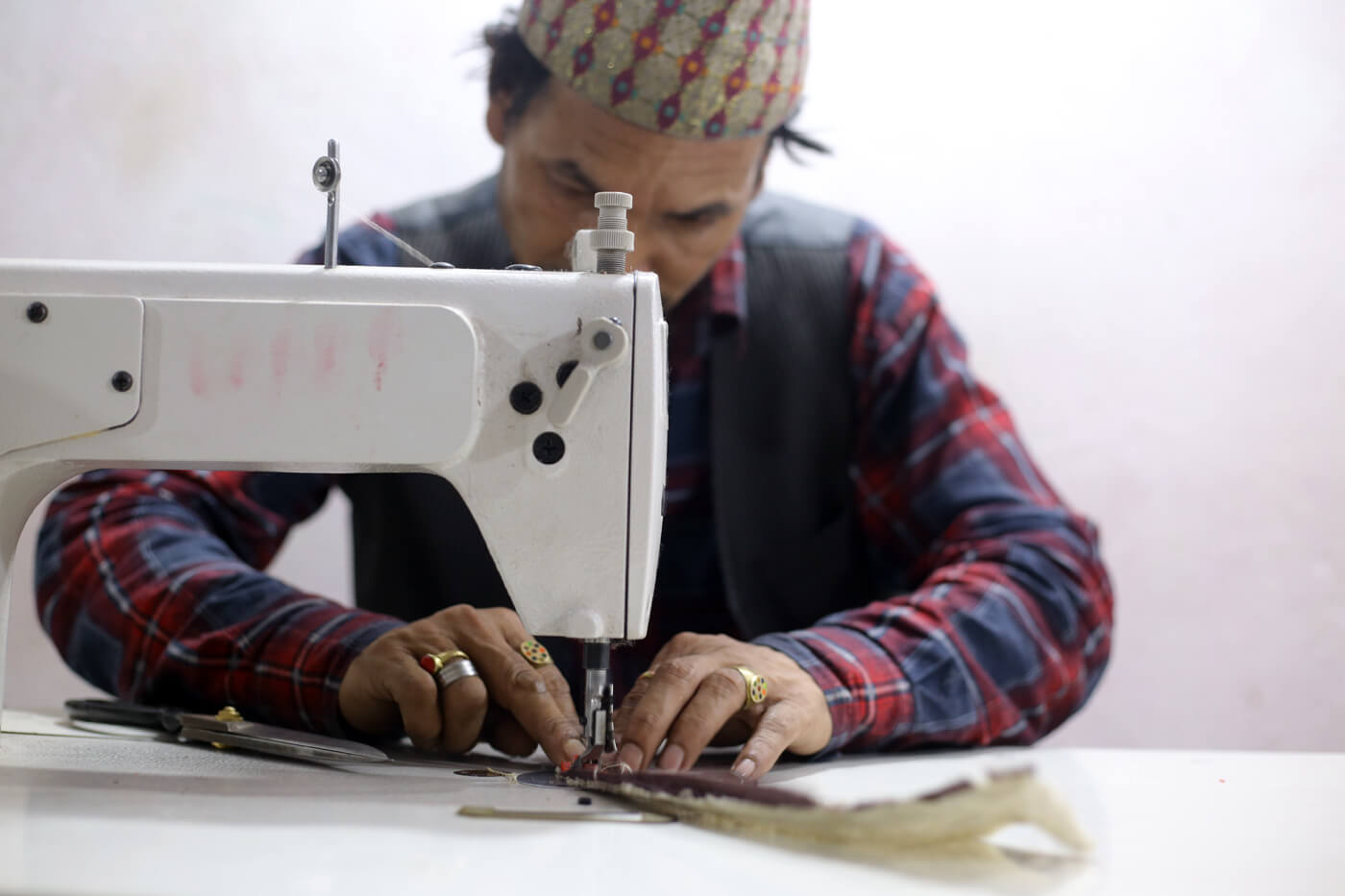 A blend of fabrics from the Himalaya with creative patterns and effective marketing have made Nepal's hemp-based products trendy in designer stores in Europe, North America and Japan.
For the past 20 years, Karuna Natural Wears has been exporting high quality clothes blending hemp with other natural fibres like nettles, aloe and bamboo designed for durability and comfort.
"The reason hemp textiles are popular among our customers here and abroad is that they are comfortable, suitable for people with sensitive skin, they are naturally resistant to UV rays, the design to holds shape well and stretches less," explains designer Nabina Maharjan.
Indeed, the hemp clothing on display at Karuna's store in Darbar Marg and Lazimpat, and Juju in Jhamsikhel in their subdued earthy colours and tastefully rendered minimalist traditional patterns, are soft to the touch. There are t-shirts, pants, skirts and a whole range of bags and other hemp-based products.
Although the hemp fabric is mainly sourced from western Nepal, the quality and supply was not reliable enough and Karuna now imports some raw material from China and India.
Most in demand at Karuna and Juju stores are apparel from blended fabric, and although they are slightly more expensive, the hemp-cotton fabric is the most popular.
Sonam Choekyi Lama
Green Gold
In 1976, after American youth started flocking to Nepal by the thousands attracted by cheap and legal pot, Nepal was forced by the US government to ban the use and sale of marijuana.
This threw thousands of farmers out of work, and made impoverished western Nepal even poorer. Today, while US states are legalising marijuana it still remains banned in Nepal.
Ravi Pradhan is a Nepali consultant who has been advising the Cambodian government on legalising marijuana. He says it is absurd that the US government still classifies marijuana as a narcotic drug when experts agree on its medicinal properties and therapeutic effects. "For Nepali farmers it can be a green gold," Pradhan told a recent conference in Kathmandu on legalising marijuana.
Nepal's Narcotics Drugs Control Act allows the use of the wildly grown cannabis plant, but it is vague and confusing, and its enforcement even more arbitrary. Activists are now pushing for legalisation of hemp cultivation so that plants can be used to make fabric, and – that battle won – they say want to shift their focus to legalising ganja for medical use and even recreational consumption.
The activists' approach is to clearly show the difference between hemp and marijuana. Although they are both derived from the cannabis plant, their morphology, properties and uses are different.
Marijuana is a variety of cannabis that contains tetrahydrocannabinol (THC). Hemp, on the other hand, is a non-psychoactive variety of the cannabis plant. Because the leaves look like marijuana, however, most people cannot tell the difference.
Sales of hemp products worldwide are expected to reach $2.6 billion by 2022, with China being the world's largest exporter. Hemp production in Nepal is not banned, but is limited. For example, businesses can only use wild plants.
Although marijuana is classified as a narcotic drug, the oil is used traditionally as a muscle relaxant, the leaves are made into chutney, and it is an active ingredient in many ayurvedic products.
Pawan Joshi produces hemp oil called Dava, which contains Omega 3 and 6. He says: "It is totally legal to produce the hemp oil as the hemp seeds are legal and the oil doesn't get you high. We now need across-the-board legalisation of hemp."
POT VOCAB
Marijuana: Psychoactive drug made from the dried leaves and flowers of the Cannabis plant, contains tetrahydrocannabinol (THC). Also known as weed, pot, grass, Mary Jane.
Hemp: A variety of Cannabis plant that grows up to 3m tall and contains less than 0.3% of THC. Fibre is used to make clothing and bags (see large story).
Ganja: Marijuana in Nepali, Hindi and Sanskrit, used to denote both the drug and the Cannabis plant.
Bhang: Edible form of marijuana made by crushing green leaves and buds of the Cannabis plant. Smoked and eaten at festival time in Nepal.
Hashish: Also known as charas in the Subcontinent, is the resin made from rubbing Cannabis flowers and top leaves.
Wearing paper
Traditional Nepali paper made from the bark of the lokta plant is used for legal documents because they are insect resistant. Now, one company in Nepal is also making shirts and jackets from the paper.
Lokta pulp sourced from the mountains of Myagdi district are processed and pulled out into lokta thread which are then interwoven with other fabric like cotton or hemp to make items of clothing, cushions, tote bags and placemats.
"We decided to experiment and do something different, and thought why not use lokta also for fabric and not just for paper products," says Rita Bhandari of Nepal Paper Crafts, which has been exporting Nepali paper products.
Bhandari collaborated with the Netherlands-based designer Janske Megens with whom she was the recipient of the Dutch Design Award 2008 for innovation and simplicity of design for Paper Text Cushion. Nepali paper clothing is most popular in Holland.
"Lokta fabric is strong, can easily be dyed, printed, embroidered and washed. It will not get brittle with age and has natural insect repellent properties," adds Bhandari.
Paper cloth is made from lokta thread as weft and weaved with allo, silk, cotton, hemp, wool fabric as warp. The warp on the cloth depends on customers' order, and the whole process is natural and handmade which is their unique selling point.
"They are popular in the West because it is all natural, the clothings are cool in summer and warm in winter," says Bhandari, who is now exploring a larger international market for Made in Nepal paper fabric.
Pema Sherpa