Deputies drive development in rural Nepal
Gita Adhikari, the deputy mayor of Damak, quit her job as assistant campus chief of Damak Multiple Campus when she was nominated by the UML to run in the 2017 local elections. Adhikari says she will complete the reform work that she initiated by running for mayor in this May's elections.
"I am running for mayor this election," says Adhikari, "There is no Plan B."
In Nepalganj, deputy mayor Uma Thapa Magar founded and has led a collective of deputy mayors and chairs from eight municipalities across Banke that meets regularly to facilitate interpersonal as well as district-wide cooperation between local representatives and bodies.
"My five year term gives me the experience to run for mayor this time," says Magar, who was a journalist before entering politics.
Vice-chair Ekmaya BK, of Banke's Khajura village is banking on voters to recognise her accomplishments during the election in May and vote her to the leadership position. "I am confident that my constituents who have closely followed my work will make the right decision at the polls," says BK.
Sarala Bolkhe of Bakaiya village in Makwanpur was elected vice-chair even as her running mate lost the chairmanship to their challengers, and is positive that she will be voted in as chairperson this time.
Meanwhile, Parvati Sunuwar, the vice-chairperson of Sindhuli's Fikal rural Municipality who oversaw progress in maternal health as well as women's participation in her village, is banking on residents to vote her in as chairperson after having unsuccessfully run for chairperson in 2017.
A recent survey conducted by the Tarangini Foundation, a women's rights training center, found that 80% of the 200 women holding deputy mayor and deputy chief positions want to run for the top position in the 2022 elections in May.
These female local government representatives have been encouraged by the success of local government projects under their leadership, particularly ones that have focused on the socio-economic empowerment of women in their communities, as well as the inclusion of underserved and vulnerable communities in local-level development.
In Jhapa's Damak, community schools are being adapted for female students and persons with disabilities. A state level disability rehabilitation center is also in the works. Women in Damak have been trained in manufacturing Dhaka, while the local government prepares to create a market for the goods.
Such work has been made easier because vice-chairs are in-charge of the local government's budget committees. "A third of our budget is allocated for vulnerable groups, and we spend 22% of the earmarked funds for the socio-economic empowerment and awareness of women," says deputy mayor Adhikari.
Read also: Nepal's local governments lead from the front, Masta KC
In Bajhang's Thalara Rural Municipality, vice-chair Gangudevi Khadayat set about forming women's groups across the village as soon as she was elected. "I personally attend the women's group meetings so that I have a firsthand account of the problems that the women face," Khadayat says.
Some of residents of this municipality belonging to the Gandharva and Wadi communities had been involved in sex work, and several of them had been reduced to begging. Under Khadayat's leadership, more than 400 men from these communities are now daily wage workers, while women operate small businesses. The Chhau sheds where women are traditionally banished during menstruation have also all been demolished.
In Nuwakot's Dupcheshwor village, vice-chair Anju Acharya formed women's groups as soon as she was elected, conducting awareness programs as skill-based training to counter unemployment in her constituency.
"We have begun to identify and involve members of the community in alternative forms of employment," says Acharya. "The work may not be tangible as some of the bigger infrastructure projects, but the income and self-reliance this has afforded our community is tremendous."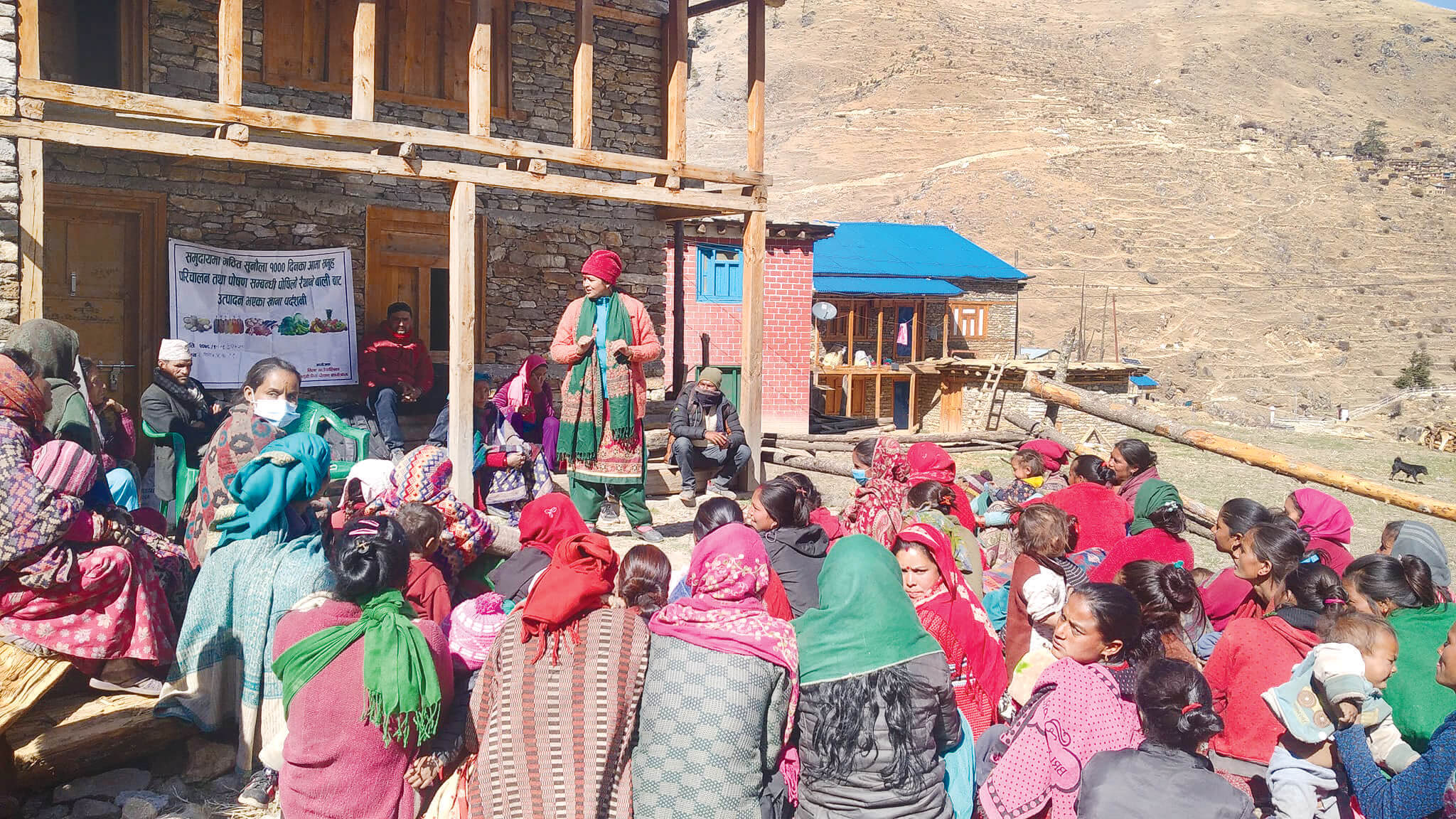 Jumla's Tila Rural Municipality has focused on maternal and child health, collecting data on pregnant women and children up to two years old. Tila vice-chair Vishnu Budha, runs a program to provide nutritious food to pregnant women and winter clothes for children, and runs a 'nutrition message' program to make families aware of the services that the local government provides.
The municipality provides incentives to families that have undergone permanent sterilisation after having one child, which has directly contributed to the decreasing numbers of children with malnutrition in the village.
"We were also able to end the practice of Chhau after many awareness and discussion programs with male family members, as well as other local leaders and healers in the community," explains Buda.
One of the more significant achievements of local government in Nepal has been constitutionally mandated three-member Judicial Committees which has granted the power to local Deputy Chiefs who head the committees to resolve 13 types of civil and 11 other types of minor disputes through reconciliation without cases having to be taken to court.
Read also: Local government by the people, for the people, of the people, Ramesh Kumar
In Dhangadi, Deputy Mayor Sushila Mishra Bhatt played a significant role in introducing the Gender Equality and Social Inclusion Policy 2020 before the federal government issued a similar nation-wide policy a few months later.
Bhatta's government has particularly focused on mobilising the judicial committee in her constituency. "The responsibility of our judicial committee is not just limited to sending petitions to court, but to serve those seeking justice who have been unable to access Nepal's judicial mechanism in the first place," says Bhatta. "Social and legal awareness and mobilisation are our top priority."
"We have spoken to many victims of domestic violence for hours—such calls and interactions often go on late into the night," adds Dhangadi's Deputy Chief Bhatta.
These women-led judicial committees have been able to solve disagreements across the country, from settling land and financial disputes in Siraha to reconciling families on the verge of separation and divorce through counselling services in Bardia. They have also prevented child marriage in Panchthar and addressing domestic violence in Doti.
Bhatta, the deputy mayor of Dhangadi, handles disputes in the Judicial Committee, monitors ongoing community projects every fiscal year, meets with dozens of other sub-committees, all the while participating in various state-level programs.
Read also: Nepal's women envoys make a mark, Pratistha Rijal
"Although they have had to juggle many responsibilities under the federal system, from solving disputes as heads of the judicial committees, Nepal's women deputy mayors and chiefs have done an incredible job so far," says Prabha Baral, head of the central women's department of the Nepal Municipal Association and mayor of Chitwan's Rapti municipality.
Across Nepal's local levels, most women deputies are now sufficiently trained and equipped to lead their villages and municipalities. In 2017, most women were relegated to being a deputy because political parties were only looking to fulfill a requirement: to nominate token women either to the position of chair or deputy chair of the local governments.
But this time, following their performance in the last five years, many women deputies now command the attention of both the political parties and voters in the lead up to the second local elections under the federal government on 13 May.
Says National Assembly member Bimala Rai Paudyal: "Had our Constitution not made it mandatory for women to be involved in local governments, these important and impactful developments would have been limited to mere words on paper."
Read also: Women moving Nepal's climate activism, Sewa Bhattarai
Janmakanya Khatri, who was elected the vice-chair of Jumla's Sinja Rural Municipality in 2017, is one of many locally-elected officials who has not had any formal education.
"Girls were not sent to school when I was a child," says Khatri, who travels across her village to spread awareness about the importance of educating women. "I have always felt that I would be respected more had I been able to read and write."
Sinja is among eight rural municipalities in Jumla. Along with Khatri, three other deputy chairs in the Kankasundari, Guthichaur and Patrasi deputy chairs have not received any formal education.
Khatri says her inability to read and write has severely hampered her ability to do her job. "There have been many laws and policies made for the local level, but to me, those words on paper might as well be a foreign language," she adds.
What worries her most is making decisions and signing documents based on second-hand information, as others dictate important documents and directives. Khatri is constantly plagued by worry over whether she has made sound decisions.
Khatri is adamant that educated women from Nepal's rural communities be given the opportunity to run for political leadership in May.
Read also: Women leaders set example for rest of Nepal, Laxmi Basnet
In constituencies across Karnali and Madhes, local leaders who are unable to read and write have been hoodwinked by other parties.
Advocate Indu Tuladhar, who has been working for the rights of Nepal's locally elected officials, identifies illiteracy as the major reason that prevents elected officials from doing their jobs.
"There has long been debate about whether academic qualification should be a criteria for those who decide to run for office," says Tuladhar. " Nepal's political parties require a deeper understanding of the role education plays in local governance."
Nunuta Rai and Krishnamaya Upadhyaya contributed to this report.
Translated by Shristi Karki from the Nepali original published on Himalkhabar monthly.
Read more: All politics is local, Sahina Shrestha