It's an emergency: Nepal needs to improve trauma care
Speeding along a narrow winding mountain road in Dhading, a heavily intoxicated truck driver lost control of the vehicle and it overturned, killing seven and severely injuring 34 passengers hitching a ride.
This was a mass trauma incident that required immediate attention, but Nepal's only trauma care centre was located in Kathmandu, 90km away via bumpy roads jammed with traffic.
Read also: injured use Internet to reach physiotherapists in Nepal, Sonia Awale
Most passengers from the truck accident were taken to nearby hospitals in Dhading, but the 21 most critical patients were airlifted or driven in ambulances to the National Trauma Centre in Kathmandu.
"It had already taken a while to bring the patients to the Trauma Centre, so we had to act quickly once they were here,'' recalls Pramod Yadav, acting medical superintendent at the facility.
The standard protocol for trauma care is the triage system -- determining the priority of treatment based on the severity of injury. Doctors at the National Trauma Centre quickly designated yellow, green and red codes to patients to ensure that those in critical condition were taken care of first, and fast.
Read also: Unblocking an artery, Sanjeev Sharma
On-call doctors were contacted and began assessing the patient's injuries. But without a functioning MRI and a faulty CT machine, some had to be sent to private clinics and later returned to the hospital.
This is a recurring event for patients seeking immediate care at the government-run Trauma Centre where patients in critical condition have to be moved about from one facility to another for tests.
"We cannot afford an MRI machine, it is very expensive to repair our CT machines, we have limited trolley beds and only 11 ICU beds when we need more than 50," says Yadav. "We are requesting the government for Rs420 million to become a real trauma centre, especially since we are the only one in the country."
There were 60,000 severe trauma injuries in Nepal in the last year, a 3,000 increase from the previous year, and a whopping 27,000 over the year before that. Like with all government-run medical centres, the Trauma Centre lacks resources, is under-staffed, and is incapable of handling this exponential increase.
"In the last two, three years, falls, physical assault, road traffic accidents, sports injuries and burns have been the leading causes of trauma," lists Siddhartha Dhungana, the Medical Record Officer at the National Trauma Centre. "Head injuries and multi-organ failures have been the highest causes of death in these cases."
Most hospitals in Nepal, like the National Trauma Centre, follow the World Health Organisation's trauma protocol. During a trauma case, medical personnel are contacted as soon as possible, patients are screened, their needs are identified and necessary care is given.
Although the government has not developed a standard care protocol for trauma like it has for cancer patients, private hospitals have implemented and refined their own systems based on WHO guidelines.
Om Hospital's Continuing Medical Education Program is at the forefront of teaching trauma care to new doctors and providing courses on improved techniques to existing doctors.
"We make sure that the ABCs of trauma care are followed strictly and that blood is readily available be it from our blood bank or staff-chain blood donors," says Binod Adhikari of Om, which handles dozens of cases every day and has systems in place to coordinate between doctors, nurses and critical care anesthesiologists to provide emergency care to patients.
Ambulance chasers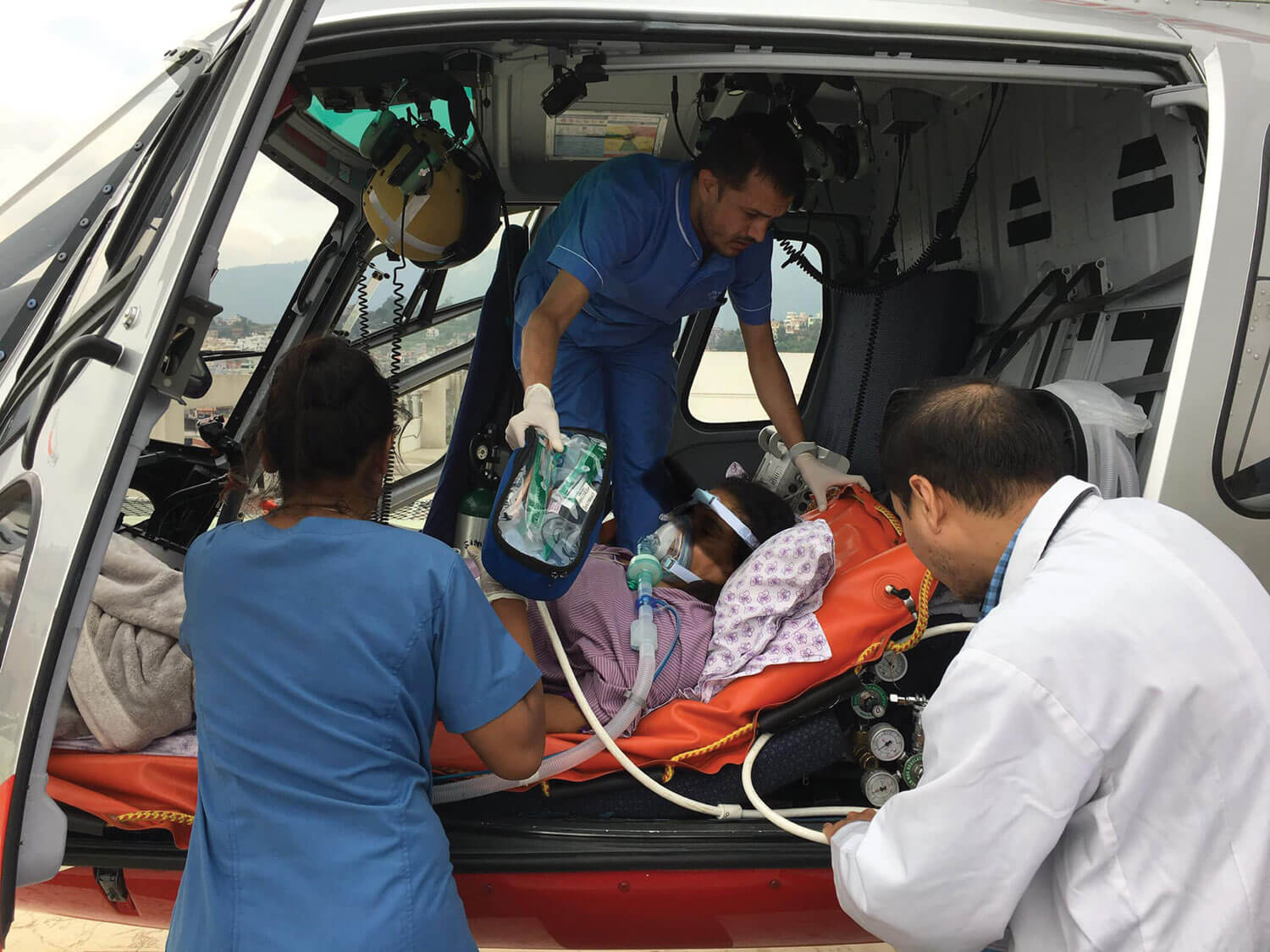 Most of Nepal's ambulances are just jeeps with stretchers, with no life-support systems or medical attendants. It was only in 2011 that Nepal's first emergency medical service was established. Supported by the Patan Academy of Health Sciences and the Stanford University School of Medicine, Nepal Ambulance Service (NAS) has since trained more than 100 emergency medical technicians (EMTs) and ambulance drivers and operates the 'Dial 102' service. NAS operates mainly in Kathmandu Valley, Pokhara, Chitwan, Butwal and Bhairawa.
"Before this, only few private hospitals had ambulances and they were used mainly for patient transfer rather than pre-hospital care," says Hari Khadka, a paramedic at Grande International Hospital and a member of the first EMT batch of NAS. "Ten years ago, there was simply no concept of pre-hospital care or paramedics in Nepal."
Now, many hospitals have their own EMS systems with mostly Type 3 ambulances that have first aid kits and basic medical supplies. Nepal Red Cross Society (NRCS) operates 283 ambulances nationwide. Although not every ambulance carries a paramedic, every driver has received first aid training.
"We have five Type 2 ambulances and a paramedic in each vehicle," says Bipul Neupane of NRCS. "We send these ambulances to patients who need basic life support systems."
But for patients needing critical care in remote areas, there is no recourse but expensive helicopter medical evacuation.
Like Type 1 ambulances, some of these helicopters can have doctors, ventilators, advanced life support, and EMTs.
"EMS has helped save many lives in Nepal but it isn't always the best option considering the geography of Nepal and the condition of the roads," says Sanjaya Karki, Head of the Emergency Department at Nepal Mediciti Hospital. "Helicopter Emergency Medical Services ensure that we can get to critical patients as quickly as possible and provide the best pre-hospital care."