Nepal's singing nun is a hit in China
After taking Nepal by storm with her popular songs and chants, Ani Choying Drolma is now a hit also in Tibet, the land of her ancestors.
Not just Tibet, but her melodious mantra are also loved by tens of millions in China, Hong Kong, Taiwan and southeast Asia.
Following a concert in Lhasa before the pandemic, Ani Choying Drolma had just returned to her hotel room when she was visited by a group of monks who had become fans.
"They told me that they thought I was just a good singer, but after my concert they said they believed I was also a seeker," Ani Choying says in a recent article in Himal Khabar magazine.
Ani Choying Drolma is a household name in the Nepali-speaking world because of her breakthrough song "फूलको आँखामा" which has got over 2 million views on YouTube. Her soothing voice and uplifting lyrics have amassed a dedicated fan base in Nepal and abroad.
Her Buddhist mantra chants also have a wide crossborder fan base, especially in China where there is a growing spiritual revival. A well known Chinese singer is quoted in the media as saying: "Before I listened to Ani, I used to think I was among the number-one singers in China."
There are many such stories, and each is as humbling for Ani Choying as it is inspiring. Tán Dùn, the Grammy-winning composer of Crouching Tiger, Hidden Dragon, asked her to perform for him last year. Unfortunately, the concert could not be held because of the pandemic in Hong Kong.
Hong Kong holds a special place in her heart because she opened a concert marking the British handover of the territory to China at the Asia-World Arena in 1997. She sang the main Awalokiteswar mantra to an audience of 14,000.
"I have performed in Hong Kong many times, but it was that concert that made the biggest impact on my career," Ani Choying says.
Even when Chinese tourists visit Nepal, they sometimes visit her nunnery in Pharping, buy her CDs in Thamel, ask about her concerts, or sometimes recognise her on the streets and take selfies.
NT Studio: In conversation with Ani Choying Drolma, Sahina Shrestha
"Once I was in Baudha when I saw a person running towards me, and he asked to take a picture," Ani Choying recalls. "The man said he was an actor back home and asked me if I knew that I was very famous in China."
They exchanged WeChat contacts, and she later found out that he was none other than Chen Kun, the famous Chinese actor from The Knot and Love Story in Shanghai.
Ani Choying credits this affection and admiration in China to her many guru. Fans flock to her after concerts to thank her for the courage and hope that her songs provide them.
Coming soon: Ani Choying, the movie, Alisha Sijapati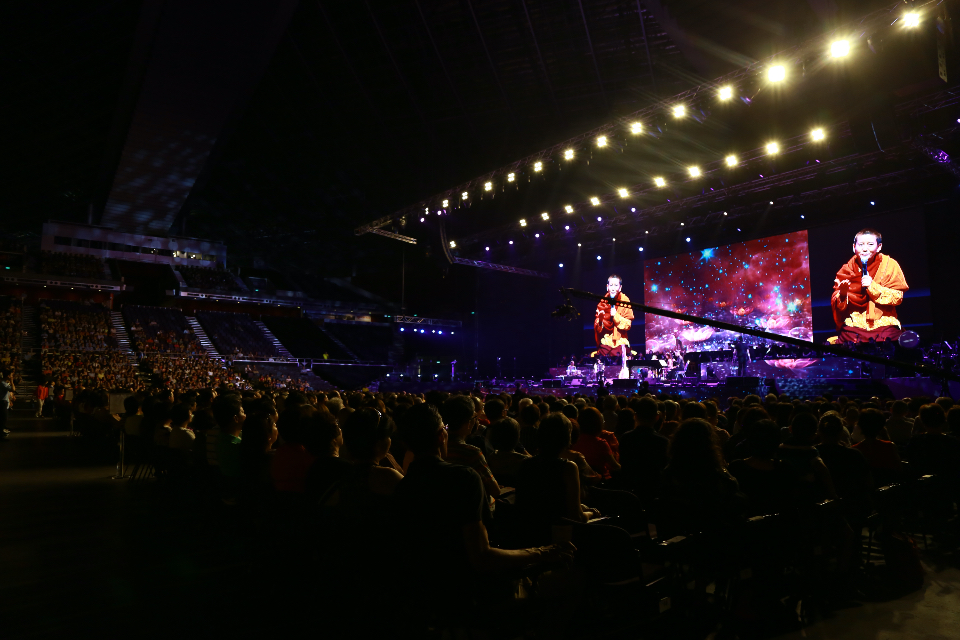 Once at the Jumeirah Himalayas Hotel in Shanghai, the owner of the hotel recounted how Ani Choying's songs helped her through labour pains during the birth of her first child. When she heard the music, she felt so relieved as though the pain had vanished by half.
Ani Choying's music has boundless reach, can hold many meanings to many people, but most of her devout followers say it calms their minds, soothes their souls.
A Taiwanese singer recently approached her manager asking for permission to rearrange and perform one of her Buddhist mantra. Her reply: "It is a holy chant, anyone can sing and get solace from it."
In Nepal, Germany, or China, compassion has no borders, and that is the underlying message in all her songs which are delivered in concert halls where there is complete silence.
Ani's school, Tsering Dolkar Gurung
These are mostly traditional Buddhist chants and mantra. But her Nepali songs mostly have lyrics by Durga Lal Shrestha and music by Nhyu Bajracharya, and have been consistenly popular because they are based on Buddhist teachings.
Ani Choying's Tibetan roots means that she has to keep a low profile while performing in China, and she labels herself as a 'Himalayan Buddhist from Nepal' and renders her spiritual songs of compassion.
She thinks the reason for her popularity in China is that with the country's meteoric economic rise, more and more people there are yearning also for spiritual upliftment that her songs help provide.
She says: "Nepali artisans like Arniko are renowned in China for their craft, and I am just carrying on that tradition with my music."
Read also: Ani's song, Kunda Dixit