Nepali artist's butterfly effect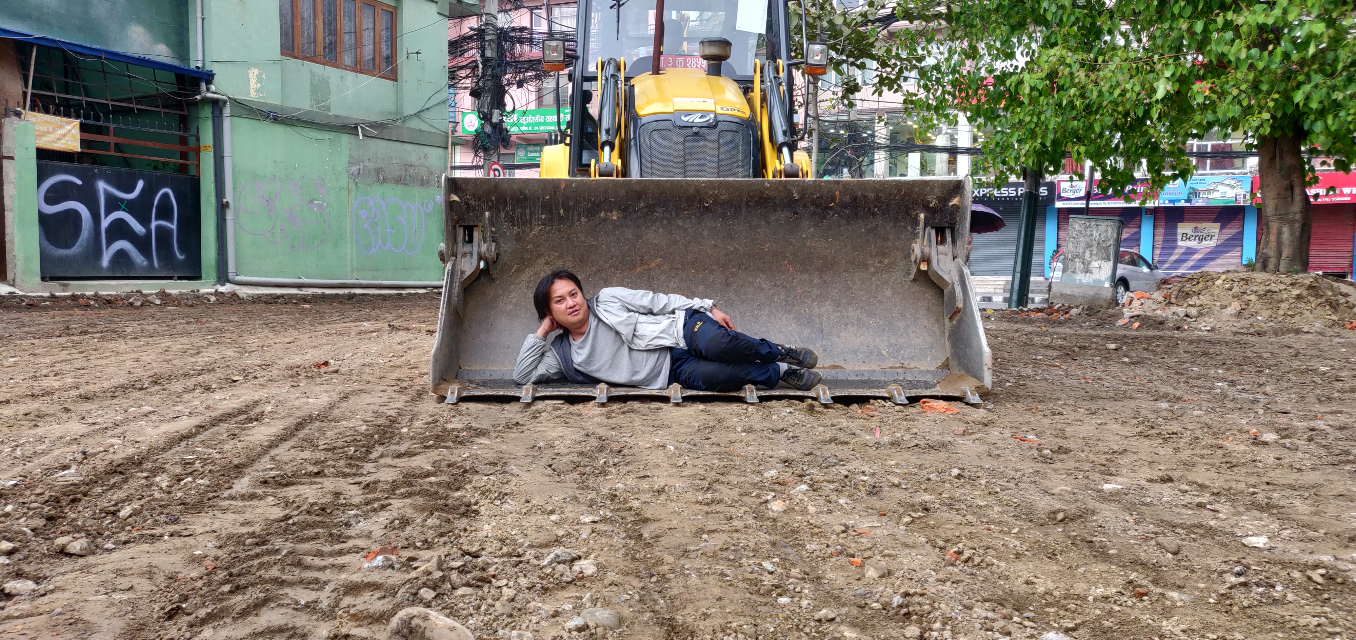 Milan Rai has come a long way since his project to stick white butterflies to trees in Nepal went viral worldwide. His art has now morphed into activism to save Kathmandu's open spaces.
The self-taught school dropout sees this as a natural evolution of his art, and a reflection of the urgency to do something about congestion and urban decay.
"People ask me why I stopped painting, I haven't. My canvas is now measured in acres of open spaces," says the 38-year-old artist. "I am no longer limited to the visual, my art is now immersive, so people can smell and taste it, touch the soil, worms and insects that dwell in them. The objects can be struck by lightning. They have life."
Rai's art is a subterfuge to save what is left of Kathmandu Valley's last remaining open spaces. This has brought him face-to-face with dysfunctional politicians, disinterested municipality officials, corrupt contractors and neighbourhoods that do not value greenery.
For example, he is outraged about Ncell helping Kathmandu Municipality cover a park in Lainchour with astroturf instead of planting trees and protecting the grass (pictured, left). Rai's own urban canvas is subversive. He says, "This is political art, land art, it has to hit people at an emotional level to act."
After spending his childhood in Hong Kong with his Gurkha soldier father, Milan Rai returned a misfit to school in Dharan. He was expelled twice, and got into bad company. After a serious gangfight, he found solace in art.
Read also:
Kathmandu loses its open spaces, Tom Robertson and Nilima Thapa Shrestha
A green city is a smart city, Nilima Thapa Shrestha
He entered a painting competition in India, came first, and held his first solo exhibition at Park Gallery in Lalitpur. He started painting in earnest, but something was missing.
The epiphany came one morning when a butterfly alighted on his paintbrush. It led Rai to his 'Butterfly Project' to pin white paper cutouts of butterflies on trees, lampposts all over Kathmandu.
They were a symbol of harmony, and went viral. In a real-life demonstration of 'the butterfly effect,' little white wings started appearing on London's red double decker buses, pinned to trees on Greek islands, on a staircase at Harvard University. The Nepali artist was invited all over the world for lectures and to demonstrate his installation art.
"Butterflies brought me close to trees, and I was communicating with them, only to find out that scientists now know trees can actually communicate with each other," says Rai.
The very first tree in Kathmandu on which he had pinned butterflies was chopped down to make way for a road widening scheme, and this prompted Rai to use art to save Kathmandu's greenery.
"I realised that the definition of art had to be expanded, it cannot just be a canvas or an installation, art is not just a craft, it has to be something that provokes the viewer into action," he explains.
As Kathmandu's air pollution got worse, Rai donned a military issue gas mask and stood in the middle of traffic on the city's main intersections, broom in hand. He visited municipality offices wearing that mask, using social media to expose government inaction.
That brought Rai face-to-face with official apathy and neglect at the root of Kathmandu's sorry state. By now he was familiar with the ins and outs of the municipalities, and set up the non-proft Vriksha Foundation for his activism.
He tried to work with Kathmandu's mayor to rescue the Tin Kune triangle, only to find that it was not just the government that could thwart action, but also the local community.
After an emotional live Facebook post in which he wept in frustration, Rai gave up on Kathmandu mayor Bidya Sundar Shakya, and turned to Lalitpur's Chiribabu Maharjan who was more receptive. Even so, there were hurdles every step of the way from contractors and officialdom.
His plan to green an open space at Jawalakhel intersection was rejected in favour of a sterile cement wasteland with concrete structures and an ugly fountain that does not work.
But Rai is currently working to green four other open roadside spaces in the Jawalakhel area with leafy paths and shaded sitting areas. He has made enemies along way: land mafia eyeing the property and contractors who could not sell cement and steel rods.
"This is a tragedy of the commons," says Rai, who emphasises that he is not happy with the parks he is working on. "These are not my creations, I am just trying to reduce harm. It needed urgent intervention, but my vision for these spaces has not been realised. These parks are not answers, they are questions."
After painting on canvas, sticking butterflies on trees, wearing gas masks in traffic, and trying to rescue open spaces, Rai now realises these approaches are too piecemeal.
He adds, "The system is just not there to have a policy framework to address urban decay. People also need to understand that we do not need more structures, we need to rediscover our primal intimacy with the non-human world."
Read also: Parks, not parking lots, Duksangh Sherpa