Nepalis caught up in Hong Kong protests
When Hong Kong was thrown into a political crisis last year after the government of the autonomous region proposed a bill that would allow Beijing to extradite Hong Kong criminals to mainland China, the territory's Nepali community was ambivalent.
Many were fed up with violent demonstrations and national shut-downs called by political parties back home in Nepal, and were dismayed that street protests followed them to Hong Kong. However, some Nepali students here have joined the protests, and have even been arrested.
Read also: Hong Kong's Jana Andolan, Sonia Awale
Protests have gone on for eight months, and continued over the Chinese New Year and despite the Wuhan coronavirus outbreak .
Hong Kong's 25,000-strong Nepali community has been directly impacted by the protests. 'Little Nepal' in the Jordan neighborhood in Kowloon has seen some of the most violent clashes between protesters and police.
Read also: Two Nepalis held in Hong Kong protests, Irtika Bajracharya
Following massive demonstrations of 1 October, the Nepal Federation of Indigenous Nationalities Hong Kong confirmed that two Nepali students, Jenny Rai and Rosemary Limbu, had been arrested.
"I just came out for my city," Rai told Nepali Times. "This is where I was born. I'm sure if this happened in Nepal, they would have gone out just like me without any regrets."
On the day of Rai's arrest, she was grabbed by an officer from behind while she was trying to run away. He pinned her to the ground, pressing her face to the metal shutter of a closed shop. She yelled out her name – a common practice among arrested protesters so witnesses can inform family and friends.
Photos: JAGAT AMBU GURUNG
After Rai was brought into a police vehicle carrying other arrestees, police looked up her identity. She says one officer made multiple derogatory remarks about her Nepali ethnicity.
As an ethnic minority and someone who now has an arrest record, Rai is worried about her future and that of her family, especially after 2047 when Hong Kong is scheduled to lose its special administrative status.
Rai spent almost 48 hours in custody with no contact with anyone outside, and was released on the understanding that police would continue to seek evidence for prosecution.
"If I had to do this again, I definitely would. How can I have any regrets? I would never regret just showing my support for Hong Kong," she said.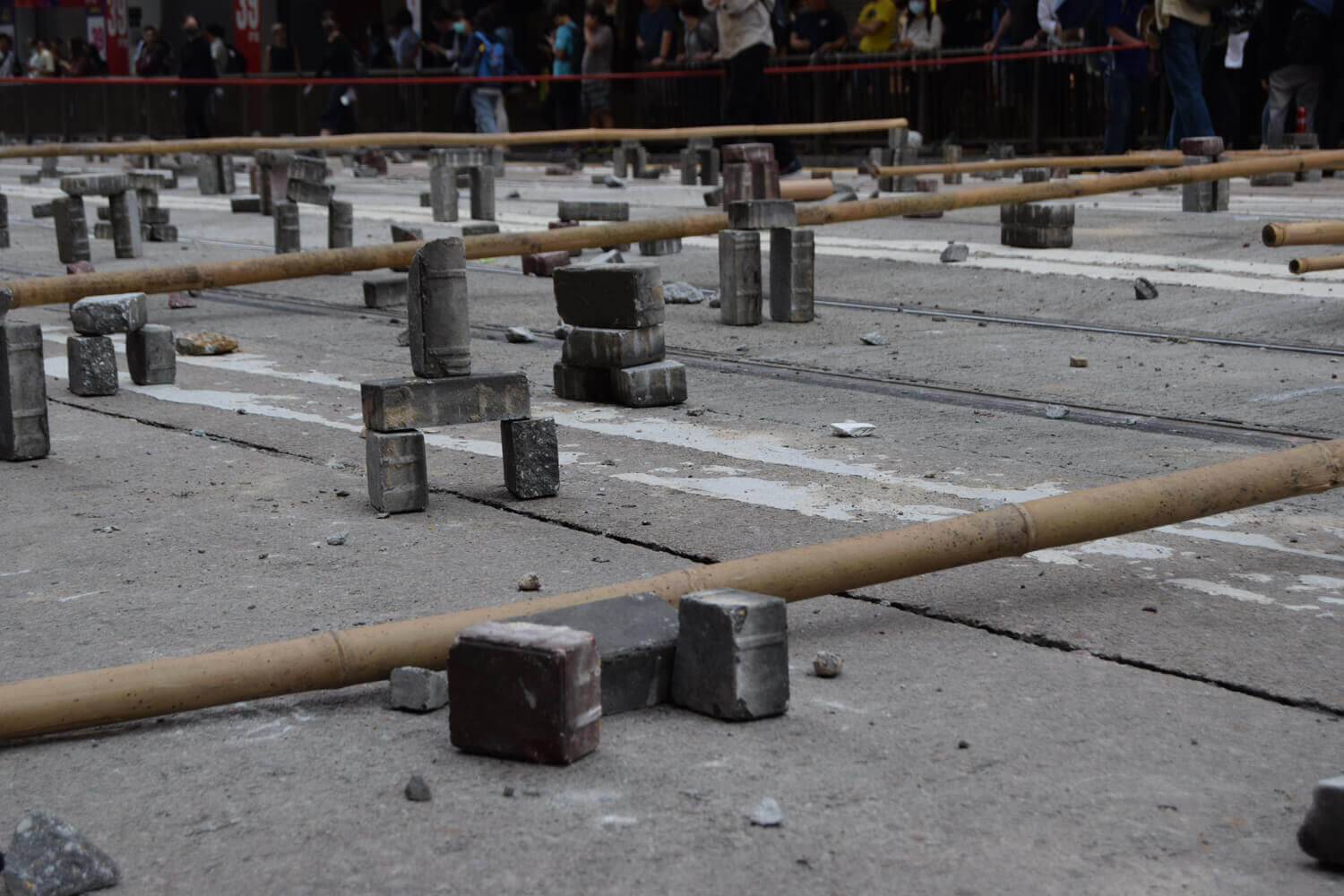 Photos: WILL PATTERSON
Other, mostly older, Nepalis are wary of getting swept up in the movement, either because it may affect the economy and hence their jobs, or because they believe no good can come out of challenging Beijing.
"Being a minority community, most Nepalis here do not want to take sides in the protests, and are worried that they will be caught in the middle," explained Hong Kong-based journalist Dambar Krishna Shrestha. "All they want is peace and stability to get on with their lives."
When Hong Kong was still a British colony, Gurkha police were deployed to quell deadly ethnic riots in 1967. A proposal to use Gurkhas again to defend Hong Kong's MTR public transport network against vandalism was rejected after criticism that it would provoke a backlash against Nepalis.
Since Rai and Limbu's arrest, the protests have continued and the recent addition of the Wuhan coronavirus to Hong Kong's political landscape has further complicated matters. Face masks have become part of the city's daily attire, dredging up memories of the 2002 SARS outbreak. Schools and universities have cancelled in-person classes until 17 February — extending the Chinese New Year break to three weeks.
Read also:
A Nepali in Beijing during coronavirus scare, Rastraraj Bhandari
Why Nepal must watch Coronavirus, but not panic, Sameer M Dixit
Messages between protesters via the Telegram application popular among them indicate widespread concern about the government's leniency with travel between mainland China and Hong Kong and its potential to spread the virus.
Concerns about the virus and anti-government sentiment seem to be merging. On Sunday night, angry locals and anti-government protesters demonstrated against the creation of a quarantine facility near a residential area.
Molotov cocktails were launched into the building and windows were smashed. A device exploded in a hospital bathroom early Monday morning, prompting the temporary evacuation of some people.
Hong Kong's premier Carrie Lam has been a target of the popular movement. General consensus amongst protesters is that she is acting on behalf of Beijing, and not in the interests of Hong Kongers. Lam's full withdrawal of the extradition bill in September via public video address did not pacify protesters, who continued with other demands.
"Five demands, not one less" is a common protester chant referencing the five primary demands of the movement. Other than the withdrawal of the Extradition Bill, which took place formally in October 2019, these are: Amnesty for protesters arrested or charged for their participation in the movement, an independent investigation into police force against protesters, apology and retraction of the characterisation of protesters as rioters and Lam's resignation and her replacement with a leader elected through universal suffrage.