Political prisoners languish in Bhutan's jails
This Nepali Times Weekend Longread contains interviews with Bhutan's refugees and their families in a camp in eastern Nepal by Devendra Bhattarai for the Centre for Investigative Journalism. They are citizens forcibly evicted by Bhutan in 1990-92, and were arrested by the Bhutanese authorities when they went back to see relatives left behind. Most spent decades at the Chemgang Prison near Thimphu, and there are many others still incarcerated there.
It is only 200km from Beldangi in Nepal to Bhutan's Phuncholing border with India. Another 150km up the mountains is Thimphu's Chemgang prison.
Relatives of Bhutan's political prisoners from Beldangi refugee camp in Nepal have been allowed to meet them in jail at the behest of the ICRC (International Committee of the Red Cross). But these visits have been cancelled for the past two years because of the pandemic.
Some 100,000 people of Bhutan – one-sixth of its original population – were evicted by the Druk regime in 1990-92, transported across India, and dumped in eastern Nepal. Here, their population grew to 120,000 over nearly two decades until most of them were resettled in the United States, but also in the Netherlands, Norway, Australia, New Zealand and other western countries.
Read also: Bhutan's refugees between hope and despair, Tek Nath Rizal
Some 7,000 Bhutan refugees remain in the refugee camps in Nepal, some because they want to ultimately return to their homeland, others because they do not have proper documentation, and those who were not in the camps when a refugee census was being taken.
Some of the refugees are here after spending a decade or more at the Chemgang Prison. Many parents still have their sons in jail in Bhutan.
The ICRC has not been allowed to visit the prison 7km from Thimpu for the past 10 years, and a dozen other jails in Bhutan with political prisoners.
Dambar Kumari Adhikari
Dambar Kumari was retracing a route she took 30 years ago when she was forced to leave her home and farm in southern Bhutan. The authorities will not let her enter Bhutan, but she is here at the India-Bhutan border, peering into her homeland where her son Omnath Adhikari was imprisoned 14 years ago.
"Only by standing at Phuncholing gate do I feel like I am near to my son," says Dambar Kumari, who has been waiting 14 years for her son to be freed.
Dambar Kumari was born in Dagana of Bhutan and was forced out in April 1992, riding on the back of an Indian truck with her two children, Omnath aged six at the time, and two-year-old daughter Dhanmaya.
In 2008, Omnath was among 11 refugees who travelled to Bhutan to meet relatives before they were due for third-country resettlement. All were detained at then Samrup Dzongkar border in Bhutan.
They are serving life terms in Chemgang Prison, charged with 'treason and political terrorism'. The others who were with Omnath are: Birkha Bahadur Chhetri, Hasta Bahadur Rai, Sanman Gurung, Chaturman Tamang, Nanda Lal Basnet, Govinda Niraula, Aaitaraj Rai, Khagendra Khanal, Sukaman Magar and Kumar Gautam.
Dambar Kumari has been allowed to visit her son, but has not seen him for two years because of the pandemic. In the past when she visited him, the other prisoners swarmed around her to hear news of their families in refugee camps in Nepal, or relatives resettled abroad.
Says Dambar Kumari, "I am Dambar Kumari Ama to them, I am not just my son's mother, I am mother to all of them. If I live long enough I will see my son some day. I will wait until I cannot wait anymore."
Kalawati Magar
Like Omnath, Kalawati Magar's son also travelled to Bhutan in 2008, and has been incarcerated at Chemgang ever since. Kalawati, 57, has been living in Beldangi Refugee Camp for the past three decades, after being evicted from her village of Sarbang of Bhutan in 1992.
"I see my son in my dreams, his wife and daughters have already moved to the US but we are still waiting for him. We are afraid if we will die without ever meeting our son again," says Kalawati, wiping a tear with the hem of her dress.
Teknath Rizal
A former prisoner in Chemgang who was released two years ago has come to meet Teknath Rizal, a Bhutanese human rights activist and politician, in Kathmandu. He shows him photographs of his prison cell in Chemgang, and on one of them Rizal sees a Hindu mantra etched into a cement wall.
Rijal is moved to tears. Those mantras on the wall were written 25 years ago when he was imprisoned and tortured in Chemgang for ten years. The Bhutanese inmate he met had been in the same jail cell.
"When we were in prison, we got news of deaths in our families and also of other Bhutanese who were beaten or killed," Rizal recalls. "We wrote those mantras to pay tributes to them."
Rizal remembers the names of his fellow-inmates: Gangaram Dhakal, Ram Bahadur Rai, Bhakta Bahadur Rai, Harka Bahadur Gurung, Prakash Magar, Chhewang Rinjin, and others. Some of them are still in Chemgang, while Rizal was released in 1999 after he was named Amnesty International's Prisoner of Conscience.
But while western governments took in many of the refugees after they spent two decades in camps in Nepal, they have forgotten about the political prisoners in Bhutan's jails.
When Bhakta Bahadur Rai, who was in jail in Chemgang with Teknath Rijal, was arrested in 1993 the state-owned Kuensel newspaper in Thimphu reported on it with a news item titled 'Police Arrests Wanted Terrorist', accusing him of being involved in theft and rape.
Ironically, the same edition of the newspaper carries a news piece titled 'Home Minister Hopeful about Nepal Negotiations' about Lyonpo Dago Tshering, leading a three-member delegation to Kathmandu to 'discuss plans to identify people living at camps in Nepal's eastern plains'.
Man Bahadur Khaling Rai​
When Man Bahadur Khaling Rai, 60, of Samchi in Bhutan, arrived at a refugee camp in Damak in Nepal four years ago after spending over 21 years in Chemgang Prison, he found that his mother, wife, children and younger brother had all been relocated to the United States, and his sister was in The Netherlands.
But Man Bahadur could not be registered as a refugee because the application process had been discontinued. He could not be repatriated either to join his family, since the relocation process had ended. He now sits forlorn in Beldangi Camp 3 Sector A-1, 43.
"It is like being in prison all over again," he tells us. "I only have an ICRC document to prove my detention in Chemjang jail, nothing else."
After his family's eviction in 1991, Man Bahadur had re-entered Bhutan clandestinely six years later to meet relatives he had left behind. He was detained on charges that he had 'engaged in political activities in the past'.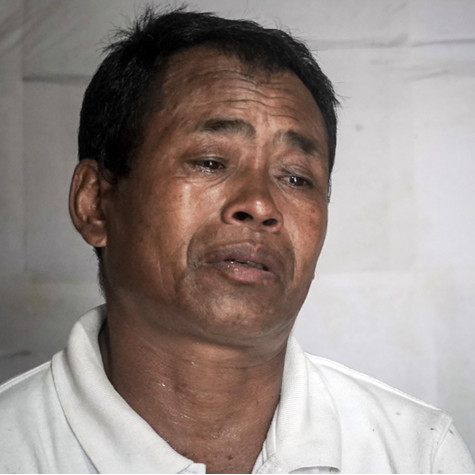 Tek Bahadur Magar
Tek Bahadur Magar, 50, looks lost at hut number D-4527 at Beldangi 2 refugee camp in Jhapa. Like Man Bahadur Rai, he was released from Chemgang Prison in 2016 after 24 years. He had also returned to Bhutan to meet an aunt whom the family had left behind, only to be arrested.
He was only 20 then. His mother was allowed to visit him once at Chemgang. After his release, he returned to Beldangi to find that his entire family had been resettled in the United States.
"I am sad and alone. I have no reason to continue living," says Tek Bahadur. "I don't know how I spent those 24 lost years in jail. It is a blur."
Tek Bahadur's fellow inmates, including Madhukar, Maniraj, Ram Bahadur, and Omnath are still in Chemgang Prison with 25 other Lhotsampa (Nepali-speaking people of Bhutan).
Like the others, Tek Bahadur says he was mistreated and chained to a heavy iron shackle in the beginning, but these were removed after a visit by ICRC inspectors.
Dil Kumar Rai
Dil Kumar Rai, from Samchi in Bhutan, arrived in eastern Nepal in late 1990 in the early days of the Bhutan regime's 'ethnic cleansing' of its Nepali-speaking citizens. Along with his father Jahar Singh and mother Saruma, he was interred at Beldangi Refugee Camp. In 1996, he sneaked back to Bhutan to meet relatives when he was arrested from Sibsu, and charged with being an 'extremist-terrorist'.
He ended up spending more than 20 years in Chemgang, and even has a tag: ICRC Prisoner Number 253. He was only released in 2017.
"When I got back to Beldangi, there was nobody left in the camp whom I could call my own," recalls Dil Kumar, now 57. "I am here all alone with nothing but a refugee certificate."
Dil Kumar is now a pastor at the camp church, and says ICRC representatives had assured him and fellow inmates in prison in Chemgang that they would be reunited with their families once they got out. "Where can I go now to complain?" he asks.
Mangal Dhoj Subba
Mangal Dhoj Subba is now 74, and is a native of Dagana in Bhutan. He was detained from Mirchula in 1990, together with his three sons for engaging in 'party activities'. Mangal Dhoj's eldest son Dhanaraj was released within 10 months, and he himself after 8 years. His other sons were also granted amnesty.
His sons and their families have now been resettled abroad, but Mangal Dhoj is among 7,000 who are staying on at camp hoping one day to return. "I want to go back to my home in Dagana before I die," he says.
Shanti Ram Acharya
Also from Dagana is Shanti Ram Acharya, who was forced out of Bhutan with his family in 1992, leaving some relatives behind. He went back to meet them in 2007 when he was arrested. When he came to Beldangi in 2014, he found his own family had already been resettled abroad.
"I weep when I think of my family, my past and my future, this is a dead end," he says.
ICRC representatives met Shanti Ram four times in Chemgang, and they assured him that he would be reunited with his family. Like the others, Shanti Ram now feels that was an empty promise.
"I asked the ICRC here about it, and their reply is that it is not in their control," Shanti Ram tells us. "Then why did they take our relatives abroad? Why are we left stranded here?"
Nara Bahadur Magar
Another victim of Bhutan's ethnic cleansing was Nara Bahadur Magar and his family, who were forced to flee their homeland in 1991 with parents, brother and sister-in-law, wife and children. His brother Madhukar had returned to Bhutan in 1994 to see if the family betel nut farm was still intact. He was arrested, and is still in jail in Chemgang.
Nar Bahadur is in Beldangi B-3, Hut Number 255, having missed the resettlement process. He is not in touch with his brother, and only occasionally with his family in the US.
Gangalal Gurung​
Gangalal Gurung fled Bhutan in 1992 with nine of his family members. In 2008, his brother Sanman tried to go back to their village in Bhutan and disappeared. Gangalal finally found out that he was in Chemgang Prison.
Gangalal was allowed to visit his brother in prison before the pandemic, and told him that the rest of the family was resettled abroad. "He told me not to wait for him, but I cannot leave him there, I will wait for him," Gangalal says.
Dambar Pulami
The Pulami family was forced out of their home in Sarbang in Bhutan in 1991, and was settled in Beldangi camp in Nepal's Jhapa district. But its members are scattered all over: his father died at camp, mother is in the US with his two brothers, while two other brothers have been in detention in Chemgang for the past 21 years.
One of the brothers is Dambar Pulami, now 58. His wife Sabitra, son, daughters and daughter-in-law are all in the US. Dambar also had a betel nut business in Bhutan, and decided to go back to take care of it, but was arrested and got a 43 year sentence. Sabitra had met her husband in Chemgang with the help of the ICRC before she and the children left for the US in 2011.
"Even if it's just for the future of our children, he should be allowed to join us," Sabitra, 55, says on the phone from her new home in Pennsylvania in the US. "We have not heard from him for ten years. I pray that we will get to meet in this lifetime."
Like Dambar, his fellow inmates Bhim Bahadur Rai and Mani Kumar Pradhan both have 43 year sentences, which is nearly three times more than a life sentence, according to a list provided by Bhutan Human Right Watch and the Campaign to Release Bhutanese Political Prisoners.
Narpati and Deumaya Khanal
Narapati Khanal, 68, and Deumaya, 64, both live in Hut Number 272 in Beldangi-2, and have been refugees here for nearly three decades. Their second son Khagendra went back to Bhutan in 2008, and was arrested. He is incarcerated in Block 4 of Chemgang Prison, and Narapati has been allowed to visit him a few times in the past 12 years.
Khagendra's sister Umadevi says he wants the family to resettle abroad, and will join them one day. But their mother does not want to go until Khagendra is released. Umadevi's two other brothers have been resettled in Australia and Canada.
Gangaram Dhakal
When Bhutanese pro-democracy leader and human rights activist Teknath Rizal was at Chemgang jail 24 years ago, he had a friend named Gangaram Dhakal. While Rizal was released in 1999 after international pressure, Dhakal is still in prison.
Gangaram's sister Tulasha Rimal has visited him in Chemgang where he told her that there are 16 other inmates with him who have all been sentenced for life.
She quotes her brother as saying, "This is life imprisonment. But we need to endure this not only for this life but for succeeding generations of Bhutanese."
"He was 22 when he was imprisoned, now he is 52," says Tulasha, who has been living as a refugee herself in Hut Number 127 of Sector C-1 in Beldangi 2. "People like Tek Bahadur, Dil Kumar and others whom I used to see while going to visit my brother have already been released. But my brother is still there."
Following the political upheavals of the 1990s in southern Bhutan, the police had started monitoring village elders. After the family got information that Gangaram Dhakal would be arrested, they fled by cover of night in the summer of 1992.
"I was 14 then. We were a family of eight, and all of us fled. We reached Baghmara on the Assam border via Bamjan Danda in Bhutan," Tulasha recalls. "We took shelter at the home of a Luitel family for three weeks, and paid for it with the cows we had brought along. Then we went to Siliguri and came to this camp in Nepal."
That was 30 years ago. Of those who fled Bhutan, Tulasha's parents are dead, two brothers and sisters are all in America and Canada. "I am the only one left," she says, bursting into tears, while her daughters console her. "This life is unbearable."
Tilak Katuwal​
Tilak Katuwal, now 66, was born and raised in the town of Pana in Bhutan. He worked in the government public transport company and later as a forester. He loved his job and his homeland, but things took a turn for the worse after the Bhutan regime started a policy against 'outsiders'. Angered by the discrimination against them, the ethnic Nepali Lhotsampa rose up in protest. Many were arrested, and the mass evictions of families began.
Tilak was in Norway in 1989 for a one-year training program when all this was happening back home. "When I returned to Bhutan, I found myself without a job. People were being chased out of the villages, and the government had my name on the list of traitors," Tilak recalls.
Tilak has two children, one in Phuncholing and the other in Thimphu when he left Bhutan for Jayagaun in India with his 98-year-old father, Ganga Bahadur Katuwal.
As far as Tilak is aware, this was a deliberate attempt to 'cleanse' Bhutan of Nepali-speakers. Those who left Bhutan would never be allowed to return, and those who stayed behind live in fear.
Tilak lives near the Bhutan-India border, but believes New Delhi has been complicit with the Thimphu regime in this crime against humanity. "Nepal is powerless, and has had no option but to take care of Bhutan's refugees for 30 years," he says.
Brahmalal Adhikari​
Brahmalal Adhikari was born in Gelephu town in Bhutan 59 years ago, and was resettled in 2017 in Iowa in the United States towards the end of the relocation program for refugees. Brahmalal was a livestock farmer in Bhutan, and often crossed the border to graze his cattle in Assam's Deusire village.
In 1992, Brahmalal's family was forced out and he himself was jailed for four months in Gelephu on charges of 'involvement in political activities'. A year later, he had gone to Assam to sell off his livestock when he was arrested by Indian police and handed over to the Bhutan authorities.
He was imprisoned in Chemgang Prison for 16 years, where he had met Teknath Rizal. While in jail, he carefully documented information on atrocities perpetrated by the authorities. He was aware of the execution by hanging of Khadgananda Humagain and Tikaram Dhimal in military custody in Gelephu, as well as Ratna Biwsokarma and Khadga Bahadur Magar in Lodrai jail.
Gangaram Rai was beaten in custody in Gelephu and died as a result of his injuries after being released. The police threw the body of HB Sapkota at a place called '4 Kilo' after he was beaten to death in Thimphu jail. Dharmaraj Gurung was also beaten to death in Damphu, Tsirang.
Biswonath Chhetri, like Brahmalal, is now also in the United States after being released following prolonged incarceration along with Devdatt Sharma and Bhakti Bhandari. Other political activists Ratan Gajmer, IB Chhetri, Jogen Gajmer, and Sushil Pokhrel live in Australia.
Centre for Investigative Journalism Nepal
_________________
After protests escalated against the Bhutan government's discriminatory policies in late 1989, the Bhutan government began evicting its Nepali-speaking citizens, particularly from the southern part of the country.
More than 100,000 mostly ethnic Nepalis were taken across 200km of Indian territory to the border with Nepal. The International Committee of the Red Cross (ICRC) entered Bhutan in 1994 to make an assessment of reports of the Bhutan regime's terror campaign, extra-judicial detentions, disappearances, and killings of its own citizens.
The ICRC was only permitted to visit Bhutan's central jail in Chemgang to inspect prisoners detained under Bhutan's National Security Act. It advised the government to provide inmates with adequate food, shelter, and clothing.
After the ICRC visit, prisoners were allowed up to four family visits per year. However, since 2012, the Bhutan government stopped granting the ICRC permission for prison visits. Mira Rana, Liaison Officer for Bhutan-related issues at the ICRC's Nepal office, says Thimphu informed the ICRC that since the prison was already adhering to its guidelines, the visits were no longer required.
'We don't have the permission to inspect Bhutan's jails'
-ICRC
When family members in Bhutan refugee camps in Nepal requests visits of relatives in prison in Bhutan, the ICRC office in Kathmandu forwards the requests to its office in New Delhi office, which then contacts its Thimphu office. Permissions are granted only after an investigation of the inmates and their family members. But since the pandemic those visits have been suspended.
Yan Miskok, Deputy-head of the Regional Delegation of the ICRC in New Delhi, provided the following written response to our queries:
'The ICRC is not in a position to easily inspect Bhutan's jails. The main goal of the ICRC is to reinforce custodies where they are present, to continue and reinforce family visits, and to maintain a general respect for legal protection. In the midst of the pandemic, the ICRC has provided guidelines and distributed solutions for effective operations in an effort to maintain dialogue with relevant authorities regarding the general management of custodies.
Concerning the information gathered by the ICRC about the prisoners housed in these facilities, it can only be shared with the Detention Authority and no one else. As per the agreement, such information cannot be shared without prior permission from the jail authority.
Concerning the personal information of inmates collected in advance by the ICRC, it should be noted that the ICRC is strictly governed by its statistics protection rules. In general, the ICRC tries to avoid causing harm to the concerned person or their family members by disclosing this information to a third party.'
List of Lhotsampa housed in Rabuna (Military) Prison
Prem Rai
Madhulal Budhathoki
Lokbahadur Ghale
Ramlal Rawat
Kumar Rai
Bishnu Rai
Shabahadur Gurung
Kinley Gyaltsen
MB Bhujel
Loknath Acharya