The language of magic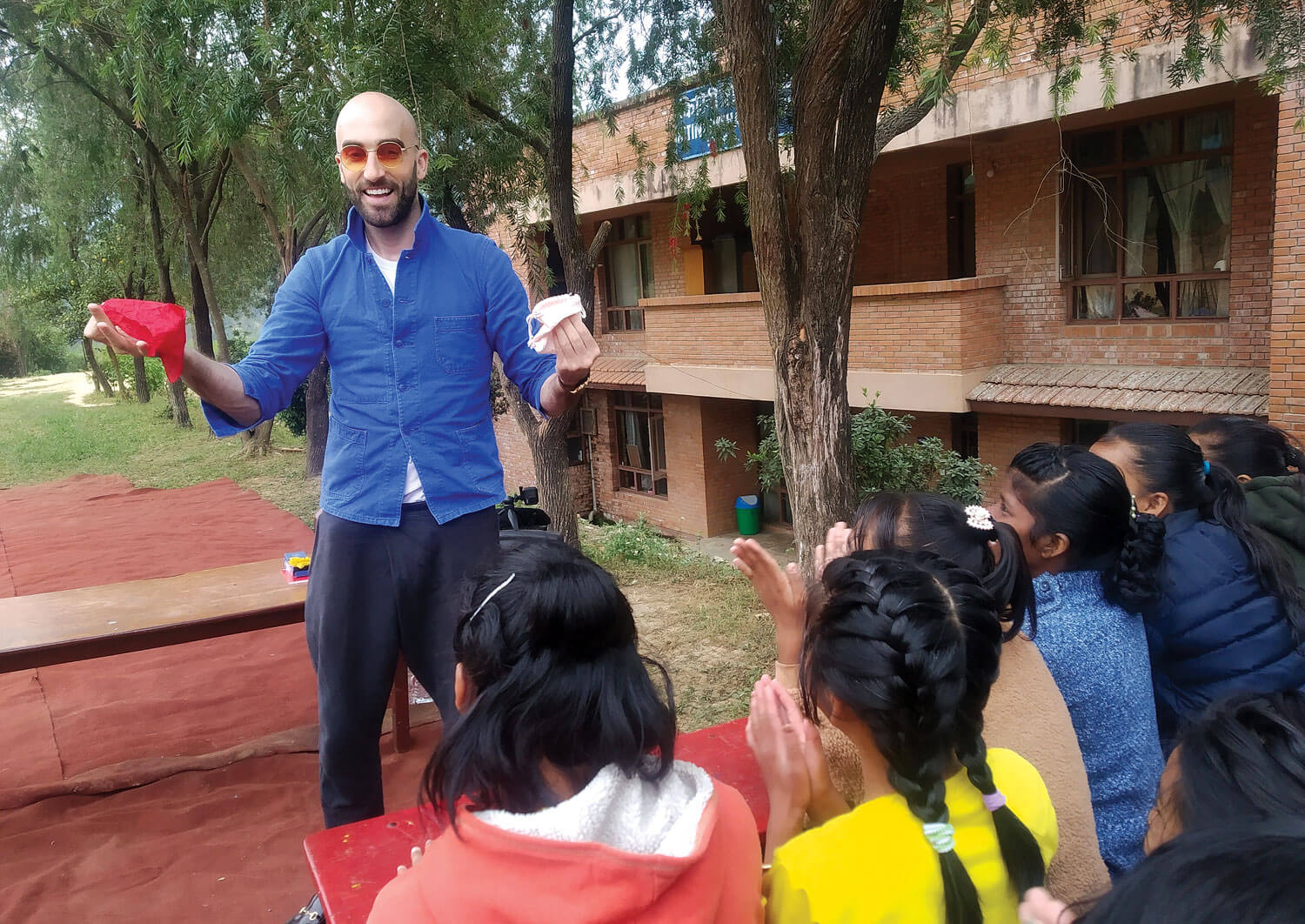 Lanky British magician Drummond Money-Coutts knows only one word of Nepali, "Namaste", which he learned from children at a shelter in Kathmandu. But he does not need language to communicate with these children — his tricks make them squeal and scream with delight.
The magician, who goes by his initials 'DMC', uses the power of magic as therapy and entertainment for Nepali children who have been rescued from traffickers and still suffer psychological trauma.
It looks like he has nothing in his hand. Yet when he swipes it around a child's ears, out comes a little red ball. The children are incredulous when the ball vanishes as suddenly as it appeared, and then magically reappears in the palm of another child at the other end of the row. How did he do that?
"Visual magic has the capacity to transcend language barriers. It inspires a sense of wonder and mystery in children, and creates a bridge to the mysteries of the world," said DMC during a recent visit to a shelter run by Chora Chori charity in Godavari. "I am especially interested in performing for children because I want magic to do for them what it did for me as a child."
Read Also:
The magic of hope, Chong Zi Liang
City of divine lights, Roma Aryal and Shradha Basnyat
DMC had a lonely childhood, struggling to be accepted by friends after his parents got divorced. His mother moved away, and he was a shy boy at boarding school. Magic became his happy place, and he practised for hours and hours, as rigorous a discipline for him as music or martial arts was for other children.
Since then, magic has been a springboard for DMC, who was heir apparent to a baronage and left behind lucrative prospects at investment company Goldman Sachs to become a professional magician. He has performed around the world and for celebrities including the Queen of England, and has been featured in several tv series.
For the Netflix show Death by Magic, DMC performs dangerous stunts that have killed previous magicians. Sometimes he sets himself on fire, at other times he is submerged under water as he tries to re-create rigorously rehearsed acts. Occasionally, despite practice, accidents do happen.
"It seemed like a powerful notion, celebrating the lives of incredible people who attempted brave, courageous tricks that went wrong. It is a way of paying tribute to them, and of showing how dangerous stage magic can be," says the daredevil magician.
Some magicians, like Harry Houdini, tried to explore magic beyond sleight of hand, the latter making his name synonymous with dangerous stagecraft. DMC created Beyond Magic with DMC, in which he travelled the world learning about the roots of magic and explaining them through tv.
"I wanted television to be more than just entertainment and performance of random tricks. I wanted to take viewers on a journey with narration, and tell a story with history and knowledge," he says.
What interests DMC is how every culture has its own view and definition of magic. In South Asia it may be more spiritual, while in Africa or Haiti it is seen as dark arts or voodoo.
"I create the illusion of magic, but the real magic lies in the natural world," he says. "Childbirth for instance. It may seem like a commonplace thing. But if you really think about it, creating life from almost nothing is the most magical thing imaginable."
Before coming to Nepal, DMC visited the Kakuma refugee camp in Kenya and orphanages in Mumbai and Indonesia. "There is such purity with children when they see magic. Sometimes adults become cynical and it changes the way they perceive it. But children always respond innocently," he says.
He has tattooed the words Hausla Pyar Vishwas on his bald head over his left ear: 'Courage to believe in love'. He explains: "It is the mantra I live by, no matter how my other thoughts might change."
DMC is already planning a new tv show that he will launch after his Nepal trip, but details are under wrap. He will only say this: "The last show was about magic and danger, this one will be about magic and kindness."
Read Also:
Technical Wizardry, Buddha Basnyat
Laughing it off, Stéphane Huët