Nepal Police at the frontlines against coronavirus
A total of 620 police across the country have been infected with Covid-19, two Deputy Inspector General working in the Nepal Police Hospital being the latest. Yet, police are on the frontlines along the country's highways and at entry-points to Kathmandu to enforce traffic restrictions.
Earlier this month, the Traffic Police Headquarter in Singha Darbar, Metropolitan Police Office in Ratna Park and Nepal Police Headquarters in Naxal were all sealed off following the detection of SARS-CoV-2 among police officers. Nepal Police Headquarters alone reported 155 positive cases. So far 240 police officials have recovered with 380 undergoing treatment.
Although the lockdown was partially lifted on 21 July, Nepal's health authorities have re-imposed restrictions on long-distance buses, inter-district travel, sealed off cities in the Tarai, and districts in the mid-mountains, and closed restaurants again.
Kathmandu Valley has become a hotspot with 172 new cases detected on Sunday, taking the total active cases to 1894. Across Nepal, 641 new cases were reported taking the total to 26,660 with 104 fatalities form Covid-19.
The total deaths from the virus has doubled in the past 15 days, and rose from 38 on 15 July to 104 on 16 August.
Following this surge of coronavirus in the capital city, the government last week sealed off Kathmandu Valley — no one can drive in or out. It further restricted movement of public and private vehicles from 9PM-5AM, and enforced an odd-even rule for all vehicles in the city.
Pictured here are traffic police officers checking vehicles at Koteswor and Satdobato intersections on Sunday night just before the 9PM curfew went into effect.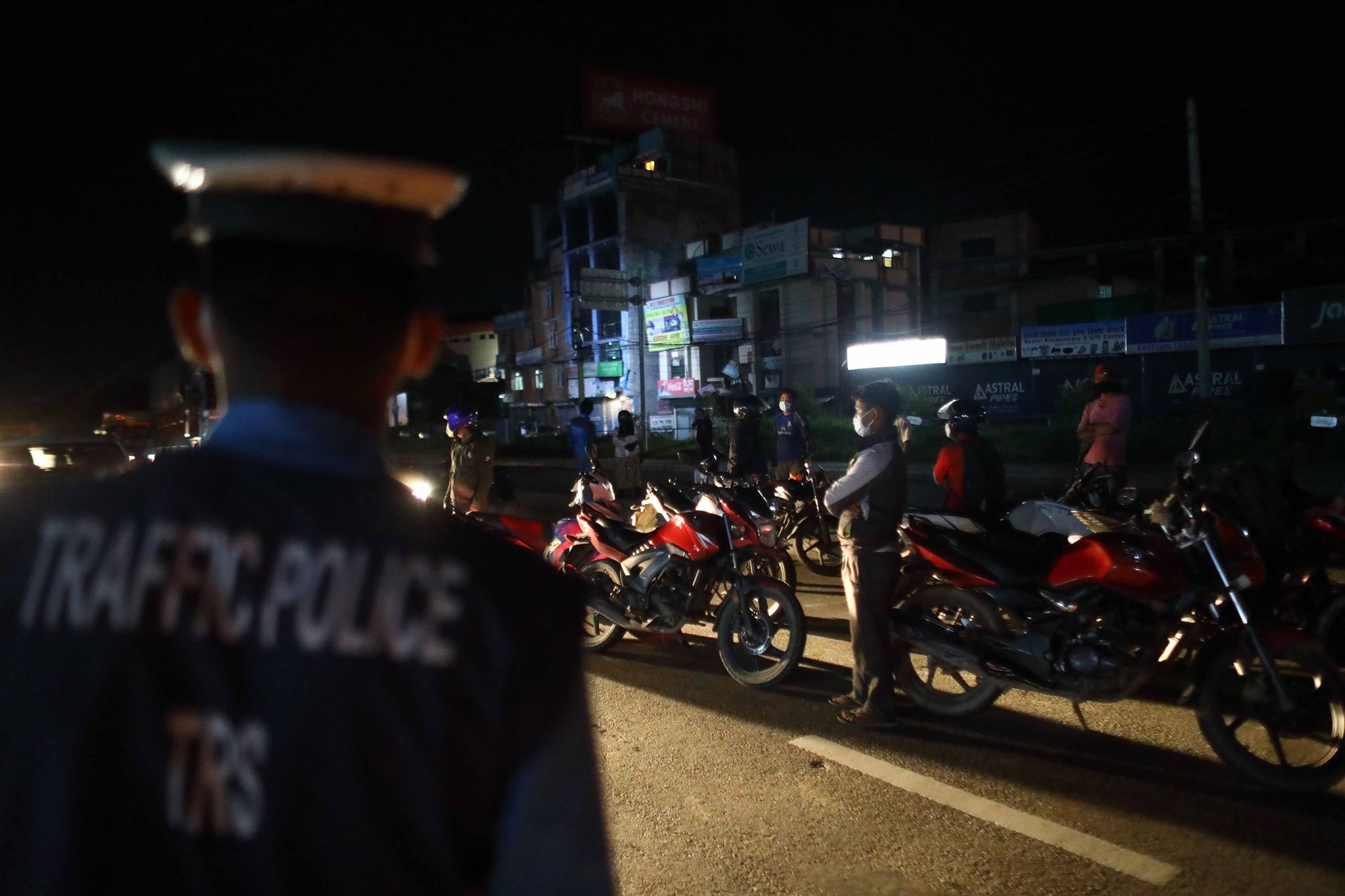 Photos by Bikram Rai.