Riding on the waves of colours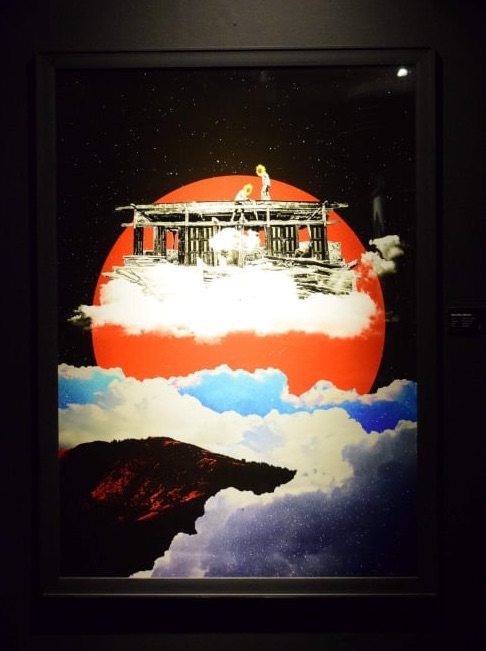 Inside Dhokaima Cafe's Van Gogh room, Aakash Pradhan's photo collages are like splashes of colour on black walls of a dark room.
They form part of an online art platform, Tulikaa Kala's solo exhibition series, Kholo 2.0. It makes him the first artist-of-the-week among the 28 classic and contemporary Nepali artists whose works are set to be on display in this unique show spanning seven genres in as many months, showcasing photography, ceramics, printmaking, contemporary, Paubha, sculpture, and new media art.
Visitors to the one-room gallery are immediately captured by 'Building Dreams', a collage of two men reconstructing ruins floating on clouds, with a fiery sun and the blankness of the night sky looming in the background. Pradhan makes his smaller framed photographs on his phone with a photo-editing mobile application.
His collages are a mix of social media posts, pictures sent by friends. Sunflowers are a recurrent motif and seem steeped in personal meaning. They loom like the sun over pictures of those displaced by the earthquake, or like a compass, show the way to a traveller on a motorcycle, or create a juxtaposition of a young woman's life in London and her roots in Nepal.
Clouds and the night sky also feature prominently, which he muses might be a subconscious reflection of his name on his art.
Pradhan's collages are vibrant, vivid and hold personal meaning and anecdotes. "That picture," he points to one photo, laughing as he talks to visitors, "will always remind me of veg-momo."
A series of four simple, intact photographs titled 'Buju', features an elderly woman and the ruins of her home in Sindhupalchok, a striking contrast to the rest of his work on display. An aspiring filmmaker, Pradhan took the photos while working on an earthquake documentary.
Buju stares solemnly into the camera, hands placed carefully on her knees, barefoot. "We bought her a new pair of chappals, she promptly threw them away," recalls Pradhan. "I knew I had to photograph her."
Tulikaa co-founder and curator, Ujen Norbu Gurung says the gallery wanted to show that art is not stagnant, it is constantly evolving.
"Art should be really powerful, but the curation, layout, and space have to sync with the art, to accentuate it," Gurung says.
Indeed, much attention has been paid to the displays here, from the muted lighting to the back walls.
Sunniv Shanker Rajbhandry at Dhokaima says his Van Gogh room was an ideal place to showcase Nepali art. "I had been to some of Ujen's other exhibitions and thought the way he presents the artwork itself was unique. His vision is different, and he uses the space as much as the art itself," Rajbhandary adds.
Tulikaa is not only organising the exhibition series for the next seven months, but providing an online platform to connect Nepal's art community.
Gurung entered the art scene as a collector, but realised that Nepalis had barely scratched the surface of talent, and the art scene had untapped potential.
"We knew we had to come up with something radical to promote art to the masses," he says. "We thought that it might be the time for an online platform." Thus began the years-long process of research.
"The digital space offers more possibility for curating—we can experiment, and play around with the design and layout," Gurung explains.
He also realises how instrumental social media has been for artists to showcase their work and for audiences to discover it. "Platforms like Instagram are helping artists make money and build a brand," he says. And as if to evidence his point, a visitor comes over to introduce himself to Pradhan as one of his followers on social media.
The team planned to launch Tulikaa in early 2020 when the pandemic hit. "What we thought would be detrimental turned out to be quite helpful because everyone was home and on the internet," says Gurung, who did 27 online shows during the lockdown.
Co-curator Samikshya Shrestha is optimistic about how platforms like Tulikaa, new art festivals and museums will help propagate Nepali art and artists.
Ujen Norbu Gurung adds, "We need a lot more institutions and lots of fresh ideas. We will catch up with the rest of the art world, we just need to ride on the right wave."
Kholo 2.0 - A Cycle of Life is ongoing at Dhokaima Cafe until 27 August.