On high monsoon alert in Nepal
The flood in Sindhupalchok a year ago on 15 June swept away Asha Gurung's dreams. The mother of three was swift enough to save her children but lost her house, cattle, eatery and all other valuables to the disaster.
At Ambathang, nine people including Asha's family were stranded after the debris flow receded. Helicopters started hovering over them early the next morning, but were unable to find a spot to land and could not airlift them.
The family was trapped with no chance for rescue. So they made a desperate walk to the village of Timbu because the alternative was to die of starvation. "We had many sleepless nights, we walked for hours knowing that there was no escape since the road were entirely blocked," recalls Gurung.
Gopal Tamang also lost his home and elder brother Purna Tamang, 38, in the flood. Purna was swept away by the Melamchi River from a trout farm near his home in Halde. Despite many days of search, his family could not retrieve the body, compelling them to perform the death rituals in its absence.
The disasters in Helambu and Melamchi and their scale were unprecedented, residents had never before seen the river rage like swallowing settlements, farms and infrastructure. Although the region is prone to flooding and landslides, the fact that the monsoon started comparatively earlier in 2021 caught many by surprise.
"The Melamchi River swallowed my brother and left an irreplaceable void in the family," says Gopal. "We neither received any early warning nor had any idea how to respond to the disaster and seek safety."
The floods destroyed a total of 259 enterprises, including Nepal's biggest water supply project and several trout farms. The municipality alone lost nearly 180 hectares of farmland which served as a lifeline for the region's subsistence farmers.
At least 25 people were killed in the Melamchi-Helambu disaster but the toll would have been much higher if the local government had not issued early warning about floods.
"Even then such measures are insufficient for disaster-prone areas like Sindhupalchok," says environmentalist Rabin Raj Niraula who studied the landslide in the Bremathang area which had eventually led to the catastrophic debris flow on the Melamchi river, adding that new technology can be used for more accurate predictions of impending cloudbursts, floods and landlsides.
Disasters are multilayered and precipitation patterns have changed due to the climate crisis. This means responses should be even more prompt, accurate and tech smart.
"Tools like OpenStreetMap could provide crucial topographical details, identify disaster-prone areas and inform us on the status of roads on whether they have been washed out after a flood," explains Niraula. "All of these are live-saving information for community people, for them to be prepared for untoward situations."
OpenStreetMap (OSM) is an important tool to enhance community engagement, it is free and an open web map that anyone can edit as required. Its significance was first realised during the 2015 earthquake response where more than 7,500 contributors worldwide supported logistics of the Nepal Government and non-government organisations involved in the relief.
Many OSM-related data mapping and validation projects have been run in coordination with local government and non-government organisations in a few municipalities including Chautara Sangachowkgadi and Melamchi in the Sindhupalchok district.
Read also: Nepal needs weather stations in the Himalaya, Rijan Bhakta Kayastha
These municipalities have developed a BIPAD portal to enhance disaster preparedness and coordination post-incident, strengthen disaster communication and emergency response. To improve the database of the municipalities, the portal has used free tools, open street maps and stored geo-data of schools, hospitals, banks and other infrastructures located within the municipality.
"The development of the portal was crucial and timely. We have free information sources at our fingertips if only we are aware and are trained to use them," says Sujan Dulal, disaster focal person of Melamchi Municipality.
The portal has geospatial data that has helped enhance understanding of navigating locations and infrastructure located within Melamchi. This means it can identify open spaces, emergency shelters to be used post-disaster, areas that can serve for relief distribution and also mark vulnerable structures.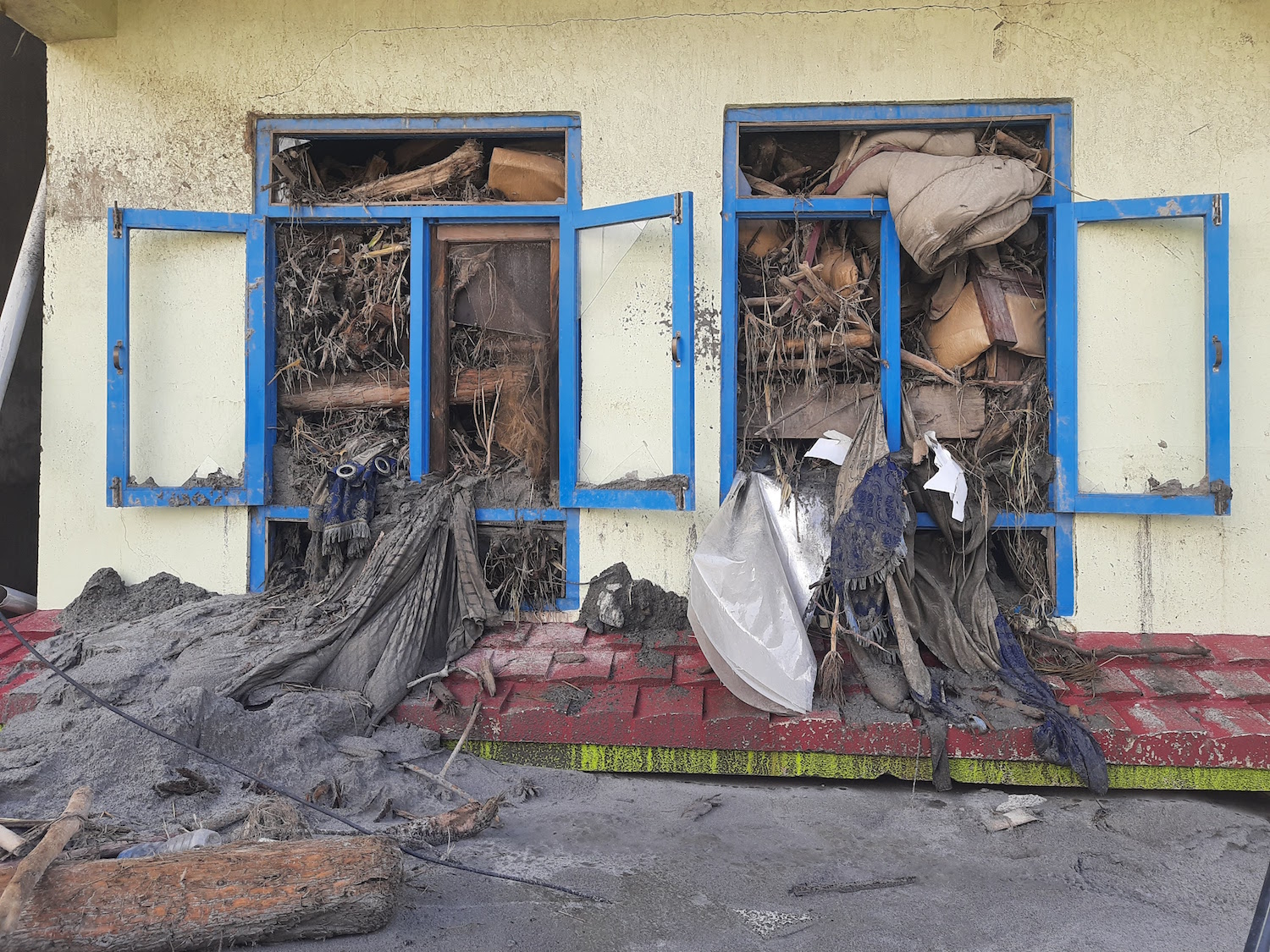 For Asha Gurung and Gopal Tamang, openstreetmap could have helped them in timely rescue, identifying helicopter landing spots and tracking emergency shelters post floods.
Moreover, monthly reports could be prepared using ward-specific data collected on Loss and Damage through the portal which can then evaluate the nature of a disaster to develop local plans, policies and strategies and mitigate risks or speed up preparedness.
But while the municipality portal has an abundance of information, the system for data entry at the local level needs to be improved. Two wildfire incidents that occurred recently in the area could not be updated in the lack of access to the system.
During the time of a disaster, there is often too much information and data coming in from varied sources. In such cases, the National Disaster Risk Reduction and Management Committee (NDRRMA) BIPAD portal refers to the local police to reduce duplicity and maintain authenticity.
The portal in itself is an effective tool to disseminate information to the public but the gaps in data sustain due to lack of coordination. "We are now forming a data management team that could collect and analyse data acquired from all different sources and cross verify to meet accuracy," says Dijan Bhattarai, Under Secretary at NDRRMA.
To accelerate disaster preparedness, NDRRMA and the Department of Hydrology and Meteorology (DHM) recently introduced impact-based forecasting in a few municipalities across the country.
The existing flood forecasting system is capable of only predicting floods in possible areas. But the impact-based forecasting conducts impact assessment and warns of associated risks if a flood hits a particular area, helping to mitigate disaster risks way before it occurs.
The impact-based forecasting examines 'potentially exposed area' and 'potentially impacted area'. The data for the exposed area of any municipality is taken from open street maps.
"We are trying to engage local governments in disaster vulnerable districts with the usage of tech-friendly data platforms," says Reena Bajracharya, Program Manager at Youth Innovation Lab.
As for Sindhupalchok, one of the most disaster-prone districts of Nepal, particularly following the 2015 earthquake, a data platform called 'visualising risk' has been initiated at four local levels.
Using this platform, viewers can identify buildings, bridges and areas vulnerable to floods and landslides. This is particularly important because many residential homes in Ambathang and Dhending in Helambu are at the highest risk this monsoon.
It is crucial to understand hazards and their risk to better mitigate and manage them, especially for a country like Nepal with its topographical challenges. And because disasters hit local communities the hardest, mitigation should also start locally. And the most cost-effective way to do that is to put the locally available data to its best use.
Says environmentalist Rabin Raj Niraula: "There has been several studies about last year's flood and yet there is a dearth of information among the locals because they were not disseminated. The onus lies on local governments to break down the data into information and encourage communities to participate in disaster preparedness and save lives."
Read more: A disaster resilient Nepal is possible, Anil Pokhrel