Covid-19 lessons for Kathmandu from the Tarai
In July, as the government eased the first lockdown, people streamed across the border from India into Nepal, spreading the coronavirus infection along cities in the Tarai.
The districts from Jhapa to Parsa became hotspots. Hospitals ran out of ICU beds and ventilators, municipalities had no test kits left, and there were horror stories of patients dying while going from one hospital to another that refused admission.
But it did not take too long for asymptomatic carriers to bring the virus into Kathmandu Valley, where population density and high mobility made the capital an ideal breeding ground for SARS-CoV-2.
With 16 additional deaths on Monday and two on Tuesday, total Covid-19 fatality in Nepal has now reached 429. Kathmandu Valley alone accounts for over one-fourth of all deaths in Nepal from the virus. On Monday, Kathmandu, Lalitpur and Bhaktapur districts recorded 647 new cases (about half the nationwide total of 1,356).
The tables are now turned. Even as the Tarai has the virus largely under control, the majority of the 223 patients in ICU and 37 on ventilator support nationwide are in Kathmandu Valley. The country's only infectious diseases hospital in Teku, despite adding isolation wards, ventilators and ICU beds, has run out of space for Covid-19 patients.
"Even with the increased capacity, we cannot admit all the patients," hospital director Sagar Rajbhandari told Nepali Times.
Three months after the government announced it would build a 300-bed hospital just for coronavirus patients, there has been no action. It has not followed the advice of its own public health experts to expand testing and tracing.
In fact, the Nepal government seems to have admitted defeat. Its unspoken strategy now is now letting the virus take its course, warning citizens to adopt their own precautions and learn to live with the disease until a vaccine is available.
This explains why even as the number of new cases and fatalities in Kathmandu Valley break its own record every day, the lockdown is being further eased with public transport, flights, shops and restaurants allowed to open.
Adding to this is the utter lack of coordination between locally elected municipality officials and the District Administration Offices which issue new and contradictory guidelines every day, and blame each other for the situation getting worse.
Locally elected representatives should have been allowed to handle the outbreak like in the Tarai, with the central government only ensuring that they have adequate resources, equipment and medical personnel.
"Kathmandu's response to the pandemic shows that the central government doesn't trust local units who are close to the people and can respond fastest to their needs," says Chandra Kishore, a Tarai-based journalist in Birganj. "The focus should be on empowering local governments and health posts to contain the spread of the virus."
Even as Kathmandu struggles to contain the virus with all the resources and facilities at its disposal, Nepal's capital could learn a few things from the way Tarai cities and municipalities handled the spike and brought the virus under control.
One example is Narainapur in Banke district, which first made it to the news as a hotspot back in May with over 100 cases and Nepal's second Covid-19 fatality.
Most of the infected were migrant worker returnees from India. Since then, the municipality has brought active cases down to zero.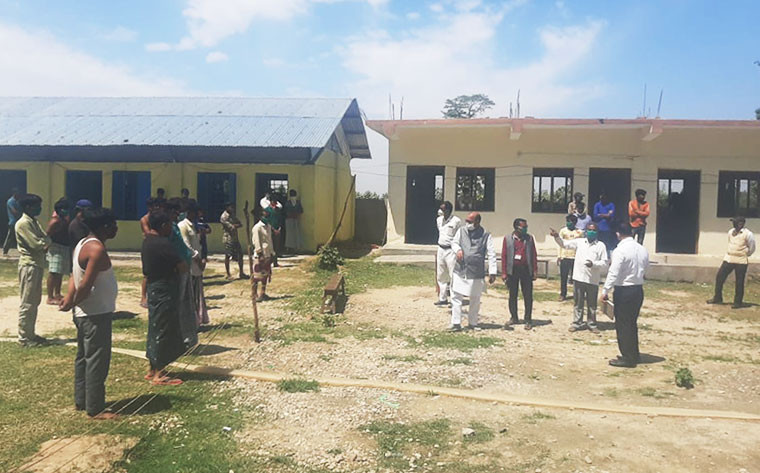 "In our experience what worked the best was the collaboration between the local government, CDO office and the Nepal Army," says Naresh Shrestha, the Covid-19 focal point for Banke district. "This has helped us conduct proactive contact tracing and raise awareness about safety measures. Narainapur is also relatively isolated which helped us seal the access points and better manage the outbreak."
After Kathmandu Valley, Banke has conducted the most PCR tests and of the total 1,662 coronavirus cases in the district, 1,264 people have already recovered. The remaining cases are in densely populated areas of Nepalganj and Kohalpur.
Nepalganj mayor Dhawal Shumshere Rana says his city was among the first to be hit with the coronavirus, and had to learn quickly through trial and error.
"We didn't know what was coming. Me and my staff took PCR tests ourselves to set an example for others," Rana said on the phone. "We now have the virus more or less under control. We still have some cases, but life is back to normal and our people are following safety measures."
In the neighbouring district of Bardia which has a 83km border with India, there has been a gradual rise in cases. In Badhaiyatal municipality, the authorities shut the quarantine centre that had become an incubator for the virus.
"After we realised what was happening, we focused on containing the virus in the quarantine centre and invested in contact tracing, which helped us bring the situation under control," explained Gokarna Giri of the Bardia District Health Office. "But containing the virus in crowded cities and marketplaces has been challenging. We can't reach everywhere, people have to be mindful about obeying safety measures."
Udaypur in the Inner Tarai of eastern Nepal was a coronavirus hot spot in April when 13 men in a mosque who had returned from Delhi all tested positive. There was stringent contact tracing of people who they had been in close proximity to, and the district was sealed off for months.
In fact, Udaypur's experience is now called the 'Bhulke Model' after a ward of Triyuga Municipality that used PCR tests for contact tracing after false negatives from RDTs. Infected people were immediately sent to hospital isolation wards, and health officials did repeat contact tracing of the entire community until cases came down to zero.
Gaighat-based activist Najbul Khan used to travel every day on her motorbike during the lockdown with supplies and essential medicines for communities ostracised due to infection. Her Muldhar Mahila Kendra offered counseling for youth who were mentally stressed, prepared iftaar for the Muslim community for 18 days during Ramadan.
"All of us, the community, volunteers, and the local authorities worked together to overcome the coronavirus. It is because of this that Udaypur is a model for successfully bringing Covid-19 under control," Khan says.
In the beginning, Udaypur did not even have sufficient personnel to collect swab samples, and the district hospital's Parmendra Yadav was working overtime to conduct tests without proper personal protective gear. His hard work was met with stigma: fearful colleagues stopped talking, and the eatery he frequented stopped serving him.
But Yadav persisted, he trained lab personnel to bring the district's limited health services up to speed and received PPE from non-profits in the area.
"It was a difficult two months, but it paid off knowing how far we have come in terms of controlling Covid-19," says Yadav. "Kathmandu could learn from our strategy of widespread testing, contact tracing, and strict border controls."
With additional reporting from Ramu Sapkota.