Digital path to social buffers in Nepal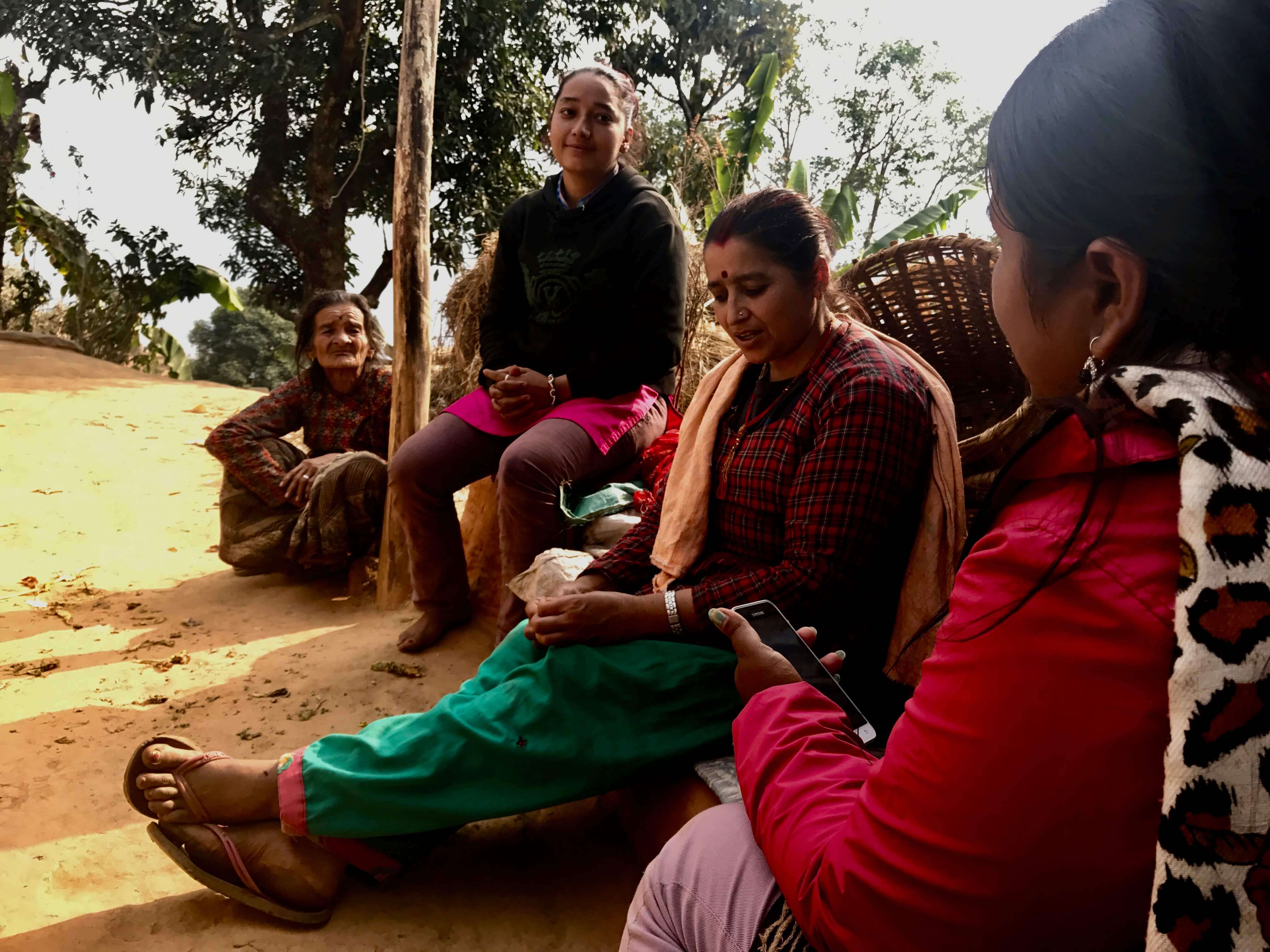 Worldwide, the impact of Covid-19 underscores the need for more social security buffers built upon the access to four basic services: affordable credit, reliable saving and pensions options, life and health insurance, and quality healthcare.
This is true in Nepal, too, where large sections of the country's nearly 30 million people lack access to social security. In fact, there were less than 3 million total beneficiaries from some form of government social security in 2015.
More investment in building the baseline infrastructure, digital pipes for service delivery and platforms for demand/supply matching, can deepen and widen key services that help create social buffers. Covid-19 is not the first disaster to hit Nepal, and it certainly will not be the last.
Mobile and digital technology, central to the pipes and platforms, can be vital in rapidly expanding access to formal credit, pensions, life and health insurance, and quality healthcare, the key elements of a functioning social security ecosystem.
This ecosystem must focus on improved accessibility, which in turn depends on developing a range of service delivery models specific to Nepal's diversity. India with its India Stack, Bangladesh, Sri Lanka, and countries in Latin America and Africa are successfully using mobile and digital technology to build-on and bolster traditional forms of group resilience. Nepal is also ready to explore new service delivery models suited to our market and social idiosyncrasies.
New youth-led Nepali organisations must be able to connect with incumbent stakeholders -- the banks, insurance companies, pension schemes, and hospitals -- to build unique service delivery models that extend the reach of each stakeholder. Customer-centric digital and mobile platforms can connect to incumbents and rapidly distribute their products/services.
Government finance and concessional capital, therefore, must focus on fostering trust in the ecosystem, so that incumbents can begin to partner with digital and mobile platforms.
Access to Finance
Mobile payment systems and digital credit form the backbone of a basic infrastructure required for an accessible and responsive social security services. Nepal's payment ecosystem has developed significantly over the past five years. Nepal Rastra Bank (NRB), financial institutions (FIs), and technology service firms have made considerable headway in making the transfers of money more efficient and secure. However, innovations in delivery of financial products continue to stall.
Companies such as Nepal Clearing House Limited (NCHL) and F1Soft have created shared infrastructure and enabled financial institutions to conduct digital transactions and extend such services to customers. As a result, digital payments between individuals, financial institutions, businesses, and government bodies have spiked, especially during the pandemic.
But Nepal's financial institutions are yet to use digital channels to expand their portfolios. Brazil's Cignifi, for example, provides telecos and financial institutions with analytics services to calculate credit scores based on non-financial alternative data, uncover invisible consumers, and extend micro-loans.
Nepali incumbent FIs are yet to partner with such types of third-party organisations to explore new products and customers. FIs must get into open banking designs, an architecture where third-party developers are able to connect to the FI's internal functions and build overlaying applications and services.
Incumbent financial institutions in frontier markets like Nepal do not even need to create things from scratch. They can leverage products from companies like South Africa's Jumo that provide the full technology stack as a service for building and running digital financial services.
Nepal Payment System, a Payment Systems Operator (PSO), and Nepal Electronic Payment System (NEPS), another PSO managing a local card network, along with NCHL and F1Soft are helping Nepal's financial ecosystem move towards an open banking architecture as well.
The Nepal government still needs to step in and build additional shared infrastructure, particularly for digital identity verification and safe data sharing. What the shared infrastructure can then allow is for savvy tech developers and entrepreneurs adept at customer acquisition to partner with incumbent financial institutions to expand their reach.
Nepal's telecom providers have also finally been licensed to provide payment services, and they can contribute significantly to expand financial inclusion. M-Pesa from Kenya and bKash from Bangladesh have set strong examples. They work with telecom companies and banks to allow telecom-based payments and offer micro credit services even through dumb feature phones.
Pensions
Pensions are critical, whether it be for an individual's retirement or preparing for the family's future. Nepal's pensions schemes must use some of the shared financial technology infrastructure being built to improve their accessibility and quality of services.
Khalti, a Nepali Payment Service Provider (PSP), recently started enabling payments to Nepal's Social Security Fund (SSF). But, what customers and beneficiaries want are additional SSF services accessible through Khalti. Ghana's Petra Trust, for example, has revolutionised the pension system by attracting corporates, multinational organizations, and government agencies into their schemes through a focus on customer experience and operational efficiency.
Our pension schemes also need strong operational capabilities to execute on their mandates, widen their beneficiary base, and extend higher-value services. Khalti can help SSF do these things as well. And, in time, another specialized third-party service provider might be able to come along and partner with SSF to provide customised investment advisory services to individual beneficiaries along with more sophisticated products and asset management strategies that align to each persons's financial goals. Fisdom in Bangalore, among others, is one such platform.
A Khalti-like third-party service provider may also help extend pension benefits beyond urban centers and into rural Nepal. Peru's Credinka, for example, stimulates savings in remote communities in the Andes through their agents, who are increasingly digitising. Half of their savers are women, and more than a quarter are from rural areas.
Additional shared infrastructure from the government, such as digital ID verification service or secure data sharing service, should allow Nepal's other PSPs to connect with the vast network of savings groups and cooperatives that need to digitize rapidly, to expand high quality pension schemes in those networks as well.
Insurance
Nepal's insurance market needs to deepen with broader adoption and better products. Our insurance industry has undergone very little digital transformation. Digital wallets, such as eSewa, allows beneficiaries to pay their premiums online, and Arthanomy and ebeema are seeking to replicate India's policybazaar.com -- an online insurance aggregation platform – in Nepal.
Digital sales of Covid-19 insurance policies during the last year did quickly address a risk everyone was ill-prepared for. But digital sales are not enough for the insurance sector to improve product quality and distribution.
There is lack of digitisation in product development, underwriting, analytics and claims settlement in the insurance sector. Insurers need to distribute high-quality and appropriate products, then follow through on their commitments; thus, key areas for operational efficiency – customer communication and claims processing – are yet to be digitised in Nepal.
Resolution Insurance in Kenya, for example, has been a trailblazer as the insurer of choice for SMEs in East Africa. Closer to home, Softlogic Life in Sri Lanka is one of the fastest growing life and health insurers. It caters to the growing digitally savvy Sri Lankan middle class that seeks an end-to-end digital/mobile experience.
Nepali insurers need to partner with third-party service providers to offer end-to-end digital experience to younger Nepali consumers.
The entry of telecom companies in payment services can help expand insurance coverage in rural areas. Models such as those of BIMA Mobile can serve as examples. BIMA partners with mobile network operators, mobile money operators, and large insurance underwriters to distribute, underwrite, and settle claims for life, property and casualty, and health insurance to low-income consumers through simple feature phones. Such a model can vastly expand micro-insurance to Nepal's rural areas.
Healthcare
Just as the stakeholders in the financial system came together to create shared infrastructure, there is also such a need in the healthcare value chain. Digitisation in the healthcare industry is low, whether it be how hospitals manage their internal operations or how they manage patient data.
Therefore, Nepal's hospitals do need to digitise internally first before they build meaningful partnerships with third-party digital service providers to expand and improve services. Let us explore what greater digitisation might enable in hospitals, pharmacies, and rural women groups:
Nepal's hospitals have faced capacity constraints and shortages of equipment in recent weeks as they grapple with Covid-19. But, what if hospitals were able to share their operational data to third party service providers who could coordinate supplies and customers?
Mexico's SaludFacil, for example, places low-income patients in hospitals that have extra capacity. They negotiate with private hospitals to lower cost of service to low-income patients by fulfilling hospitals' slack capacity. A single digitised hospital might not have fared better, compared to a network of hospitals that is able to communicate with one another seamlessly to improve patient outcomes. Nepal Research and Education Network (NREN), for example, is working to build a data network among health institutions and support telemedicine.
Capacity of Nepal's local pharmacies are just as important for capacity in the healthcare industry because they are typically the first points of contact for many low-income folks seeking medical advice. GoodLife Pharmacy in East Africa, for example, is dedicated to increasing access to healthcare through pharmacy stores. The company not only provides affordable and quality medical products, but each of its stores also includes consultation centers and telemedicine services.
Our independent pharmacies in Nepal need some shared infrastructure and network so that third-party digital platforms can easily partner with them and enable them to provide quality medical counsel.
Finally, Nepal's rural women networks, who have been instrumental in improving health outcomes for women and children over the past 30 years, need help to improve their services. Bodhi Health in India, for example, provides quality medical education and information to health workers and community health workers through their mobile phones in English and local languages.
Nepal's rural women also need some shared infrastructure, through which they can partner with digital platforms to expand and improve services.
Advances in mobile and digital technology along with innovative entrepreneurs are spurring rapid improvement in access to credit, pension, insurance and healthcare in developing countries. Mobile phones and digital platforms have upended traditional notions of how these services need to be delivered.
Policymakers need to focus on allocating government and concessional resources towards building shared infrastructure, which can allow incumbent institutions – banks, insurance companies, pension schemes, and healthcare organisations – to partner with third-party digital platforms that can help improve the reach and quality of products/services. This focus can rapidly build accessible and adaptable social safety nets in Nepal.
Ashraya Dixit is a Senior Fellow with the Nepal Economic Forum.