Erika and King Tribhuvan
When Erika read the story to the King, he cried out, "But that is I, Erika! And that is you!" The King asked if he might keep the story and Erika said, "It was written for you, but I promise you, one day the whole world will know."
The king is King Tribhuvan. Erika is Erika Leuchtag, a German physiotherapist. The story is the book With a King in the Clouds which came out in 1958, and a later edition titled Erika and the King published by Coward-McCann Inc.
The book is an intimate history of King Tribhuvan during Nepal's political transition, his queens Kanti and Ishwari and the princesses Nalini, Vijaya and Bharati, who were not allowed to leave the Narayanhiti Palace by Nepal's Rana rulers.
The 270-page memoir begins on Christmas Eve in 1948 when Erika receives a letter from a European doctor, asking if she would be prepared to be a masseur for the Senior Queen of Nepal, who was then staying in the household of the royal family of Patiala in India.
Despite her family and friends advising her against venturing out to what was then a forbidden Himalayan kingdom, Erika entered Nepal in Feburary 1949 and walked up across Chandragiri pass to Kathmandu with her helper Gorkhi Ram and her spaniel dog, Peepchen.
Erika did not have a clue about the Shah-Rana dynamics of Nepal's two royal families until she sensed something was 'off' when she visited Singha Darbar – 'a prototype of the Palace of Versailles' -- to meet the last Rana Prime Minister Mohan Shumsher and the Director-General of Foreign Affairs, Bijaya Shumsher.
The British had left India, and an Anglophile Rana dynasty's days were numbered. There were new rulers in Delhi, and many members of Nepal's royal families and of India's princely states were married to each other. Palace intrigue, royal rivalries, and geopolitics were churning, and Erika changed from what the Ranas saw as a ditzy European woman to an insider playing an integral part in helping Tribhuvan's escape to India and the eventual end of Rana rule.
Her daily visits to the 'Naran Hity Durbar' was ostensibly to serve Senior Queen Kanti Rajya Lakshmi, but she ended up befriending the entire family, particularly King Tribhuvan. She was not just a physiotherapist for them, but a teacher, a Western dance instructor and a German language tutor.
She nicknamed the two queens Kanti and Ishwari 'Birdy' and 'Dreamy' for their beauty and personalities, but one gets hints of a growing intimacy with Tribhuvan. Erika Leuchtag herself left Germany before the war because of the rise of Adolf Hitler, and she makes no secret of the fact that the Ranas reminded her of the Nazis, and the Shahs were therefore allies.
Historian Dinesh Raj Panta remembers reading a smuggled copy of the first edition of Leuchtag's book in secrecy because it was banned, ironically, after the Shahs came to power. As a historian, Panta was intrigued by the German's relationship with Tribhuvan, his escape to the Indian Embassy in Kathmandu, departure to Delhi, and the events that followed.
"Was she in love with Tribhuvan? Or was it just loyal devotion towards the king? Maybe the book was banned because people might think that the king's father had a romantic alliance with a European woman and that would taint the history of the restoration of the Shah dynasty," Panta speculates.
Rajni Chand, the granddaughter of King Tribhuvan and daughter of Princess Nalini, was brought up in Happy Cottage inside Narayanhiti since she was two by both her grandmothers –Queens Kanti and Ishwari. Now 64 and living in Chhauni, she remembers her grannies talk about Erika and how everything changed after she arrived in Kathmandu.
It was not just Erika who was devoted to the family. Chand remembers being told the royal family was also extremely fond of her. They even named the room when she taught them to waltz the Erika Dance Hall in her honour. As a child, Chand remembers sneaking into the hall every chance she got to admire the colourful walls, the decoration and cute animal toys.
"My grandparents, mother and aunts were prisoners in the palace, and Erika was like a ray of sunshine in their lives, someone who they never imagined would help them recover from their miseries, and even in that short time, Erika managed to leave long-lasting memories for each one of them," Chand told us in an interview last week.
Unlike many history books about Nepal's longest reigning king, Erika gives us an insider's personal perspective on the man, describing vividly his melancholy and frustration at being a mere pawn at the hands of five Rana prime ministers: Chandra Shumsher, Bhim Shumsher, Juddha Shumsher, Padma Shumsher and Mohan Shumsher.
Perhaps it is because of Erika's influence that Tribhuvan confides that he wished to become a constitutional monarch like King George V of England. Which happened briefly during the transition in the 1950s, until his son King Mahendra took back absolute powers in 1961.
King Tribhuvan worked alongside Dharma Bhakta Mathema and other Nepali democracy activists politicians, but the book's more revealing parts are about the softer side of the man who loved and respected his wives and daughters, and who reciprocated the love.
The King and his family lived in Happy Cottage, which was later known as Tribhuvan Sadan inside Narayanhiti Palace. As a royal prisoner, the king's life was like that of a bird in a gilded cage. He was intrigued by Europe, and often pored over mail-catalogues for clothes, furniture and cars to order for the palace. The book describes Tribhuvan as a man of sophistication who yearned to visit the outside world.
Tribhuvan was childlike, and according to Erika he never liked alcohol – mainly because he did not want to be a puppet king spoilt by wine and women like his father and grandfather. He was fond of cigars, dressed well, and once smuggled two trunks full of books from India through Boris Lissanevitch, the White Russian émigré who managed Royal Hotel.
The book is a time capsule and through Erika's keen sense of observation, we get descriptions of Narayanhiti's majestic gardens and detailed portrayals of people she came across. The book is necessarily dated and in places turgid when she is describing the sights and sounds of Kathmandu, but one has to understand that this was one of the first books introducing Nepal to the outside world.
There are hints that Erika was more than a royal physiotherapist, she mentions walking hand-in-hand with the Tribhuvan around the palace garden. It is clear that she and Tribhuvan were working together to overthrow the Ranas, and in this she became the go-between to coordinate logistics with Indian ambassadors Surjit Singh Majithia (1947-49) and CPN Singh (1949-52).
She and Tribhuvan developed elaborate code words in their communications to keep their plans a secret. Here were some of them:
Serpent - A Rana
Big Snake - Prime Minister Mohan Shumsher
Bird - Ambassador
Moor - The King
Flower - Letter
Kite - Airplane
Storm – Evacuation
Erika - Lakshmi
Erika and the King, is now available as an e-book in English translation and is a timeless historical read. This is a fairy-tale account of that period, but it is accurate and does not exaggerate her own influence.
Rajni Chand (pictured left) notes that Erika's account and the oral history that she grew up with in the Shah royal family do match quite a bit. Chand admits she admired and respected Erika, probably also because the book mentions her grandmothers, mother and aunts in loving terms. That is the other unique part of this book -- very few historical accounts in Nepal ever mention the women behind the scenes, and if they do the female protagonists are often portrayed as power-hungry and ruthless.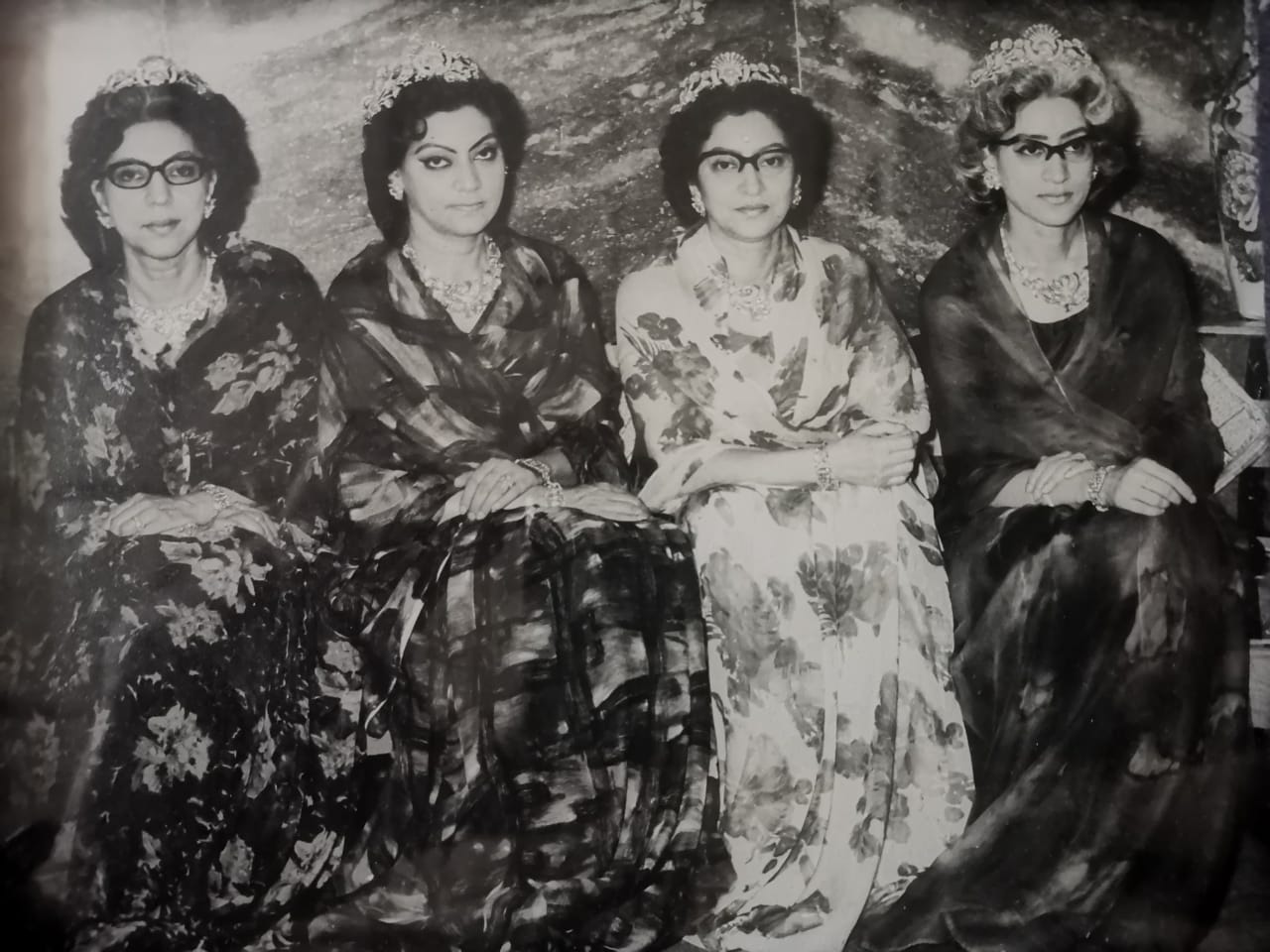 The book concludes with King Tribhuvan's death in a hospital in Zurich, and as Dinesh Raj Panta notes, leaves open an interpretation about why Erika did so much for a country that would have never recognised her efforts.
Even 62 years after its first publication, Erika and the King is a fascinating insider account of Nepal's royal family through the eyes of a foreigner. It also re-introduces us to Erika Leuchtag, who seems to have played an important role in the escape of Tribhuvan and his family in 1950 to the Indian Embassy and four days later to Delhi.
The rest, of course, is history, as the tri-partite Delhi Agreement paved the way for an interim government and move towards a democratic Nepal. We won't give away any spoilers, but we learn about Erika's role in getting Tribhuvan to meet the Indian ambassadors and carry a letter from Nehru.
This is all stuff that could be turned into a gripping historical tv series like The Crown for which Erika Leuchtag has already written the script.
Excerpts:
King Tribhuvan was curious about Senior Queen's physiotherapy treatment and wanted the same treatment for himself too. Here, Erika describes King Tribhuvan's physique in intimate details:
He took off the dressing gown. Beneath it, he wore black and white bathing trunks, and his body was as superbly muscled and as graceful as that of the dancing deity Nata Raja. About his hips, and dipping down toward his loins, was a broad belt of thin golden mesh, fastened in the centre by a clip mouthed with a great emerald. Around the biceps of his right arm he writhed a golden snake, it's head a milky moonstone. From his throat, hung amulets strung to threads of gold and emeralds.
From neck to ankle he was tattooed, twisting, cunning convolutions of blue lace of his pale skin. The intricate patterns combined on his chest, thighs and shoulders to form ferns, flowers and the outstretched beauty of peacock's feathers.
A letter from King Tribhuvan to Erika Leuchtag where he has given due credit to Erika's effort through coded words:
'Dear Miss Lakshmi -- I thank you for your advice -- be still more grave. I will try very much to be grave. The photo of Lakshmi is in my portico, the reflection is in my heart. Do not forget us.
The bird came to my garden and gave me the Doctor's flower, but you are the person who sowed the seed and took care of the plant. The flower is very sweet and beautiful. What more? Not only I, but all my party offer you our heartfelt thanks for the trouble you have taken to plant and make it free from pest.'
In a conversation with Indian Ambassador CPN Singh during a picnic trip to Budhanilkantha, Erika Leuchtag writes about a conversation with his predecessor:
I told him that Surjit had met the King, and that he had promised to help, even by flying the King out of Nepal to asylum in India, but this had come to nothing with Surjit's recall.
Chandreshwar Prasad Narain Singh: "I should meet your King, also, although I cannot promise to fly him out of the country. But first tell me what it is he wants from India. I shall be going to India soon. Perhaps I could talk to Pandit-ji (Jawaharlal Nehru) and perhaps bring a letter back for your King."
Erika and the King
(With a King in the Clouds)
Coward-McCann; First Edition (January 1, 1958)
Hardcover 255 pages $12.48 on Amazon