It's all in the mind
The conflict and earthquake added to Nepal's hidden epidemic of mental disorder
One-third of Nepalis were already suffering some form of psychiatric disorder, but mental health experts say the numbers went up significantly during the Maoist conflict and rose again after the 2015 earthquake.
Besides existing psychological disorders in the general population, there are now torture victims, child soldiers, combatants with post-traumatic stress disorders (PTSD), mistreated migrant workers, and lately earthquake survivors who had narrow escapes or lost family members.
Read Also: Time heals, Prabin Dhungel
Arun Bhattarai was lying down for a nap that Saturday three years ago when a deep underground rumble followed by a big jolt woke him up. His house in Dhading collapsed, and his family became earthquake refugees in Kathmandu. Bhattarai, now 46, suffered from insomnia and anxiety attacks for months afterwards. The trauma drove him to drink, but today after treatment he has beaten his alcoholism.
"A lot of people suffered from anxiety, post-traumatic stress disorder and depression following trauma and bereavement during the earthquake, some even attempted suicide," says mental health specialist Kapil Dev Upadhyay. "The disaster aggravated the psychosocial condition of many patients who were already recovering."
A survey of earthquake-affected districts of Rasuwa, Nuwakot and Makwanpur for the Nepal Red Cross Society, conducted by the group Transcultural Psychosocial Organisation (TPO), showed that nearly 40% of respondents suffered from depression and anxiety for a year-and-half after the earthquake. Another 22% said they had suicidal thoughts, and a quarter had taken to drinking heavily. More women than men were affected by the symptoms (see chart).
Sunita KC was out for a Saturday walk with her husband at Kathmandu Darbar Square when nearby monuments swayed and collapsed in clouds of dust. The 23-year-old was plagued with nightmares and lost the will to live. She got better after medication, but three years later her symptoms have returned. This week KC was in a clinic in Kathmandu with her family for consultation where she was diagnosed with severe depression.
At the Psychiatric Department of Teaching Hospital, Rishav Koirala estimates that every family has at least one member afflicted with some form of mental illness after the earthquake.
"In a way, the earthquake was a blessing in disguise because it raised public awareness about mental health and partially removed the stigma. The government was also forced to address mental healthcare."
Indeed, the government trained MBBS doctors to provide psychiatric help to survivors in the primary health care systems and district hospitals. Nepal's Mental Health Policy, adopted in 1997 but rarely implemented, is finally being revised.
At an international conference on mental health in Kathmandu in February, the government pledged to prioritise mental health, increase investment for a mental health focal unit in each provincial health ministry, and to recognise alcohol and substance abuse as mental health problems.
"School level psychological education can help change societal attitudes towards mental disorders, and since Nepalis are resilient and family-oriented there is a support system," says psychiatrist Namrata Pradhan at Model Hospital.
Nepal has one of the lowest patients to psychiatrists ratios in the world. In addition, society has entrenched stigma about 'mad' people who are often ostracised, often by family members. Even before the earthquake, patients were left to fend for themselves.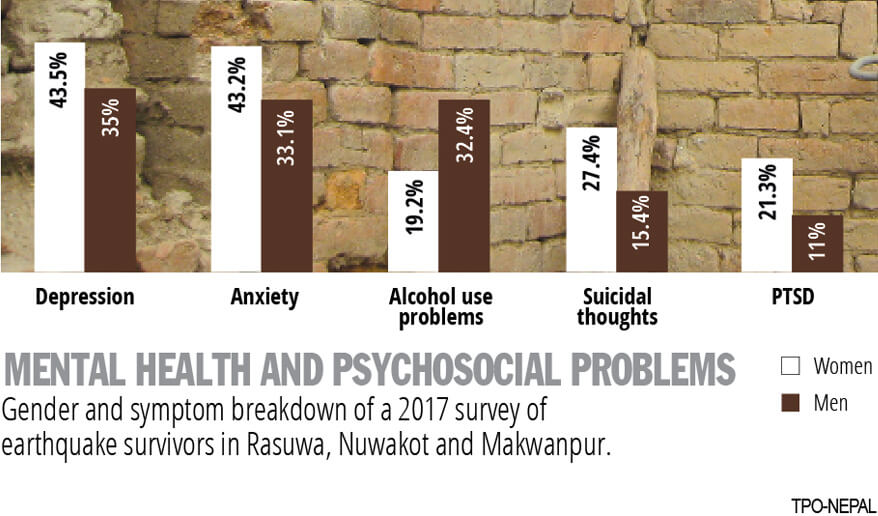 Rabi Shakya, professor of psychiatry at the Patan Academy of Health Sciences agrees that the public is more aware of mental disorders after the earthquake. "There has been a visible change in terms of awareness and general acceptance level regarding mental health, and as a result patients are coming out and seeking treatment," he told Nepali Times this week.
Post-earthquake studies have shown higher rates of psychiatric disorders, but the major limitation is the lack of a baseline study. The Nepal Health Research Council is now preparing a nationwide mental health survey later this year to help develop a longterm plan to upgrade psychiatric care.
Says mental health activist and former patient Jagannath Lamichanne: "We need public awareness and acceptance so that people are comfortable with sharing their experiences, and that can be the most powerful tool for prevention."
Name of patients have been changed.
Read also:
Stigma and silence, Ketan Dulal
The republic of insomnia, Editorial
Post-conflict stress syndrome, Taylor Caldwell
Down and Out, Smriti Basnet