It's an Emergency
1. Oxygen
To save lives, Nepal's most urgent need now is oxygen. Not just cylinders, but oxygen generators, concentrators and liquid oxygen. Most infected people are not succumbing to Covid-19, they are dying because of low oxygen saturation in the blood, and lack of hospital beds -- patients who need not have died of coronavirus.
Dire as the situation is in the cities, Nepal's pandemic has now infiltrated the remotest villages where there is no hospital care and no oxygen. The virus is preying on people already suffering malnutrition, previous ailments, and decades of structural state neglect.
In Rolpa, Humla and other remote districts, between 80-90% of PCR tests are coming back positive, and it takes a week to get results. Patients are either not isolating, or not following precautions.
Kathmandu's doctor-to-patient ratio is 1:850, but in rural Nepal it is one doctor for every 15,000 people, and hospitals and medical staff there are already overstretched.
Close to 60% of all swabs collected nationwide are from Bagmati Province, with nearly half of them in Kathmandu Valley, says epidemiologist Lhamu Yangchen Sherpa.
She adds: "There just aren't enough tests and contact tracing is minimal, official total cases and fatalities are grossly underestimated."
Hospitals in Kathmandu Valley with roof helipads have multiple daily rescue flights, but even these facilities are at breaking point with patients being turned away. Understaffed and under-equipped hospitals in the districts do not stand a chance.
Even where hospitals exist, many families avoid them for fear of being infected and take wrong medication from pharmacies.
Case in point are recent deaths due to misdiagnosis across the country. Typhoid disease simulates Covid-19 with similar symptoms, and the widespread Widal test is known to give false positives.
"Covid patients are being prescribed antibiotics to fight typhoid, only to turn critically ill in a few days' time," says Buddha Basnyat of Patan Academy of Health Sciences. "This is the reason behind some of the latest Covid fatalities."
As in India, Nepal is beginning to see a slight bending of the curve for new infections, but health experts expect the fatality rate to remain high for some more time.
There were 190 Covid deaths in the past 24 hours and 6,543 recoveries. Of the total 8,305 new cases on Thursday, Kathmandu Valley accounts for 3,232 infections. 7,814 people are undergoing treatment in hospitals with 1,748 in ICU and 492 in ventilator support.
"After the relentless patient pressure of the past month, we have seen a decline in those requiring admissions," says virologist at Teku hospital Sher Bahadur Pun. "The virus has now infected a majority of people in the cities, and this combined with the lockdown means we may be getting to the halfway mark of the second wave."
2. Vaccines
A prolonged lockdown is not the answer. If it was, the reduction in the number of cases and the positivity rate this week would have been steeper. Even while the government tries to increase oxygen supply to hospitals, the only long-term strategy is to vaccinate at least 70% of Nepal's eligible population.
Doctors report a marked difference between the recovery of people who are vaccinated against those who are not. Says virologist Pun at Teku Hospital: "Except for a few rare cases, all patients in critical condition and those dying are the ones who for one reason or another had not been vaccinated."
But Nepal has run out of its vaccine stock, leaving 1.4 million people still waiting for their second dose of AstraZeneca Covishield in a lurch, after India banned its export, and the COVAX Facility could not supply its remaining 1.8 million vaccines to Nepal because of the global supply bottleneck.
The Nepal government and pressure groups in Nepal and the United States have strongly urged the Biden administration to immediately rush some of its AstraZeneca doses to Nepal.
Meanwhile, the UK, the US and Canada have authorised vaccines for use in children and adolescents, sparking outrage in the global public health community for prioritising an age group that is rarely critically affected by Covid-19.
The World Health Organisation's director-general Tedros Adhanom Ghebreyesus has urged rich countries to instead donate doses to the COVAX Facility for poorer states that have barely covered health workers and the most vulnerable groups.
Speaking at the British Parliament last week, noted vaccinologist and the principal researcher of Oxford University's AstraZeneca vaccine, Andrew Pollard, called the decision to inoculate children in wealthy nations ahead of high-risk groups in poorer countries "morally wrong."
Pollard has worked extensively in the region, leading research into the burden and transmission of typhoid in Nepal, Bangladesh and Malawi, and the impact of typhoid vaccine in these areas. He also runs surveillance for invasive bacterial diseases, and studies the impact of pneumococcal vaccines in children in Nepal.
In Nepal, vaccination will grind to a halt this week after the current campaign to inoculate 300,000 people in the 18-59 age group with their second dose of the Chinese VeroCell ends.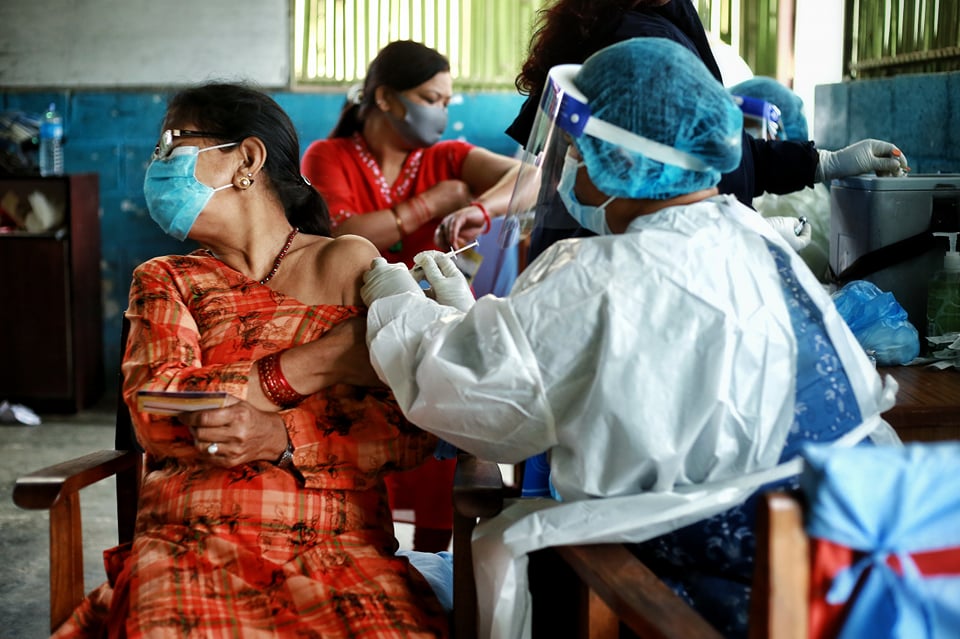 Although Foreign Minister Pradeep Gyawali says the government is in "final negotiations" for 2 million doses of Sinopharm VeroCell vaccines by June, there is no movement at the Ministry of Health. Ongoing talks to procure 8 million doses of the Sputnik V have hit a production capacity snag in Russia.
"We can implement lockdowns only for so long, the only exit strategy is vaccines. Science delivered, now our politicians must do the same," says Buddha Basnyat, a physical at the Patan Academy of Health Sciences. "The Nepal government must procure vaccines using every diplomatic channel possible, and rich countries must realise that they are not safe until countries like Nepal are also vaccinated."
Activists have been trying to convince the US government and Europeans that Nepal has a lot of experience in successful vaccination campaigns against polio, smallpox, measles. It has over 50,000 female community health volunteers (FCHVs) reaching children with vaccines every year.
Similarly, Nepal's health system has amassed vast experience in maintaining the vaccine cold chain even in the remote mountains. It also has trained human resource overseeing DOTS (Directly Observed Therapy, Short-course) for tuberculosis management all over the country who can lend a hand in equitable distribution of vaccines in rural Nepal.
Says epidemiologist Lhamo Yangchen Sherpa: "It's not too late, we can still use existing resources like FCHVs to better mobilise vaccination, conduct contact tracing, dispel any remaining vaccine hesitancy, and use public health professionals in prevention."