Nepal trekking industry in damage control mode
Responding to a slew of reports in the international media about insurance fraud in the trekking industry, the Nepal government says it is cracking down on perpetrators, while planning action against an insurance investigator said to be behind the sustained negative coverage.
Reports this week in The New York Times and The Independent quote a letter written to Minister of Tourism Rabindra Adhikari by Jonathan Bancroft, Managing Director of Traveller Assist, in which he has threatened to get his clients to cut coverage if Nepal does not press charges against 17 trekking agencies, helicopter companies and hospitals it says are involved in claiming insurance for fake rescues.
Read also:
Heli rescue fraud tarnishes Nepal's image, Robert Skinner
Both stories quote Danny Kaine of Traveller Assist, who is said to have personally delivered the letter to the ministry in which Bancroft bluntly writes: 'To be clear, this is an ultimatum! If our clients stop issuing travel insurance policies in Nepal … (it) will have a devastating effect on the tourism industry in Nepal, and your country's reputation.' (See box below.)
The government appears to be taking the damaging media coverage seriously, and called an emergency meeting in Singha Darbar on Tuesday with Tourism Minister Rabindra Adhikari, representatives of the Ministry of Finance, the Central Bureau of Investigation and others.
Read also:
Choppers to ABC banned, Yuvaraj Shrestha
Adhikari told Nepali Times: "We are committed to cracking down on insurance fraud, and set up a Committee last year to investigate. After that, the number of cases of helicopter rescues, especially unnecessary ones, had actually started to drop. Which is why we are concerned by the continued leaks to the international press, and the threatening tone of this letter."
The Ministry of Tourism says its statistics show that there were only 186 helicopter rescues in the autumn trekking season last year, a sharp drop from the 1,532 between March and May of 2018. (See graph below.)
In the letter to the minister, Bancroft says his company had issued the 15 February deadline since 'not a single charge has been laid' on the companies named in the ministry's report, which it said were still in business.
The incidence of fraudulent rescues claiming insurance has risen in the past four years, as reported by this newspaper and others. Some trekking companies, in collusion with helicopter charters and hospitals, entice trekkers to opt for medical evacuation at an inflated fee, and share the profits. There have even been rumours of guides deliberately spiking the food of trekkers so they fall sick.
Stung by the flurry of reports, the Tourism Ministry set up an investigation committee which issued its report in August. The Ministry then drafted new rules governing search, rescue, and treatment of trekkers to check fraud.
However, Tourism Ministry officials themselves admit that the rules have not been enforced because of a lack of manpower. Says Secretary Krishna Devkota: "We are committed to investigate and take action against the guilty. These scams are having a negative impact on the industry ahead of Visit Nepal 2020."
A source at the Tourism Ministry disclosed that last August, after the investigation committee presented its report, a delegation led by Nabaraj Dahal of Trekking Agents Association of Nepal met the co-Chair of the ruling NCP Pushpa Kamal Dahal who then put pressure on Minister Adhikari to let those named off the hook.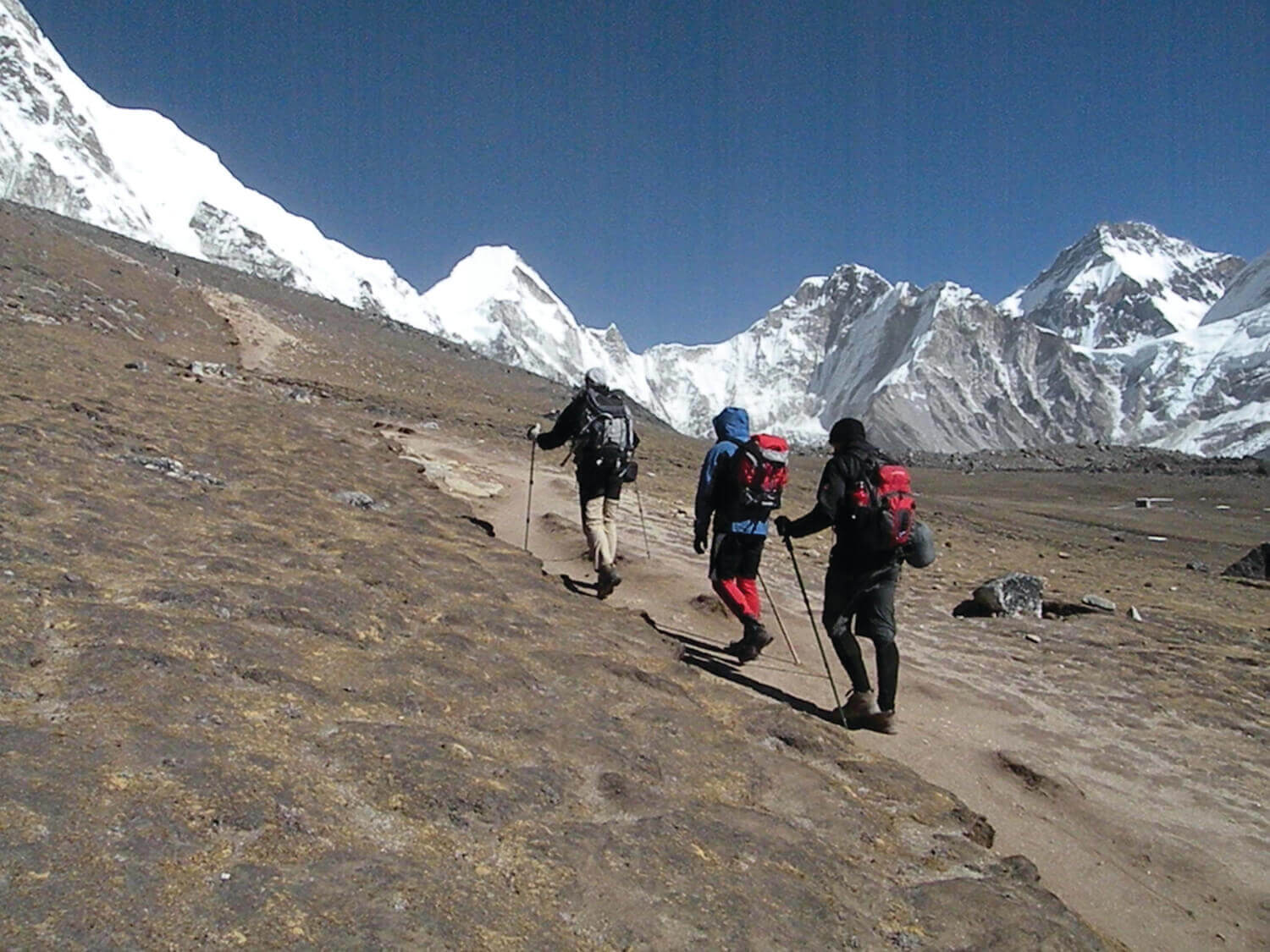 Some of the unscrupulous companies involved in the scam enjoy high-level political protection because they are party donors, offer free helicopter rides during elections, or provide complimentary hospital treatment.
Prakash C Lohani of Alpine Rescue Service which represents half the foreign insurers says: "The rescue business needs to be better regulated. We need to punish the guilty, and stop maligning the whole trekking industry."
Those involved in fake rescues play on the grey zone in which even physicians are not able to tell if a patient suffering from altitude sickness or severe diarrhoea needs immediate evacuation or will get better by simply descending and taking medicine. Many trekkers themselves agree to be evacuated at the slightest sign of trouble.
Read also:
Going to great heights to prevent altitude sickness, Peter Hackett
Trekkers with the trots, David R Shlim
Ram Sapkota of Himalayan Social Journeys says the real problem is unnecessary rescues rather than fake rescues. "Some trekkers get seriously sick, others pretend to be more ill than they are. Up in the mountains no one wants to take a risk," he adds.
After the investigation and new rules, the Tourism Ministry says the number of unnecessary rescues have gone down. Strict enforcement of the guidelines, setting an upper limit for helicopter rescues, a fixed price for hospital treatment, and monitoring compliance would prevent price gouging.
"All they have to do to control fraud rescues is to enforce existing rules," says Rajendra Bahadur Singh of Mountain Helicopters, who knows of rescues in which charter companies evacuate more than one trekker, but bill them separately. There is also conflict of interest: some travel and trekking agencies represent insurance companies, and approve final compensation payments to themselves.
Says mountaineer Kaji Sherpa: "This scandal has tarnished Nepal's image, and that of the many upright companies here. There should not be a cover-up, we should correct ourselves and book the guilty."
What is Traveller Assist?
This Ireland-based company works on behalf of international insurance underwriters in Nepal and other 'difficult countries' on medical assistance, insurance processing and 'cost containment' – a euphemism for investigating and reducing false claims.
All stories in the international media in the past year exposing insurance fraud in Nepal's trekking industry quote Traveller Assist's Danny Kaine, an ex-soldier and a frequent Nepal visitor. This week, Kaine is said to have delivered a letter from Traveller Assist Managing Director Jonathan Bancroft addressed to the Minister of Tourism Rabindra Adhikari in which he has threatened to get his clients to stop issuing coverage for Nepal after 15 February unless those guilty of fraudulent rescues are charged. The letter was leaked to international media and got wide coverage.
Ministry officials say they are now strictly monitoring unnecessary rescue flights, and claim that the numbers have come down. "We are surprised by these damaging leaks to the international press at a time when we were cleaning up the industry," said a Ministry official. "We have taken note of the threatening tone of the letter. Who are they to be giving an ultimatum to the Government of Nepal on behalf of their clients?"
Indeed, reputable agencies and hospitals in Nepal, while admitting there are dodgy companies involved in insurance scams, accuse Kaine of writing them emails soliciting all insurance business for himself. Ministry officials also refuted Kaine's claim that he has an agreement with the government to uncover rescue fraud. The Police Central Investigation Bureau is reportedly probing Kaine's activities in Nepal, and confirmed that he flew out this week.
Many media reports quote Traveller Assist's statistics on the fraudulent rate for the 3,200 helicopter rescues in 2018. Doctors specialising in high altitude medicine interviewed by Nepali Times say that even if a company had access to so many medical records of rescues, it would still be difficult to determine the exact condition of the patient, and whether a rescue was necessary or not in cases of Acute Mountain Sickness.
In an interview in Kathmandu last week, Kaine denied writing emails to trekking agencies and hospitals, and demanded to see them. He added: "I don't have any personal interest in this, but Nepali companies are cheating American, British and Australian insurance firms as reported in the international media. If the guilty are not charged, we will increase international attention on this issue."
In a separate note to Nepali Times on 29 January, Kaine said the emails about him were 'fabricated … by one of the companies named in the fraudulent investigation'. He went on to accuse this paper of 'acting on behalf of the companies accused of fraud … a very dangerous precedent to set for a journalist from a respected news agency in Nepal'.
Earlier, in answer to a simple email query about whether Kaine really worked for Traveller Assist, Jonathan Bancroft was needlessly abrasive, and accused this reporter of trying to play him off against Kaine. Bancroft went on to add: 'Mr Sharad, after asking some questions in the industry in Nepal about you … (it) _gives me the inclination to no longer communicate with you or your organization…'.