On the road in West Nepal
The past year will go down in history as one great global disaster with the coronavirus pandemic leading the pack of calamities from fires to floods that have left their stamp on a world sadly lacking in informed and enlightened leadership. It was therefore great pleasure to escape from Kathmandu in search of clean air and adventure in the wilderness of West Nepal.
Road works leaving the capital and between Narayanghat and Butwal meant that a journey that I normally reckon to take seven hours, instead took nine and could have been worse if we had not had a fairly clear run, over the Chure Pahar at Daunne. To be fair to the Department of Roads, the work in progress will improve matters greatly in the long term and the absence of foreign tourists has provided an opportunity to do so with less disruption than might otherwise be the case. Hotels, meanwhile, are taking the opportunity to work on upgrades that will, hopefully make for a better future. We spent the night at an old favourite, Club de Novo, which is currently undergoing renovation.
Life looked up as we continued to head West along the Mahendra Highway, making for Bardia National Park. We made good time and, on a whim, stopped at the headquarters of Banke National Park in search of information on this, the newest of Nepal's National Parks.
Covering an area of 550 square kilometers, Banke adjoins Bardia National Park to the West and the two are connected through a system of wildlife corridors comprising community and national forests to Suhelwa and Katarniaghat Wildlife Sanctuaries in neighbouring India. In its entirety, it forms one vast protected area for which both governments deserve credit. The Chief Warden, Shyam Kumar Saha, and his staff were most helpful and offered to provide a Game Scout as guide, should we wish to visit the Park on our return.
We continued to Bardia, with a brief stop at the Babai Bridge to look at the fish and crocodiles in the pool below the barrage. We stayed at Bardia Jungle Cottage, just outside the Park gates at Thakurdwara and enjoyed a pleasant day exploring the Park's buffer zones and taking note of the changes in progress since my last visit eighteen months ago.
From Bardia we progressed westwards, visiting the garden built as a memorial to the late King Mahendra at Tikapur, also popularly known as Tikapur Park. The park has a historical connection to King Mahendra, who was taken ill there whilst on a hunting trip, and is now sanctified in the form of a beautiful, well- maintained lush garden.
There is also a viewing platform adjoining the Park, where, in the past, I have observed Gangetic dolphins frolicking in the Mohana River. On this visit, the river was full and the current too strong for the dolphins to show themselves, but with luck, the waters may subside and return to their past tranquil state and we may once again be able to enjoy the company of these beautiful creatures.
Our next stop was at Ghodaghodi Tal, a Ramsar listed wetland comprising a series of interconnected lakes that provide habitat for many species of both resident and migrant waterfowl. The small temple on the site has now expanded into a religious school and the increased human activity seems to have driven many of the birds away from the new view tower constructed for the purpose of watching them.
There is also a gate nowadays in front of the lake and a ticket counter where one has to buy a ticket in order to see the site. Legend has it that a hermit cursed the Hindu god, Shiva and goddess Parvati and turned them into horses, leaving them to encircle the lake, and so a temple dedicated to them appears by the lake.
Another story relates how, a great flood once inundated several villages in the area. The raja sent out his trusted advisor mounted on his best Ghoda stallion to investigate. They never returned. The raja then sent another of his men mounted on his best Ghodi mare to find out what had happened. They too, never returned. And that is how the lake came to receive its name. It is said that, on still nights, one can still hear the sounds of the ghosts of the villagers who were drowned in the flood. I have never stayed to test this story out!
Three kilometers East of Mahendranagar, we stopped to check in to Suda Farm Sanctum, a very pleasant little hotel with a garden and fish pond that attracted several species of waterbirds. In the evening we drove to the gate of Suklaphanta National Park to buy tickets for the next morning. The staff on duty seemed a little reluctant to sell us the tickets, saying that we would not be able to get a refund if our plans changed – which they very nearly did.
The next morning, after an early breakfast we drove out onto the Highway only to be stopped immediately by the police who informed us that the road was closed due to a bundh! After explaining our plans they very kindly provided us with an escort to the Park gates, where we were met by our guide for the day, Mahananda Joshi. Once inside the Park, we were in a different world. Away from burning tyres and shouting mobs, we were able to enjoy the peace and quiet of the jungle, the only sounds being bird calls and the occasional alarm of a the Chital deer.
A visit to Hikmat Bhist's former camp site reminded me of the many pleasant evenings spent in that place listening to Hikmat's tales of the past around a blazing fire, cupping our glasses while food would be prepared by chef Mangal, who we sadly lost Mangal to a tiger attack. I remembered, too, Peter Byrne, who had been given permission by Prince Basundhara to hunt in the forests of West Nepal with his high paying clients and who did much to contribute to the development of the Park. Many of the friends with whom I enjoyed Hikmat's hospitality have now passed on, as has Hikmat himself, but they will always be remembered in that very special place.
We pressed on to the grass plains that give the Park its name and enjoyed the sight of herds of not only Barasingha (Swamp deer), for which Suklaphanta is famous, but also Laguna (Hog deer), Chital (Spotted deer), Ratuwa (Barking deer) and the occasional Bandel Wild boar. We drove to boundary pillar 26, that marks Nepal's border with India.
I recall that Hikmat had once asked me to come to photograph squatters who were encroaching on the Park from the Indian side. He wanted evidence to produce to the concerned authorities. Whether or not my photographs had any effect I have no idea, but the squatters are now gone and the Indian side is also protected as the Philibit Tiger Reserve.
On our return to Suda Farm through the bazaar, we could see signs of the protests that had taken place during the day. The highway was still blocked in one place, but a short detour took us around this and back to the sanctuary of the hotel.
The following day, we started our return journey by driving to Nepalgunj, where we spent a very comfortable three nights' stay at the new Soaltee Westend Premier Hotel. The next day, we decided to go exploring East of Nepalgunj, where the Rapti River disgorges itself into India, in search of ruins from the 4th Century BC. We did not find any ruins, but did stumble across Kanchanpur Forest, a beautiful patch of greenery amidst picturesque villages. We returned early to the hotel to enjoy a sauna and a plunge in the very cold swimming pool.
The next morning we left after an early breakfast and drove to the Kohalpur office of Banke National Park. There we purchased our tickets, samosas and pakoras before continuing to Obari, the Park Headquarters, where we picked up Game Scout, Gopal Chand, who was to be our guide for the day. He proved to be an excellent guide and was very knowledgeable about the Park and related conservation issues. Infrastructure is still a work in progress, but there were sufficient roads to cover a lot of ground and appreciate the beauty of this lovely wildlife sanctuary.
We did not see many mammals, but mainly monkeys (Rhesus macaque and Grey Langur) and deer and quite a variety of birds and came across fresh leopard tracks on a river bank. What animals we did see had not yet become accustomed to seeing vehicles and fled at our approach, but this will change over time and the park looks set to become one of the finest wildlife tourism destinations in Nepal. There are a number of waterholes under construction and several machan towers have been built throughout the area. We thoroughly enjoyed our day out.
Next morning we enjoyed a slightly later breakfast before checking out of the hotel and heading for Butwal. We stayed at D'Arcy's Hotel, next to the bus park, but were given a quiet room at the back where we were able to spend an undisturbed night after a pizza dinner at the appropriately named, Lavish Lounge.
In order to avoid the highway construction works, we decided to drive South to Bhairahawa and take the Postal Road via Parasi to Bardaghat, just short of Daunne. This also allowed us to visit Ramagrama, the site of the only undisturbed Buddha relic stupa. The other seven stupas where the ashes of Gautam Buddha were interred after his Mahaparinirvana and cremation, all in India, were opened by the Emperor Ashoka in the 3rd Century BC to coincide with the spread of Buddhism to countries such as Sri Lanka and Thailand.
According to folklore, when Ashoka went to open the stupa at Ramagrama, he was prevented from doing so by a Nag cobra that was protecting the site. It is only relatively recently that the site has started to be investigated by the Department of Archaeology and it receives few visitors. A raised wooden walkway has been placed around the stupa in an attempt to prevent people from walking on the remains.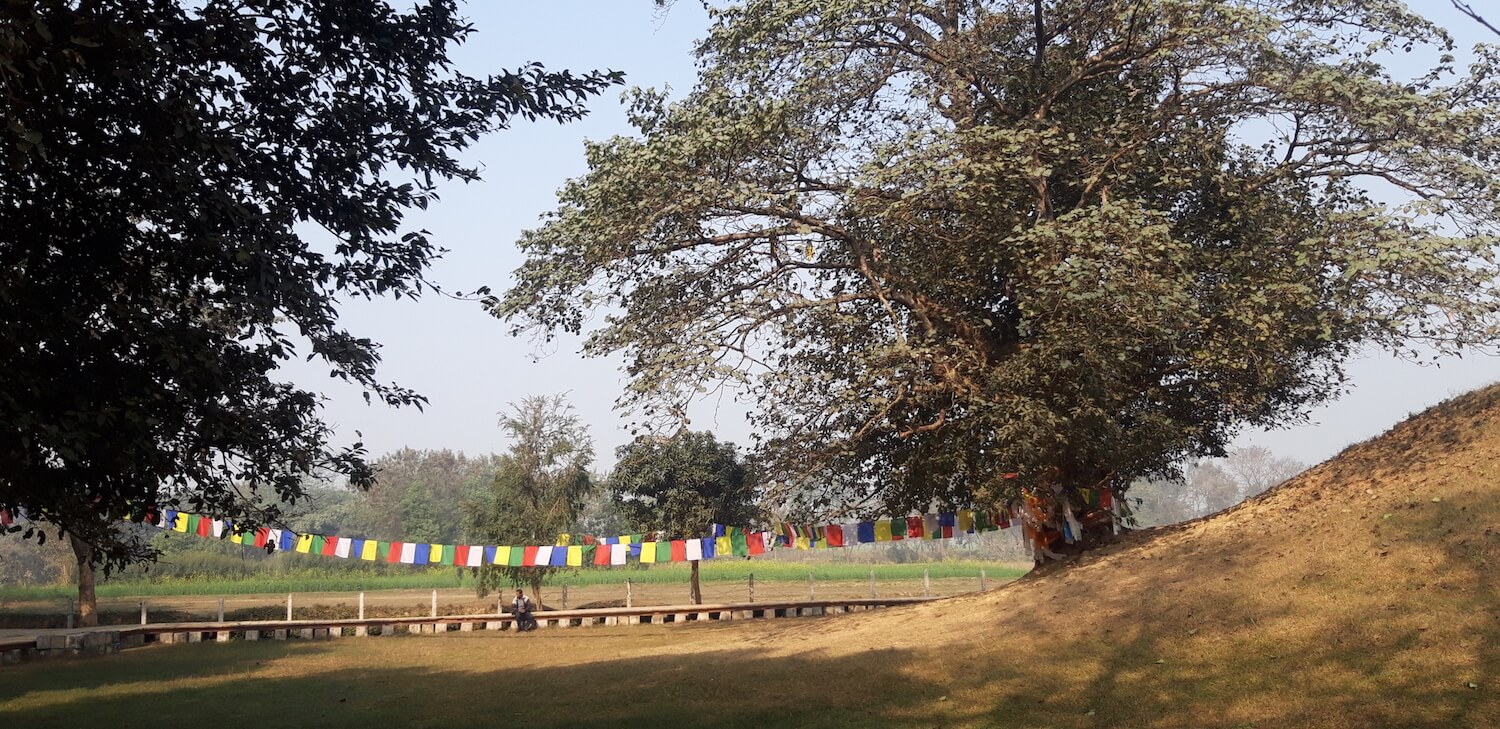 We were fortunate to have a relatively clear run over the hills at Daunne and arrived in Narayanghat just after midday and continued on to Jagatpur Lodge, where we had reserved accommodation. This was my third visit to Jagatpur and only reconfirmed my opinion that it is the finest wildlife lodge in Nepal. Our accommodation was in a spacious safari tent, complete with air conditioning and bathroom with hot and cold running water and a deck overlooking the watercourse in front of the lodge. This pool is a remnant of the former course of the Rapti River, which now runs further to the South, but gives onto community forest that is the habitat of many wild animals.
Hog Deer (Laguna) were an almost constant presence at the water, together with resident mugger crocodile, as well as many species of waterbirds. We also saw Chital, Ratuwa and on our last evening, a female rhino with a calf, come down to drink water. A member of the lodge staff once also saw a tiger right in front of the lodge. I have been most impressed, on recent visits to Jagatpur, with the network of community forests that form a buffer zone bordering the core National Park. Owned and managed by the local communities, from which they derive revenue, one's chances of spotting many species are as good nowadays in the community forests as in the park itself.
Our stay at Jagatpur was not planned in advance, but a last minute reaction to an announcement of political rallies across the country. Instead, we were able to enjoy a full morning in Chitwan National Park with guide Saran Darai and driver Resham, both of whom were excellent. Here, we were able to add Sambar to the list of deer species we encountered on our journey and were entertained by many dancing peacocks as a backdrop, while a rhino crossed the road. I also had my first wild elephant encounter in Chitwan in the form of Dhurbe, a wild bull, so named because he had killed a Nepal Army soldier of that name at a nearby outpost. The outpost is now also known as Dhurbe Post in memory of the unfortunate soldier.
After a second night in the comfort of our luxury tent, it was time to head back to Kathmandu. We had had a good time and were back home in the early afternoon, in time for a cup of tea.